5 perfect perennials for a cottage garden planting scheme
The beauty of a cottage garden is often the glorious jumble of textures and colours, so we've picked our top perennials to help you create your ultimate display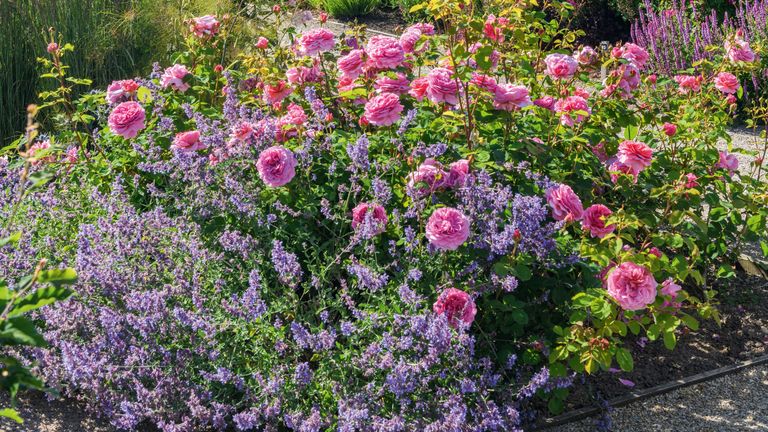 (Image credit: David Austin Roses)
By Sophie Warren-Smith published
Love the romance, colour and texture of cottage gardens? Characterised by garden borders overflowing with stunning flowers and amazing scents, getting the right mix of plants for your scheme is one of the key elements when planning the right cottage garden ideas for your space.
Perennials are a staple choice for every garden. They flower reliably every spring for at least three years, so it's worth choosing wisely for your cottage garden to ensure you get a lovely display year after year. You can plant them in between shrubs, in containers or on their own to create impact. They will give you a beautiful array of colour and texture to enjoy, and the wildlife will love them too.
Take a look at our top perennial picks, then head over to our feature on the best cottage garden plants for more ways to add interest to your romantic planting scheme.
1. Roses
Roses are perhaps one of the most well known perennials and will have a great visual impact on your cottage garden. You can plant a few in a row to create a dramatic effect in a border, or dot them in between other perennial varieties. The Princess Alexandra of Kent rose from David Austin (pictured above) has large, bright pink flowers that will be eye catching in your garden and it has a strong fresh tea fragrance that will attract insects.
2. Yarrow
Yarrow is a perennial that gives and gives during the summer months – it will first bloom in May and then carry on until October time. It has delicate petals, some in a range of oh-so-pretty colours, make it the ideal choice for a cottage garden. It's also a great flower to cut from – fill a vase with these beauties and then once they start to fade you can hang them upside to dry and use them in an autumnal or festive wreath.
3. RUDBECKIA
Rudbeckias are sturdy perennials that are happy with average soil and full sun, making them a worthwhile choice for your garden as not all plants are happy with those conditions! They are also one of the great bee friendly plants as they're loved by pollinators, so you're giving them a helping hand too. This variety has semi-double and double velvety blooms that come in subtle shades of caramel, copper and warm pink. They look fabulous in borders and can grow quite tall. If you sow them early they will bloom in the first year and you'll end up with some lovely stems to cut.
4. Lupins
This unusual flower is an architectural treat – tall and majestic and colourful to boot, it really is a cottage garden classic. They have a delicate scent and spires of tightly packed flowers which bees adore. Lupins are ideal for garden borders and will bloom in late May/early June. Plant them up against a wall in front of some lower height varieties to layer your summer displays, and choose multiple colours to create a dramatic colour scheme. Our guide to garden borders has plenty of suggestions for planning your flowerbeds.
5. Geraniums
A true cottage garden favourite, geraniums are easy to grow and can flower for months. They are a tough low-maintenance plant and can flower from late summer to early autumn with their brightly coloured petals. As well as looking great in borders, they also work particularly well in window boxes and hanging baskets and provide a fabulous splash of strong colour where needed.
More garden advice:
Sophie has been an interior stylist and journalist for over 20 years and has worked for many of the main interior magazines during that time, both in-house and as a freelancer. On the side, as well as being the News Editor for indie magazine, 91, she trained to be a florist last year and recently launched The Prettiest Posy where she curates beautiful flowers for weddings and events.