Gardening expert David Domoney shares his top tip for protecting pot plants from frost and snow
Keep your potted plants safe from Storm Darcy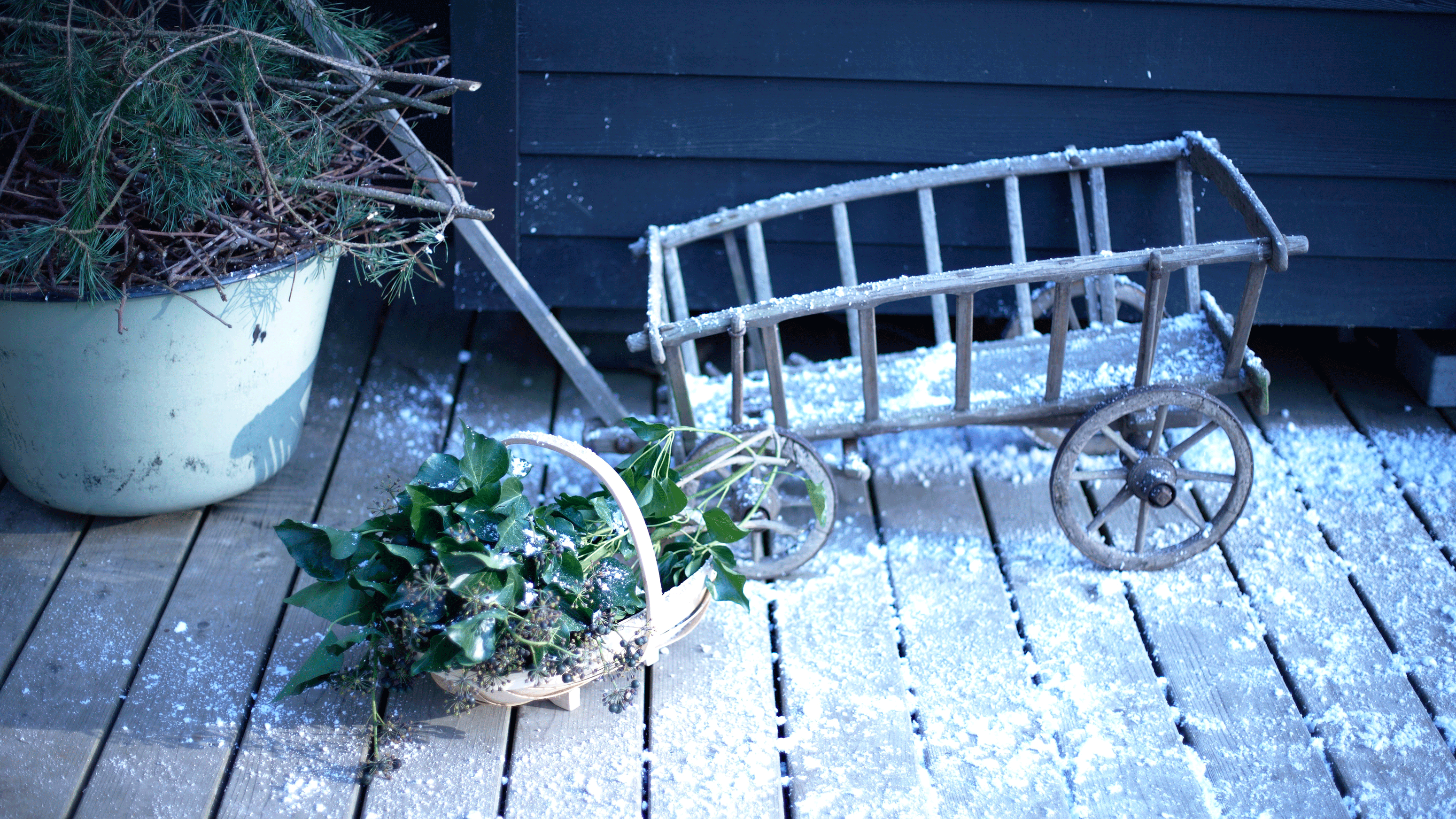 (Image credit: Future)
Snow showers and icy temperatures have descended on many of our gardens thanks to Storm Darcy. If you are worried about your garden pot plants, expert gardener David Domoney has a top tip to protect plants in cold weather.
David Domoney is best known for co-presenting Love Your Garden alongside gardening guru Alan Titchmarsh. He also regularly offers his tips and tricks to keep your garden flourishing as the resident gardener on ITV's This Morning.
Whether or not you've been looking into winter garden ideas, or are just looking to keep your pot plants safe until spring, the chartered horticulturist shared his top tips to protect your garden from frost on his website (opens in new tab).
The gardening guru started his post by saying sadly not all outdoor plants are cut out for cold weather. No tip or trick will save tender plants, you simply have to move them.
'Plants that are not winter hardy simply need moving to a frost-free location. A cool greenhouse, porch or conservatory is ideal,' says David. 'Large, established specimens can be placed in a sheltered spot against the wall of the house, which should be warmer.'
However, for hardier plants he advised leaving them where they were but tucking them up in a 'pot duvet'.
'You can wrap pots up to help keep the compost and plant roots warm. A couple of layers of bubble wrap is a great insulator,' he explains.
'Or make pot duvets from black plastic bags filled with straw or shredded paper. They look a bit odd but they will keep the soil warm.'
'Just make sure you don't cover the compost surface with your insulation or your plants may rot,' he warns. 'And make sure to remove any insulation when the weather warms up.'
When the snow does finally melt it is important to keep an eye out for waterlogging, so make this one of your winter garden jobs. Not only could waterlogging damage the plant, but it could also crack your pot if another sudden temperature drop caused the water to freeze.
To avoid waterlogging, David suggests investing in pot feet. 'Pot feet are brilliant inventions that lift pots up off the ground,' he explains. 'This ensures that water can exit through the holes in the bottom and drain away.'
'You can buy special pot feet or use small bricks. I often use old wine corks too. Lift all your pots up in autumn as the weather starts to turn.'
However, if you missed the boat in autumn, it is never too late to add them in now. It is also a good idea to move pots to more sheltered areas in the garden during winter.
'Placing them against a wall or under the eaves of the house will protect them from the worst downpours,' adds David.
Are your garden plants protected from the cold weather? There's more advice in our guide on how to protect plants from winter.
As the News Editor on Gardeningetc, Rebecca covers everything from the common mistake your making when pruning your roses, to handy tips about how to keep your houseplants alive. She has been covering all things gardening for two years across Homes & Gardens and Ideal Home. There isn't a single gardening trend that passes without her knowing about it.
She's currently the proud owner of a thriving container garden on her small city balcony and a jungle of houseplants. Small gardens and container plants are her specialties.
Sponsored by