DIY planters: get crafty and make this pretty tabletop display in no time
Give your garden table a new look with these metallic planters and stylish tealight holders. They're chic, cheap and super easy to make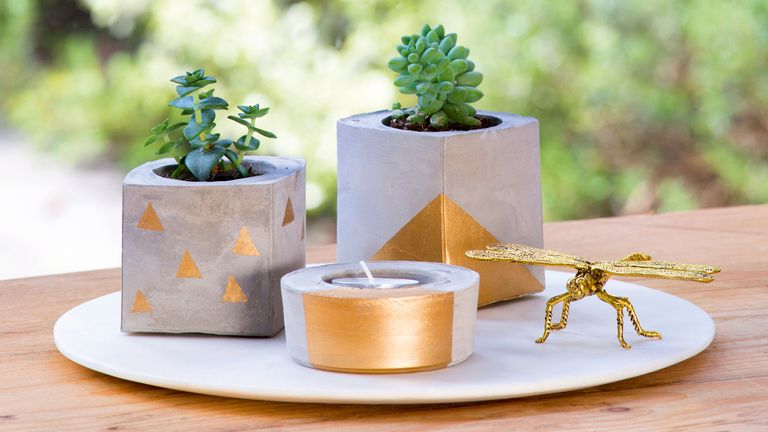 (Image credit: David Giles)
Join in with the metallic trend and make your own gilded planters or tealight holders for an alfresco table display in the garden. It's also a great way of giving your plastics an extra use as these will help create the moulds for the cement.
We've used metallic gold paint to give a sparkly lift to the industrial feel of the cement. But you could use a different shade or even coat the entire thing in gold if you prefer. Once your cement moulds are finished it's a great chance for you to get creative with your decoration.
If you're having friends over to your garden this could make a really fun, socially-distanced activity for you all to enjoy! Find more ideas in our garden design ideas gallery.
You will need:
Old orange juice cartons
Empty plastic food containers (eg, salsa dip 
or houmous pots)
Stick and bucket, 
to mix the cement
Step 1: clean out your containers
Clean the cartons and food containers with hot, soapy water and allow to dry. Cut the juice cartons in half and remove the tops, so you're left with tall, oblong shapes.
Step 2: prepare your cement
Mix the cement in the bucket with a stick following the manufacturer's instructions – there's no need to add sand. Continue stirring until the mixture is lump-free.
Step 3: coat the containers
Carefully pour the 
cement into the food containers and half juice cartons, until they're approximately three-quarters full. Place the plastic cups in the centre of the cement-filled moulds and push down. To keep the cups in position, weigh down with a handful of coins. Leave to dry overnight.
Spte 4: cut away the containers
Once the concrete is set, use a scalpel to cut the containers and cups carefully away from the cement. Smooth any of the rough edges with a piece of sandpaper and wipe away any dust.
Step 5: add the metallic sparkle
Place strips of masking tape across the cement pots to create triangle patterns. Using a small paintbrush and gold paint, paint your chosen sections and allow to dry. You could also add shapes and patterns freehand for a more decorative effect. Carefully remove the masking tape and plant each one up with succulents or insert tealights.
More weekend projects:
Teresa has worked as an Editor on a number of gardening magazines for three years now. As well as holding editorship of Easy Gardens magazine and Woman's Weekly gardening she has worked as the gardening specialist on a number of home magazines including Homes & Gardens, Country Homes & Interiors, Ideal Home, Living etc and Style At Home, so she is lucky enough to see and write about gardening across all sizes, budgets and abilities.
These years in the industry have meant that she has developed close working relationships with top garden designers and landscape architects having access to their projects and and expertise. Attending industry events such as Chelsea Flower Show and other garden openings and launches. Last year she was on the judging panel for the Society of Garden Designers awards and she continues to be this year too.
She recently moved into her first home and the garden is a real project! Currently she is relishing planning her own design and planting schemes. What she is most passionate about when it comes to gardening are the positive effects it has on our mental health to grow and care for plants. Keeping our patches alive with greenery is great for the environment too and help provide food and shelter for wildlife.
Sponsored by