NEW! Amazon releases Blink Outdoor security camera just in time for winter
The Blink Outdoor is available to pre-order now for £99.99. Here's why this security camera is worth your money...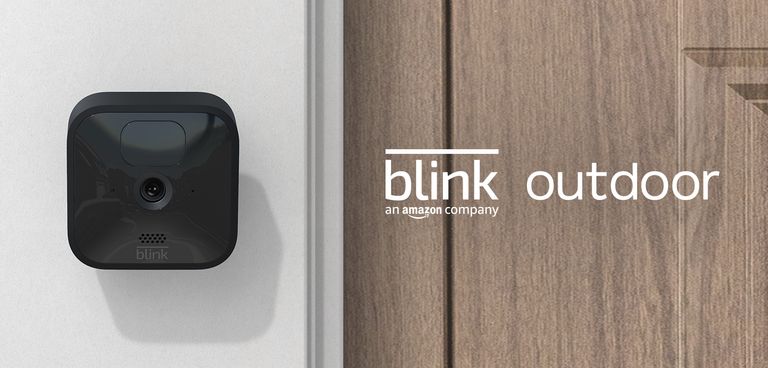 (Image credit: Amazon)
By Annie Collyer published
You heard it here first: Amazon has released a brand new security camera – the Blink Outdoor – and it's ready to pre-order now. It'll be sent straight to your front door come the 22nd October, which is just in time for when the clocks go back. This way you can keep an eye on your home from afar. It won't be long until it's in our best outdoor security cameras guide, we know that for sure.
What is the Blink Outdoor? An Amazon invention that's Alexa-compatible, the Blink Outdoor is a wireless, weatherproof security camera which offers motion detection and a live viewing mode. It connects to your smartphone so you are notified immediately of any unusual behaviour whether you are inside your home or 500 miles away. It also automatically records this behaviour so that should you be busy, you can check what happened later on. Boasting a super long battery life of two years (yes, you read that right!) and HD viewing, it also has infrared night vision. Ask Alexa to see your security camera when you are in your house from a compatible smart device or tap in through your phone when you are away – in the UK or beyond. The best part? It can be set up within minutes. No wiring or professional installation, remember? That and this security camera can be bought in singles so that you can gradually begin to build a whole system by adding to your collection. They all sync together...
For more info on the Blink Outdoor, keep scrolling.
Blink Outdoor | £99.99 at Amazon
The Blink Outdoor security camera can be completely customised to suit your needs. You can schedule timings – for instance when the kids are going to school – for it not to notify you of any motion so that you won't get bothered for no reason. That and you can use the app to pick motion detection and privacy zones – for example, a patio area that's often used for socialising, so that you will only be sent an alert if motion is detected out of that zone. Great for those with large gardens.
Blink Outdoor: release date
The Blink Outdoor will be released on Amazon on the 22nd October. You can, however, buy it now so that it arrives on your doorstep that day. You'll be among the first to try this new smart home tech.
Blink Outdoor: where to buy
At the moment, because the Blink Outdoor is an Amazon-made device, you can only pre-order this security camera from Amazon. We expect that upon release, you should be able to buy it from places such as John Lewis & Partners, Currys PC World and more.
Other Blink security cameras...
Yes, this isn't Blink's first security camera. The Blink Mini home security camera has been around for a while and has proven itself great for indoor use – checking up on your living room, watching your baby – and it retails at just £34.99. Also new to the range this year comes the All-New Blink Indoor security camera. You can pre-order this now, too.
Also see:
Annie is our Deputy Ecommerce Editor at Gardeningetc. She spends much of her time helping you add those all-important garden decor items to your shopping cart. From striking outdoor lighting to pretty and practical bird feeders, or even a gift for a friend or family member who loves to garden – she covers it all. Otherwise, you can find her thinking of ways to maximise space out on her delightful yet teeny-tiny London terrace. Next on the shopping list: a fire pit...