Upcycling project: how to create your own colourful terrazzo planters
Follow this easy step-by-step project and smarten up your pots with an on-trend paint makeover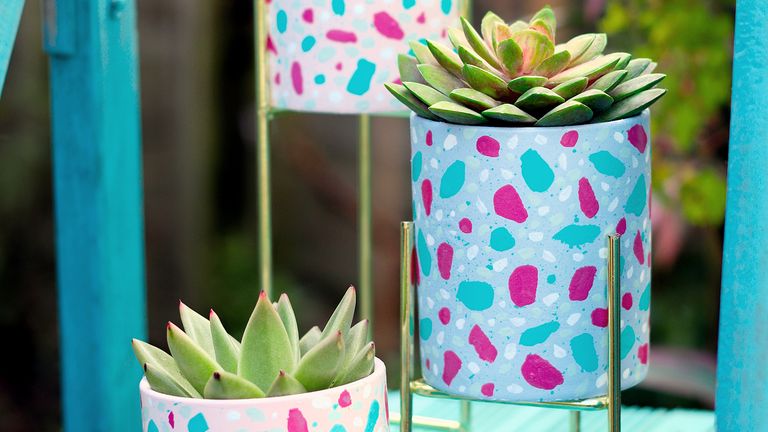 (Image credit: Wilko)
By Teresa Conway published
Brighten up your indoor or outdoor space with colourful terrazzo designs you can paint at home. Terrazzo prints have been top of the interior trend list for a while now, so why not grab a paintbrush and set about livening up a set of plain planters? Simply pick colours to match your garden scheme then protect from the elements by adding a coat of clear varnish. You can fill them with on-trend succulents or maybe some trailing foliage.
Terrazzo is a great way to add subtle pops of colour to your decor, and with this simple paint technique you can create a bespoke design. If you prefer a more neutral palette, swap bright shades for Mediterranean yellows and oranges or industrial blues and greys.
You may have some existing planters to jazz up or you could buy some brand new. If you're doing a set then stick to odd numbers and stagger them at varying heights. Scroll on for an easy-to-follow step by step on how to decorate your pots, then head over to our garden design ideas for more outdoor inspiration.
Thanks to Rust-Oleum for sharing this stylish step-by-step guide with us
WHAT YOU WILL NEED
Dust sheet
Plant pots
Paintbrushes
STEP ONE: PREPARE YOUR POTS
Give your plant pots a thorough clean with soapy water then leave to dry. Once dry, place a large dust sheet or some old newspapers in a well-ventilated area.
STEP TWO: PRIME THE SURFACE
Spray the pots with Rust-Oleum surface primer and leave to dry. Apply a thin coat of Chalky Finish furniture paint and allow to dry, before applying a second.
STEP THREE: CREATE A SPECKLED BASE
Dip the tip of a dry, stiff-bristled paintbrush into a pot of Rust-Oleum Painter's Touch. Use your finger to flick small specks of paint all over the planters. Allow to dry completely.
STEP FOUR: PAINT YOUR TERRAZZO PATTERN
Use a small, clean paintbrush and several different shades of Painter's Touch to add a variety of coloured blobs in different shapes and sizes to form a terrazzo design. The more random the pattern, the better!
STEP FIVE: PROTECT YOUR PLANTERS
Finish your pots by applying two light coats of Rust-Oleum Crystal Clear protective coat spray to protect your planters. Leave to dry between each coat. Plant your finished pots with succulents and place in a sunny spot to admire. Head over to our how to grow succulents feature for top growing tips.
More step-by-step garden projects
Teresa was part of a team which launched Easy Gardens magazine two years ago and she continues to edit it today. She is also the Gardens Editor on Homes & Gardens, Country Homes & Interiors, Ideal Home and Style At Home, so she is lucky enough to see and write about gardening across all sizes, budgets and abilities. What she is most passionate about when it comes to gardening are the positive effects it has on our mental health to grow and care for plants. Keeping our patches alive with greenery is great for the environment too and help provide food and shelter for wildlife. Finally, she finds it to be such a wonderful opportunity to tap into her creative side and she loves the feeling that she is crafting a space which has a life of its own. Audrey Hepburn summed gardening up perfectly when she said - "To plant a garden is to believe in tomorrow".