Upcycling project: make this pretty vintage style bird feeder
Turn a pretty teacup into a stylish perch for feathered friends with this easy weekend project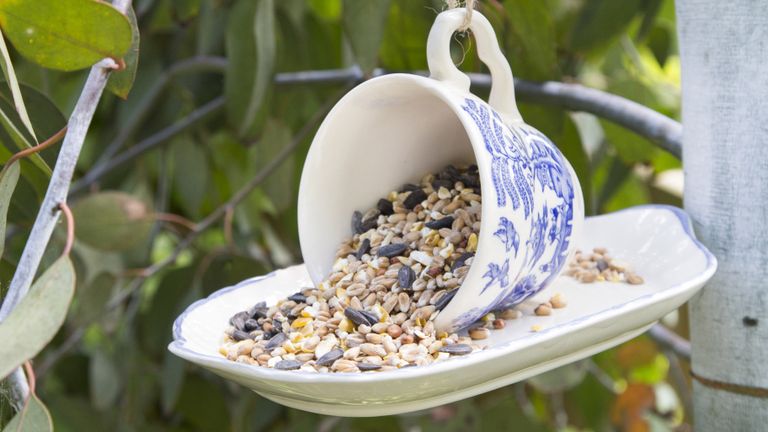 (Image credit: David Giles)
By Teresa Conway published
This is the perfect upcycling project to bring some unique vintage charm into your garden. You'll be able to pick up something suitably pretty in a thrift store which will make your bird feeder one of a kind. Not only will it add an attractive feature to your garden, you'll also be doing your bit to help out our feathered friends over the winter months.
Whether you like tea or not, the birds will love this refreshment, it will be just like their very own tea party! Keep reading for details on how to make this pretty feeder, as well as some top tips on what to include in your bird food mix, then head over to our wildlife garden ideas for more ways to encourage creatures great and small into your outdoor space.
WHAT YOU WILL NEED:
STEP ONE: ATTACH YOUR TEACUP TO THE SAUCER
Turn the teacup on its side, with the handle pointing up, and place in the middle of the saucer (to ensure even weight distribution). When you're happy with its position, add a dab of Gorilla glue to the teacup, following the manufacturer's instructions, and secure in place on the saucer with tape, to hold the cup steady. Leave to dry fully.
STEP TWO: HANG YOUR FEEDER
Remove the tape and check the teacup is stuck securely to the saucer. Take a length of twine, around 30cm long, and loop through the handle of the cup.
Step Three: Hang your feeder from a branch
Find a sturdy branch to hang the feeder and tie the twine securely to the branch with a double knot. Snip the end of the twine and fill the cup with bird seed.
Choosing the best bird food mix
A good bird feed mix should contain high amounts of flaked maize, black sunflower seeds, pinhead oats and crushed peanuts along with small seeds such as millet. If you choose a standard mix like this it should be reasonably priced and will attract a wide range of bird species meaning you won't need to turn to specialist feed which can be more pricey.
You can use some food leftovers to feed birds. Bread is OK in small amounts – it doesn't harm birds but doesn't contain much goodness. Fat and rind from bacon and other meats that are not salty can be offered, preferably chopped up small. Cooked rice, pastry, breakfast cereals, cheese and dried fruits are all fine. Do not give them chips, salty foods, cooked oats (porridge), milk or fat from cooking.
Read more:
Teresa was part of a team which launched Easy Gardens magazine two years ago and she continues to edit it today. She is also the Gardens Editor on Homes & Gardens, Country Homes & Interiors, Ideal Home and Style At Home, so she is lucky enough to see and write about gardening across all sizes, budgets and abilities. What she is most passionate about when it comes to gardening are the positive effects it has on our mental health to grow and care for plants. Keeping our patches alive with greenery is great for the environment too and help provide food and shelter for wildlife. Finally, she finds it to be such a wonderful opportunity to tap into her creative side and she loves the feeling that she is crafting a space which has a life of its own. Audrey Hepburn summed gardening up perfectly when she said - "To plant a garden is to believe in tomorrow".