7 outdoor string lights to bring ambiance to your backyard
These outdoor string lights are perfect for creating a canopy, lighting a dining table, and creating a warm, inviting environment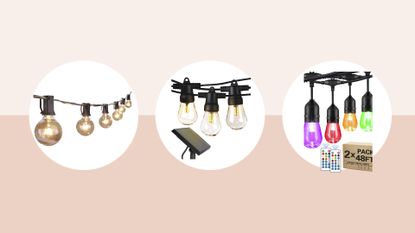 (Image credit: Future)
Gardening Etc Newsletter
The Home Of Outdoor Living
Thank you for signing up to . You will receive a verification email shortly.
There was a problem. Please refresh the page and try again.
Outdoor string lights are a backyard essential in order to make your garden glow. Perfect for setting up to create a canopy effect, or to frame the entertaining area of your outdoor space, these high-quality outdoor string lights can bring attention to your well-loved space. Importantly, they are also very resilient in their designs, with the power to withstand all weather conditions.
There are lots of choices that crossover with the best solar lights, meaning that all you need to do is set them up and let them soak up the sunshine. There's also a wide range of lengths and bulbs, so that you can pinpoint the exact look you want to create with these lights. Before you decide which lights are for you, make sure to measure how far you want them to extend, and to test out the surfaces you want to affix them to.
---
5 outdoor string lights to make your backyard shine
---
Browse more outdoor string lights...
Finding the perfect outdoor string lights is a task that depends on lots of different factors, including length, style and color of the bulbs. If you're still looking for the lights you consider to be your perfect match, these are the retailers we would recommend:
Molly is the Ecommerce Writer for Gardeningetc and spends her time searching the internet for the next best thing for your garden. When she's not writing, she would most like to be swimming in the nearest sea/ocean or getting through her neverending pile of novels. She's a huge fan of houseplants and loves identifying new plants and trees on walks too.