Best outdoor projector: liven up your garden parties with these top picks
The best outdoor projectors to take your sports nights and movie marathons outside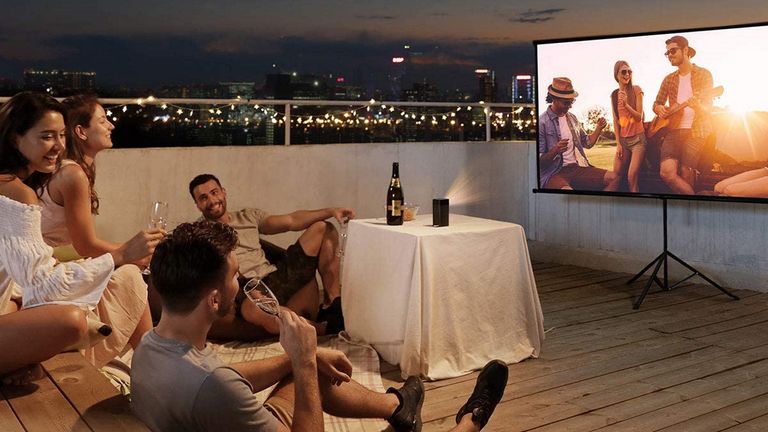 (Image credit: Anker)
We might not all enjoy the good weather required to have outdoor gatherings all-year-round, but something we've learned recently is that getting together with friends in the garden can be as great as any house party or gathering at the pub. And why not make your parties this upcoming summer even better with an outdoor projector?
All you'll need to achieve the ultimate garden or rooftop movie marathon is a blank wall (or projector screen) and you're set. Still, there are a few things to consider before you purchase your chosen outdoor projector.
The most important thing to pay attention to with outdoor projectors is the lumen number, which we have outlined for each of the entries below. Generally speaking, the higher the lumens, the more versatile the projector, as a low number will only be visible when it's dark.
We've chosen five of the best outdoor projectors available right now, so scroll down to see what we thought. And to boost your viewing even further, take a look at our guide to the best Bluetooth speakers.
The best outdoor projectors in 2021
1. Anker Nebula Capsule II
Best outdoor projector for versatility
Specifications
Native resolution: 1280 x 720p
Brightness: 200 lumens
Smart?: Android TV, Google Assistant
Bluetooth?: Yes
Screen size: 100"
Dimensions: 15 x 8cm
Weight: 0.68kg
Reasons to buy
+Works with Google Assistant+3600+ apps on Android TV+Can be used as a speaker
Reasons to avoid
-Brightness could be better-Expensive for what it is
Among the reasons the Anker Nebula Capsule II scores so highly for us are its ultra-portable design and smart features, which truly allow you to carry your entertainment system around in your handbag. It's expensive for a mini projector, but the convenience of having Android TV and Google Assistant cancel this out somewhat.
You'll be able to project images up to 100-inches, with in-built speakers doing an adequate job. You can charge it using a USB-C port and this will give you around 2.5 hours of movie watching. Handily, you can also use the Capsule II as a standalone speaker, which will run for 30 hours on a single charge.
The versatility doesn't stop there, with the HDMI port allowing you to plug in smart streaming sticks like the Fire TV or Roku, and you already have Chromecast built in for casting from your device. All this in a projector the size of a beer can.
2. ViewSonic M1+ Portable Projector
Best outdoor projector with speakers
Specifications
Native resolution: 854 x 480
Brightness: 300 lumens
Contrast ratio: 120000:1
Throw distance: 2.66m
Screen size: 100"
Dimensions: 14.4 x 12.6 x 3.9cm
Weight: 0.77kg
Reasons to buy
+Bluetooth Harmon Kardon speakers included+Great contrast ratio
Reasons to avoid
-Brightness not the best
As with the example above, many portable and outdoor projectors are multi-purpose and can be used as speakers when you're not watching. The ViewSonic M1+ makes this even better with dual in-built Harmon Kardon speakers that reduces the need to purchase external speakers ahead of your next movie night.
Designed for indoor or outdoor use, the M1+ has Wi-Fi and Bluetooth connectivity for simple streaming, offers six hours of battery life on a single charge and can be used with a floor or table mount.
Though the brightness won't be brilliant on super-sunny days, the size and weight of the projector makes it ideal for carrying around or moving from room to room (or from house to garden).
3. Epson EB-E01 Projector
Best outdoor projector for life-span
Specifications
Brightness: 3300 lumens
Native resolution: 1024 x 768
Screen size: 350"
Dimensions: 40 x 40 x 30cm
Weight: 2.4kg
Reasons to buy
+Durable+Built-in speaker+2 year warranty
Reasons to avoid
-Not specifically designed for outdoor use-Expensive
The Epson EB-E10 Projector is a great pick if you want something that will last you for years. It has a light output of 3,300 lumens and offers up to three times more colour brightness than competitors. Not only that, but it's incredibly long lamp life means the mid-range device will be with you for a long time.
This outdoor projector also provides an impressive 350-inch display once set up and it's also incredibly easy to use.
Simply position the image with keystone correction and pick what you want to watch – via HDMI or from a smart device – use the iProjection app to share content. With a built-in two-watt speaker, this outdoor projector can also be plugged into other speakers for better quality. In the box comes a carry case and a keystone slider for easy setup and transport.
4. Elephas W13 Mini Projector
Best outdoor projector for daylight use
Specifications
Brightness: 4500 lumens
Native resolution: 1080p
Screen size: 200"
Dimensions: 20 x 14 x 7cm
Weight: 1.5kg
Reasons to buy
+Lightweight+Portable +Quiet+Lifetime warranty
Reasons to avoid
-Not the best sound quality
The ELEPHAS Video Projector is a great budget-friendly option. This outdoor projector claims to be 80% brighter than other projectors at similar sizes and, as well as supporting 1080p, it boasts a whopping 4,500 lumens.
This Elephas projector also works with TV sticks, laptops, tablets, DVD players, game consoles, smartphones and more so you won't be short of things to watch.
It also has a HDMI port. Watch content from 30 to 200-inches and from 3.9 feet to 8.2 feet away for best results. Sporting built-in speakers for ease of use – though you may want to plug in your own – it's lightweight at just 2.25 pounds. It's updated cooling system also cuts the fan noise in half for a better experience.
5. Anker Nebula Apollo Mini Projector
Best compact outdoor projector
Specifications
Lumens: 200
Speaker?: Yes
Dimensions: 66 x 66 x 132cm
Weight: 1.6kg
Reasons to buy
+6-watt speaker built-in+Wireless+Small and easily portable
Reasons to avoid
-Low lumens
Buy the Anker Nebula Apollo Projector if you're after something compact and easy to use. This outdoor projector is suitable for screens up to 100-inches in size while it plays at just 200 lumens, so you'll have to wait until it's completely dark outside to use it. It's also wireless and one charge gives it four hours of playtime.
You can download and stream YouTube, Netflix, BBC iPlayer and more straight to this projector and browse more entertainment with its touch sensor control.
The projector has a transparent touch panel that's easy to use and, with a built-in six-watt speaker, the audio certainly packs a punch. It also has a HDMI port and is super compact in size, making this mini projector perfect for staycations, at a friend's house or popped in a handbag.
How to choose the best outdoor projector
Do outdoor projectors work in daylight?
The best conditions for watching anything outdoors will be the dark of night, but that doesn't mean you have to give up on daytime movie marathons and get togethers for the big match altogether.
The trick is to choose an outdoor projector with good brightness, which is measured in lumens. We have included the lumen number for all of the projectors listed above and, generally speaking, the high the number the better. Those with a lower brightness will still be fine for viewing at night (and they tend to be cheaper) but, if you intend to fire it up during the day, consider more carefully.
Do I need to buy external speakers?
Most of the best outdoor projectors come with in-built speakers for an easier set-up, which makes sense for a product that's supposed to be portable. However, this isn't always the case and, even if your chosen projector does include speakers, they may not be up to your standards.
The size of outdoor projectors means that the power of in-built speakers can be a little lacking and this is, after all, a secondary concern for manufacturers. Our advice would be to choose your projector based on other specs such as brightness or weight, and use an external Bluetooth speaker if you're not happy with the audio.
How large will the projection be?
Projectors are by far the easiest and most affordable way to get big screen thrills at home, and outdoor projectors give you the opportunity to create the outdoor cinema of your dreams for a fraction of the cost of a 75 or 85-inch TV.
The maximum size of your movie or TV show (or whatever else) will depend on which projector you choose but, to give you an idea, the examples of this list range from between 100"-350". What's best for you should be measured against the size of your outdoor space.
Writing for Gardeningetc since the start of 2021, Caroline is passionate about how an outdoor space can complement interior style. In her own time she is creating her own little oasis on her small balcony, or adding yet another houseplant to her extensive (and ever-growing!) collection.