Cheap climbing frames: the best deals on the web for SS21 – from £100
These are the best cheap climbing frames on the web right now. Prices start from just £100 – here's where to find the best bargains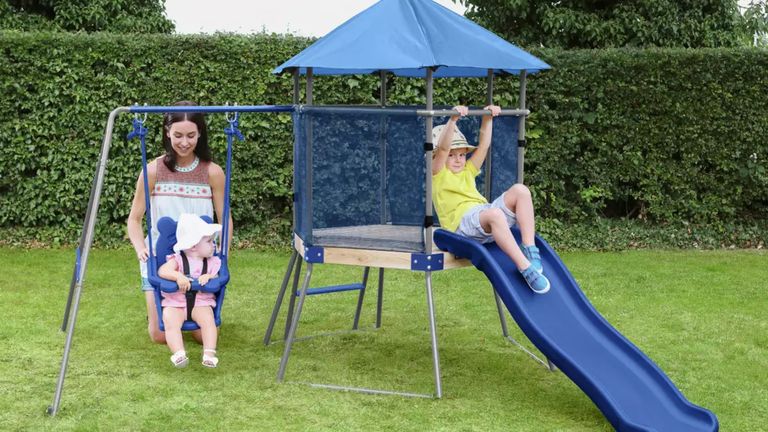 (Image credit: Chad Valley)
Searching for a cheap climbing frame for the kids to use in the garden? We get it – come spring and summer you want something that will get them away from their screens and stuck in the mud. Without actually having to get them (and yourself) ready to leave the house, that is. And, going to the local park will be out of the question as those places are always so busy.
Buying a climbing frame is a smart idea so that you can relax in your garden and catch some sun, while the kids play and get some fresh air. Climbing frames are great for use at pretty much any age, as long as your child can walk. A few of them are even height-adjustable so they can grow along with your child, making them well worth their price tag.
Buying the best climbing frame doesn't necessarily have to be an investment purchase – keep scrolling for the most affordable climbing frames we could find on the web at the moment. From everywhere including Argos, Amazon and TP Toys.
Where to buy cheap climbing frames?
Want to browse cheap climbing frames for yourself? See the quick links to sites below, or scroll on to see our top picks.
Climbing frame stockists in the UK:
The best climbing frame deals
By price: Low to high
Little Tikes Toddler Activity Gym Climbing Frame and Slide | £100 at Argos (opens in new tab)
This small yet enjoyable climbing frame is complete with a slide. It has portholes for crawling through in the bottom, as well as holes at the top so they can see you at all times. It's great for kids ages 18 months and over, and since it's small, it won't take up too much space in your garden. You could even bring it indoors come winter...
Lil Monkey Dome Climbing Frame | £109.99 at Amazon (opens in new tab)
This dome is perfect for grassed gardens – they can climb it, hang from it and more. It's suitable for children over three years old, up to six years old. It has been UV-protected and it's also water-resistant, as well as lightweight when it comes to having to move it.
Freeport Park Collett Climbing Frame | £149.99 at Wayfair (opens in new tab)
For just under £150, you can score this castle-themed climbing frame which has a slide, steps, a basketball hoop and portholes for them to crawl through. They will love it!
Chad Valley Climbing Frame with Toddler Swing and Kids Slide | £160 at Argos (opens in new tab)
This Chad Valley climbing frame is a bargain bearing in mind its size – it features a wide slide as well as a play platform and a toddler swing. It's made for kids aged one and over, and it can be used by two children at any one time. It is small in height, but that's to make it easier for them to use (and safer for them to play with).
TP Explorer Metal Climbing Frame with Platform & Den | £199.99 at TP Toys (opens in new tab)
This is a bestseller for good reason – not just because it's cheap. It's large so it's ideal for bigger kids, and they can climb inside the den and play! You can buy it bit by bit, so you can add to it as you go. There's everything from a slide to a jungle run that can be added on. You can also build it at a lower height, depending on the age of your child and their size. It comes complete with a playmat, and it's suitable for kids over 18 months old and up to 12 years. Essentially, it will grow with your child so you can get your money's worth.
TP Forest Toddler Wooden Climbing Frame & Slide-FSC® | £199.99 at TP Toys (opens in new tab)
A good looking option for those who are conscious about plonking a huge plastic climbing frame in their garden, this one is made from FSC-certified wood, and you can paint it. It also features a built-in sandpit to keep your grass clean, and it has a 1.2-metre slide. The sandpit also has a lid so it could also be used as a table. It's suitable for use from 18 months old.
More cheap climbing frames...
Unsurprisingly, climbing frames have been selling out fast this year, so if you can't wait until your favourite comes in stock, see these great offers that are available today.
Offers on our top-rated climbing frames:
Annie is our Deputy Ecommerce Editor at Gardeningetc. With her shopping expertise influencing readers across the titles of Real Homes, Ideal Home, Homes & Gardens, Livingetc, and Woman & Home, Annie is always in the know of everything you need to buy for your outdoor space. She's on hand to inform avid gardeners when to buy whatever they are after — and from where. Annie's team cover shopping edits, buying guides, and gift guides on Gardeningetc, from striking outdoor lighting to pretty and practical bird feeders, or even a gift for a friend or family member who loves to garden — they cover it all. When she's at home, Annie is forever brainstorming ways to maximize space out on her delightfully private, yet teeny-tiny, London terrace. With her Pug, Doug, to entertain outdoors and a penchant for sitting outside and catching the sun, this job is proving itself to be never-ending. She's changed her mind many times when it comes to decorating this space, having made her own pallet garden furniture but now, settling for a gorgeous bamboo set from Argos. This year, she's hoping to entice bees and other insects into her garden by filling the sizeable walled planter that stretches from one end of her terrace to the other, with wildflowers and more. Otherwise, next on her to-buy list is a luxury fire pit for keeping warm in the guaranteed British summertime breeze.
You can find Annie's home Instagram account at @athome.withannie.
Sponsored by