8 man cave ideas for the ultimate den
Looking for man cave ideas? Set up your dream den in your garden with our design tips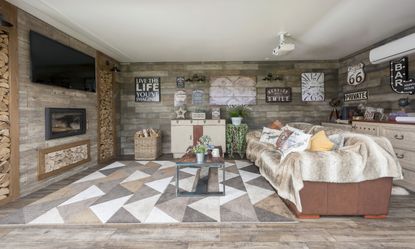 (Image credit: Jeremy Phillips)
The internet is full of man cave ideas, but let's be honest – they might be practical, but they aren't always all that stylish. A den can be just as polished as any other part of your home with a little TLC – you just need a bit of inspiration. And that's where we come in.
What your man cave looks like depends on what you want out of it. Do you fancy a home bar in the garden? A cinema room where you can kick back and relax of an evening? A place to play pool and chill out with friends? Whatever you're after, our chic ideas for the ultimate den will set you on the right path.
1. Invest in a garden room
Any man cave starts with a structure, and if you're looking for a spacious den with the capacity for year-round use, an outdoor room could be right for you. Set at the end of the garden, it'll feel like a home away from home, with enough distance between you and the house to make it a bit of an escape. Modular options like this model from Green Retreats can be customised to fit your needs, but you could also go for a completely bespoke structure.
2. Makeover a once-loved shed
No room for an outdoor building? A shed or summerhouse still gives you that escape, but for less space and a lower price. This one, painted in a striking blue shade from Cuprinol, is the perfect place to potter and enjoy your own company, especially in the summer months. It might be smaller than a garden room, but there's plenty you can do with a shed: deck it out with a bar, create a bed for an afternoon snooze, or set up a seating space for hosting your mates.
3. Build in a bar
Fancy your very own pub in your garden? We love this cosy-looking bar set in an outdoor building from Green Retreats. The panelling adds rustic cool to the space, and the bi-fold doors can be fully opened in the summer so you and your mates can spill out into the garden. Add a TV and you've got the perfect place to host a crowd for those all-important sporting events – or just kick back with a beer and catch up on a box set.
4. Create your own home cinema
Most of us dream of a cinema room, but a man cave can make this reality, as this cool set-up shows. The must-haves? A wide-screen TV (we'd say the bigger the better) or a projector and screen, a slouchy sofa, a coffee table to set down that Old Fashioned and a throw for comfort. We love the addition of a woodburner here – movie nights just got seriously cosy.
5. Opt for rustic furniture
If you're looking for a masculine edge to your den, you'll find the answer in the furniture you choose. Industrial-style designs, like this set up from Dunelm, which features their Torino and Emilia bar stools, toughen up any scheme and work well with rough wooden furniture – upcycled vintage finds are particularly effective.
6. Bare all with brick
Exposed brick is the height of industrial cool, and while actual brick isn't usually an option in a garden room, brick-effect tiles (like these from Walls & Floors) or wallpaper can add texture, colour and warmth to your space. Use it as a neutral background to anything from a bar to a lounge area for instant style credentials.
7. Create a games room
Do you dream of having your own games room, complete with pool table, dart board and maybe the aforementioned home bar? This design from Green Retreats has turned that dream into a reality. Complete with a rustic-look pool table, a TV to catch up on that football match and a mini home bar for essential refreshments, it's the perfect space to host your mates for a proper games night.
8. Balance work and play
Whether you work from home or want to work on a hobby or skill, doubling up a man cave as an office space can give you a quiet place to indulge in some serious study. A ladder desk like this one from Vincent & Barn takes up little space but looks great, thanks to its industrial-style combination of metal and wood. It doesn't have to be a desk, either: you might want to include a workbench, a squat rack or any other specialist equipment you need to do your thing.
More ideas for garden buildings:
After a stint writing for true life titles, Ellen made her venture into the world of interiors magazines in 2017 on Real Homes magazine where she is now deputy editor. She's a fan of clever tips and tricks for renters, and has a special interest in sustainability in the home. While she's waiting for a garden to call her own, Ellen keeps herself busy with her collection of houseplants – 28 at the time of writing, but ever-growing. She also enjoys helping out at her grandad's allotment and has made friends with the local cat along the way.