Tree stump ideas: 9 creative ways to give them a new lease of life
Are you looking for clever tree stump ideas? Look no further – from show-stopping sculptures to colourful stepping stones, these will have you inspired in no time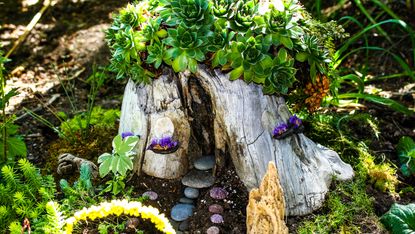 (Image credit: JustAHobbyMommy/Getty Images)
If you're looking for tree stump ideas, we've got you covered. For as it turns out, that old bit of tree can be transformed into a work of art, or a truly functional feature for your garden.
Perhaps you've had a tree stump at the bottom of your plot for years, that you've been trying to overlook. Or, maybe you've recently had a visit from a tree surgeon and have been left with a stump or two that you're not sure what to do with. But with a bit of know-how and creativity, there are many things you can try.
From turning them into a unique point of interest, or removing them from the ground to transform into fabulous furniture or fun stepping stones for the kids, you might be surprised at all the opportunities a tree stump can present. Before long, you'll find they are the perfect addition to your carefully considered garden design ideas. Read on to find out more.
1. Hollow out to use as a planter
One of the simplest things to do with a tree stump is to turn it into a unique planter, for all your favourite flowers and foliage. Carmen of @carmypeach has done just that, adding a beautifully natural look to her garden.
It is quite simple to do the same – you just need to hollow out the centre of your stump with an axe or mattock (carefully, of course). Fill the bottom of the hole with grit or handfuls of gravel to improve drainage (you could also drill a hole or two lower down into the trunk) and then add potting soil before planting up.
Not only will the result look stunning, the plants will benefit from the nutrients of the tree stump as it naturally breaks down into the soil. Why not fill with cheery daffodils or tulips? Take a look at our guide to planting bulbs for advice.
2. Turn into hopscotch stepping stones
Who would of thought that tree stumps could be so cute? We love this idea from Shaz Young of @slinkyshaz, who has painted the tops of small stumps to recreate toadstools.
Arranged in a wiggly stepping-stone pathway, they offer a lovely game of hopscotch for little ones, whilst adding an extra dose of magic to the garden.
Take a look at our best exterior wood paint if you'd like to get creative yourself.
3. Transform into beautiful furniture
Why not repurpose your tree stump and bring it indoors? This unique table has been created from the wonderful material of eucalyptus.
'This stump was reclaimed after a tall tree had been cut down from a resident's garden,' explains Kishan Mistry of Tree Soul Store. 'This wood's natural pattern and colour provides the perfect finish without the need for wood oil or varnish.'
'The stump showcases beautiful consistent rings, as well as small sized open pores adding to its personality,' Kishan adds. 'Having furniture created from your own materials is amazing.' We couldn't agree more!
4. Enchant the little ones with a fairy house
The garden can be a real place of wonder and imagination for children. So, if you're looking to keep your kids entertained out in the fresh air, why not transform a humble tree stump into a magical fairy castle?
With pebble pathways, floral window boxes, and a roof made of succulents, you'll have them entranced in no time. And if you haven't already, take a look at our other garden activities for kids for more inspiration.
5. Turn a stump into a sculpture
As seen in this example by chainsaw artist Matthew Crabb, a tree stump can become a show-stopping focal point for your plot.
We don't recommend trying to recreate such a feat yourself, unless you're a well-experienced chainsaw user. But, if you would like to turn an old tree stump into a work of art, then consider commissioning a chainsaw artist to do the job. You'll be left with a unique feature that you and your family will love for years to come.
6. Repurpose a tree stump for a table
If you love a rustic look and have a large tree stump going spare, then why not repurpose it to be used as a table?
Give the top a good sand and use a spirit level to make sure it's flat, and voila – a beautiful, bespoke centre piece for your seating area. Smaller stumps can be used as stools – take a look at Adam Frost's garden seating area for free!
7. Top with a treehouse
Got a particularly large tree stump? Like the idea of a treehouse? Then this idea is for you. The team at Squirrel Design have used the trunk of a chestnut to support this treetop wonder, and we love the dramatic impact it makes.
A fun-filled spot for kids to hang out or a peaceful retreat for adults to relax – a treehouse can be used by everyone. We love the addition of the hanging swing chair beneath, too. Take a look at our treehouse ideas for lots more stunning examples.
8. Carve into mushrooms for a magical feel
If you'd like to add a sense of Alice in Wonderland to your garden, then check out these tree stump mushrooms. Each one is expertly carved to create an otherworldly effect.
Perfect along a fence, surrounding a seating area, or dotted amongst your flowerbeds, these would instantly elevate your garden and give it a unique feel. Again, you'd probably need to hire an expert to give you a hand, but we think the results would be well worth it.
9. Use for outdoor furniture
These tree stumps have been given a chic makeover and transformed into outdoor furniture. Clustered into a group of three, they make a stylish centrepiece to surround with outdoor seating and adorn with lanterns.
You'd simply need to sand tree stumps down and then seal with a protective varnish or oil to recreate the look. It's a look that perfectly aligns with our outdoor living space ideas which are so in vogue right now.
How do you seal a tree stump left in the ground?
It is relatively simple to seal a tree stump left in the ground. But why would you want to do so? Well, living tree stumps can, unfortunately, attract pests such as mites. They can also begin to rot. This can be useful if they're being used as natural planter (see above), but not so great if using as an outdoor table.
Due to the tree being a living thing, with roots which permeate the ground, it's impossible to stop a tree stump decomposing entirely. However, to slow the process, try these tips below:
Give the stump a good clean, removing any mud or debris using a brush or damp cloth.
Sand the top.
Apply a polyurethane wood sealant to the top and sides, then wait 48 hours for it to dry.
A tree stump removed from the ground is easier to seal – just make sure the stump is fully dried out first. This can take up to six months or even longer if it's on the larger side, and should be done indoors – a garage is a good place for this.
How do you remove a large tree stump from the garden?
The RHS offer some advice when it comes to removing large tree stumps from the garden:
If you definitely don't want a tree stump left in your plot, then pay a tree surgeon to remove the stump at the same time that they fell the tree.
Otherwise, if your tree has been freshly cut, you can add a chemical stump killer, making sure to follow the manufacturer's instructions.
You can also opt to physically remove the tree. Small tree stumps can be removed with a winch – although it is best to hire a professional to use this equipment safely.
Larger tree stumps can be removed using a stump grinder or mini excavator, but again, make sure you hire a professional to do this, for safety reasons.
One method to definitely avoid, is to try and burn it down – a fire can easily get out of control, or worse still, be positioned above a gas line!
For more advice, take a look at our guide on how to remove a tree stump.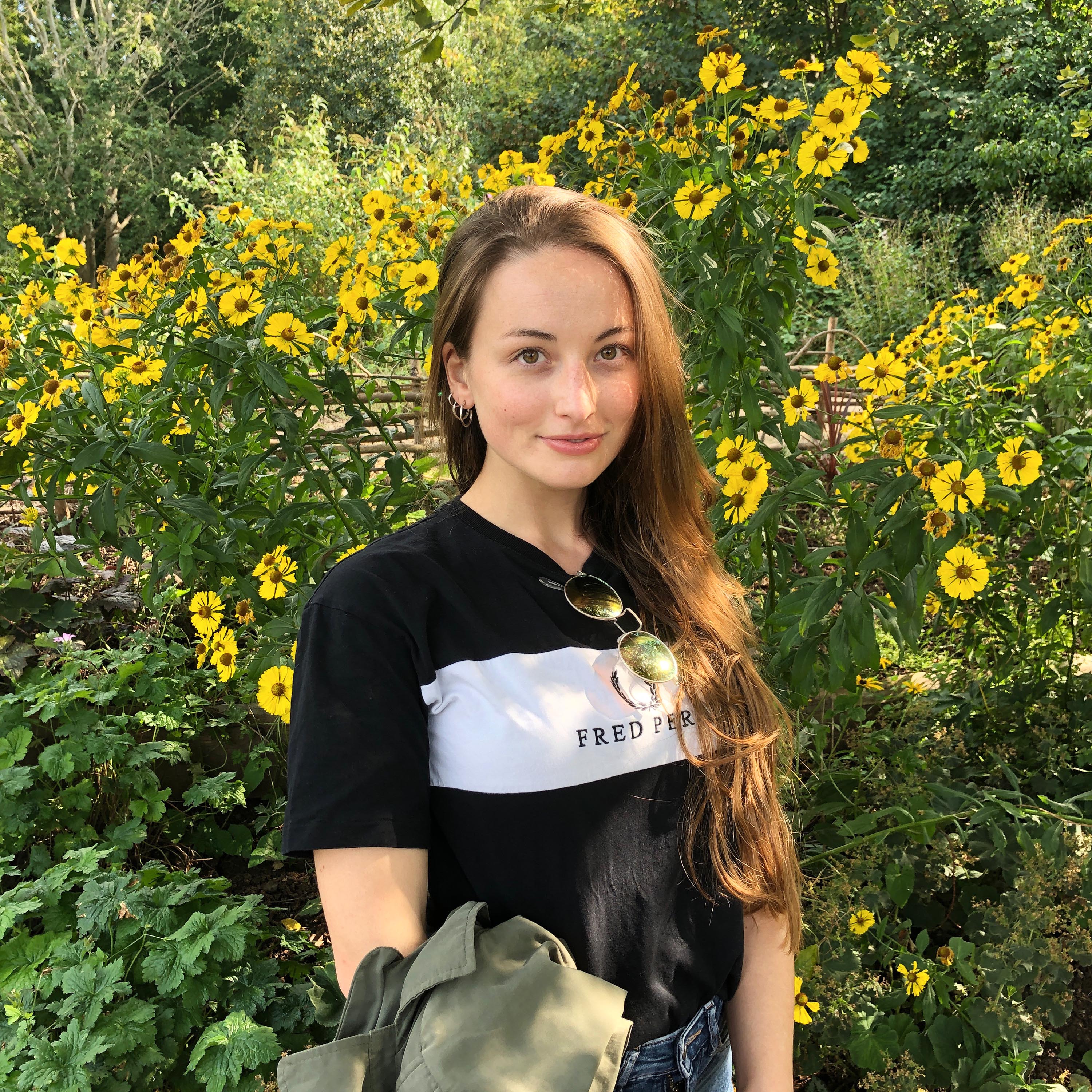 The garden was always a big part of Holly's life growing up, as was the surrounding New Forest where she lived. Her appreciation for the great outdoors has only grown since then. She's been an allotment keeper, a professional gardener, and a botanical illustrator – plants are her passion.