Gardeners' World presenter Adam Frost shares his method for creating a garden seating area for free
The gardener and presenter has recently shared his top tips for building a tranquil all-weather seating area in the garden using nothing but plants and tree stumps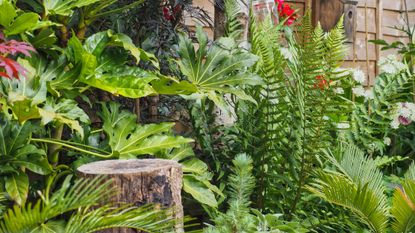 (Image credit: Unsplash)
Adam Frost is brilliant at practical and achievable small garden ideas, and his latest small garden creation for Gardeners' World is no exception. The gardener and presenter has shared his process of creating a serene garden seating area that won't cost you a penny.
All you need is a tree that's either been felled or has fallen over in a storm and a few plants that don't mind a bit of shade. Voila, you have your own stumpery that's perfect for relaxation.
This cosy space is inspired by nature and doesn't require any expensive garden furniture – and it's perfect for your wildlife garden ideas as you're not using any synthetic materials or disrupting the ecosystem in your garden. Adam does advise to choose a shady spot protected by trees in order to protect yourself from strong lunchtime sun.
Adam used old logs from a diseased tree that was cut down in the garden, but you may be able to source large logs from a local garden centre, too. Alternatively, Adam says that you can even use some old crates or large pots turned upside down. The point, he remarks, is less what you use and more 'starting to engage with nature and what surrounds you.'
No special equipment is required to position the logs or stumps – just twist them into position, they won't go anywhere as they're heavy. Firm up the soil around the stumps, and you're done.
Next, Adam chose woodland plants for his stumpery area – ferns, the cool-toned Actaea pachypoda 'Misty Blue', an unusual, serrated-leaf Epimedium (another great plant for shade), and Solomon's Seal.
These plants, when Adam plants them together, create a carpet of gorgeously varied texture around the stumps. We've also spotted some irises in Adam's stumpery – a dreamy colour accent that cuts through the deep green beautifully. Of course, the other woodland classic that will fit right in a seating area like this one is the bluebell – stunning when it comes up in April.
Feeling inspired? There's more ways to create an eco friendly garden in our guide.
Anna writes about interior design and gardening. Her work has appeared in Homes & Gardens, Livingetc, and many other publications. She is an experienced outdoor and indoor gardener and has a passion for growing roses and Japanese maples in her outside space.