5 easy ways to update your outdoor living space
There's still plenty of sunshine to enjoy, so try these outdoor living ideas and make the most of your space this month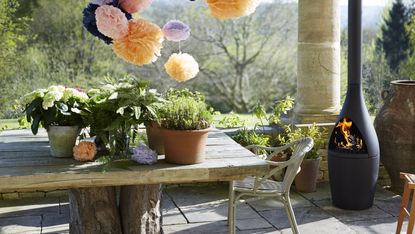 (Image credit: Morso)
There's been plenty of warmer weather to enjoy over the last few weeks, and hopefully still more to come (fingers crossed!), so make the most of your outdoor living space with some quick ways to give your garden an instant refresh this month.
Whether it's opting for some new accessories to give your outdoor sofa an update or investing in a stylish outdoor fireplace so you can enjoy your garden after dark, these five outdoor living space ideas are a great way to enjoy your garden for longer.
1. Gather by the fire
There's nothing nicer than gathering around a fire on an autumn evening, listening to the lovely crackle of wood burning and basking in the warm glow it creates. Whether you choose a fire pit, chiminea or something more contemporary like this Kamino outdoor fireplace from Morsø, there are plenty of choices on offer. The Kamino is crafted from cast iron, is movable and can be used from early spring, throughout summer and the cooler evenings of autumn. You can also grill over the fire if you opt for the Tuscan grill that works with it.
2. Time to relax
Hammocks are a great addition to a summer garden, but they work just as well as the weather turns cooler instead. Spend an afternoon or evening outdoors, gently rocking in the hammock while you read your favourite book. Team it with some warm throws and you can snuggle up in style outdoor on cooler evenings. This Fredon design from Ikea even has a handy pouch on the side to keep your reading material in. You can either hang it between two trees, between two posts of a pergola or use the matching Garö stand from Ikea instead.
3. Let there be light
We all need a bit of light in our lives don't we, and as the nights are drawing in a little, it pays to invest in some stylish lighting for your garden. These Fraser lanterns from Lights 4 Fun are made from bamboo and each has a TruGlow candle inside. They can be used on a tabletop or in a pair on your patio, they're battery operated and you can activate the six-hour timer so the lanterns will light up automatically at the same time every evening.
4. Reflect with style
If your garden is on the small side, or you simply have a compact patio or courtyard garden, then consider buying one of the best garden mirrors. They give the illusion of space and if you place it correctly it will reflect plenty of natural light. This smart Fulbrook outdoor mirror from Garden Trading has a distinctive window pane style that will work in most gardens, whether your look is modern or trad. It's made from powder coated steel so will be long-lasting, too.
5. Add some weatherproof comfort
You can use normal indoor cushions in your garden, but let's face it, we all forget to carry things inside sometimes don't we? Even a quick rain shower can soak through cushions in a couple of minutes, so it's worth buying cushions that are designed to be used outside. This Ikat cushion from Cox & Cox is crafted in a jacquard weave, it's stitched for durability, is UV resistant and filled with polyester beads so it absorbs less morning dew. Basically, you can leave it out all night without any worry!
Read more:
Sophie has been an interior stylist and journalist for over 20 years. She recently trained to be a florist and launched The Prettiest Posy where she curates beautiful flowers for weddings and events.