5 easy ways to update your outdoor space for under £70
Give your garden a new lease of life for the weekend with these quick and easy updates that have big impact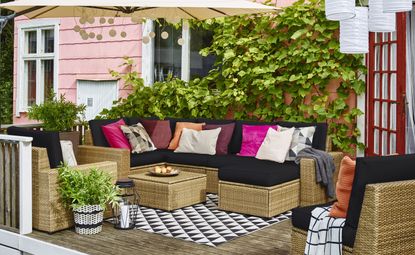 (Image credit: Ikea)
Is your garden looking a little tired after so much use this summer? Your finishing touches can go a long way in transforming the look and feel of your space, breathing new life into your existing scheme.
Just as you may choose a new bag to refresh an outfit, you can revitalise your garden with accessories too. From on-trend outdoor rugs to sparkling festoon lights, we've gathered the best five ways to revamp your garden this weekend. An instant garden pick-me-up at no more than £70? You can thank us later.
For more outdoor living inspiration, head to our garden design ideas feature.
1. Throw down an outdoor rug
Outdoor rugs are the statement garden piece of summer 2020, instantly transforming any space into a cosy alfresco living room. Soft underfoot, they help to blur the boundary between inside and out, bringing all the comfort and decorative design of our interiors outside into the garden. With more colours and patterns available than you can shake a stick at, there's sure to be a style and size that's perfect for your space. We love the intricate blue and white detailing on this Vanessa rug from Wayfair, plus it's so soft it can be used inside too throughout the winter months. Oh, and did we mention it costs less than £30 too? Bargain.
2. Scatter some colourful outdoor cushions
You can never have too many cushions, and that applies to both the indoor and the outdoor kind. If you're a stickler for the latest trends, choose timeless furniture (hello rattan sofas) and mix up your look as often as you like with your cushions. These vibrant pinks and oranges bring a striking pop of colour to the black sofas, and make for a seating area that's extra comfy and cosy too. The Soetholmem, Gurli and Svarthoe cushions from Ikea are amazing value without compromising on style.
3. String up some festoon lights
Bring an endearing and playful element to your garden parties by stringing up festoon lights. Whether it's above your garden table, along bushes, down pathways, across your balcony rail, beneath a pergola or along your fence, festoon lights are the contemporary way to add some fanciful sparkle and keep your alfresco parties going well after sunset. These festoon lights from Graham & Green are available in two sizes and are just the ticket for hanging overhead.
4. Attach a trellis for a vertical garden
If you think you haven't got room on your balcony to grow plants, think vertically! Attaching a trellis, such as this Askholmen trellis from Ikea, is a great way to inject nature into even the smallest of outdoor spaces, so you can reap the rewards that gardening can bring. Simply choose some climbing plants and watch as they grow and slowly decorate your wall for you. For only £14 for the trellis, it's a simple way to turn a plain space into a tropical delight.
5. Hang a rope chair and prepare to relax
What could possibly be more relaxing than curling up on a hanging chair to read in the sunshine? Hanging chairs are undeniably relaxing and this Allegra design from Wayfair is a steal at just £28.99. Whether you hang it from a frame or a tree branch, it's the perfect way to make use of an empty space, giving you the comfiest extra seating at minimal cost. Find more comfy garden lounging ideas in our guide to the best hammocks.
More garden design ideas:
Amelia has worked on Real Homes magazine since 2016 and is now Deputy Style Editor. She's a flower lover, and her dining table is never without a bright and blousy bunch of blooms. She loves the excitement of planting seeds in her container garden, and watching beautiful flowers appear from nothing. This year she's on a mission to enhance her new rented garden with a colourful bistro set, a patterned outdoor rug and plenty of fairy lights. Her favourite houseplant is a Calathea, as she loves how they lift their leaves at night, as if tucking themselves into bed!