5 hardy plants to include in your borders, pots and hanging baskets
Hardy plants tend to survive frosty winters, so they're a good option if you want a colourful plant that's suited to all kinds of weather. Check out our top picks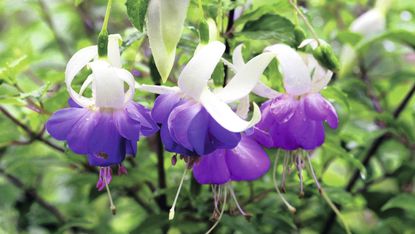 (Image credit: Suttons)
Our weather can be unpredictable these days, so it pays to invest in plants that can cope with everything from cold snowy winters, lots of wind and rain, and then maybe a heatwave in the summer months too.
With that in mind, we've put together five great choices for hardy plants that can cope with a wide range of weather conditions. Most can be planted in garden borders, pots and containers and even hanging baskets. Simply give them the care and attention they need and hopefully they will grow well for you for years to come.
Want even more inspiration for your planting scheme? You'll find lots of ideas in our guide to garden borders too.
1. PRIMULA
A fabulous hardy that can flower for up to six months. It's also a perennial and a good low maintenance one at that. Primula (or primrose) is the perfect pick-me-up for your borders and hanging baskets, and it suits cottage garden ideas too. It loves sun or semi-shade so you can plant it where other plants don't want to be. As a perennial, it will return yearly for you and will start blooming around autumn time and keeps going – it really is the bloom that keeps on giving!
2. Sedum
One of the great things about sedum is that it's drought tolerant, which can be a useful trait for the heatwaves we sometimes have. The Beach Party variety is particularly compact and requires little maintenance, and the pretty rose pink, star-shaped flowers are ideal for bees and butterflies to land on. If you love alpine and rockery style garden design then this is a great variety to choose due to its style, plus it will also add good colour to borders.
Check out our bee friendly plants feature for more ways to attract pollinators to your garden.
3. Fuchsia
Fuchsia produce beautiful bright bell-like flowers that will bloom from early June to the first frosts of autumn. It can be used in hanging baskets, containers, beds and borders. The elegant Delta Sarah variety is more unusual so it's a good choice if you want a different look in your garden as the colours add a more tropical hue. Due to being so hardy it will flower every year and come back bigger, so it's great for filling any gaps you have in your garden. Follow our tips on how to make a hanging basket to achieve stunning results.
4. GERANIUM
Geranium is a fabulous hardy plant that gives and gives. The big blousy clusters of flowers bring vibrant colour to your beds, borders and pots. You can plant them in April/May and they will be ready to flower from June until September. They're a great starter for new gardeners as they're easy to grow and have great coverage. Geranium spread well too, which means they are a good weed-suppressing option due to their bushy nature. Give them a go, you won't be disappointed!
5. Cyclamen
This is a super hardy plant that will bring a splash of colour to your garden during the winter months, making them one of the best plants for winter pots. The plants will thrive in containers and borders and will bloom from November to March. The flowers of this variety are a pretty lilac/pink shade, and they do well on little watering and love shady conditions. There are other colours to choose from so invest in a range to create a cheerful display for those days where the light is poor and weather gloomy. You'll find more ideas for plants that don't require full sun in our shade loving plants feature.
Read more:
Sophie has been an interior stylist and journalist for over 20 years. She recently trained to be a florist and launched The Prettiest Posy where she curates beautiful flowers for weddings and events.