5 winter vegetables that look good in the garden
Add a bold splash with ornamental winter vegetables that look good as well as tasting great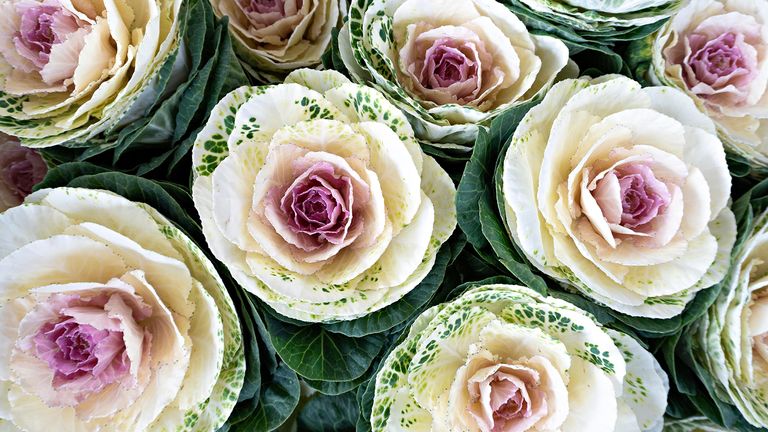 (Image credit: Alamy)
Winter vegetables can look good as well as tasting great. We've chosen five ornamental varieties with pretty foliage and flowers that really earn their place in the winter garden. These vibrant plants will sit happily in your borders or containers from autumn right through winter, either mixed in with flowers or growing alongside other vegetables.
You can also buy ruffled flowering ornamental cabbages that will give your winter garden an instant lift. Grown especially for their decorative value, they offer an unusual dash of colour. And the good news is that the colour gets brighter as the weather gets colder until you eventually end up with an incredible blast of iridescent pink and purple that lights up the garden. 
Read on to discover more about our pick of the prettiest vegetables for the garden now. And if you fancy growing some more winter vegetables, try our guides to growing sprouts and pumpkins.
1. Swiss chard
A staple of the winter vegetable garden, if you plant this out now you'll get plenty to pick before Christmas then it will regrow again in time for spring. If you keep picking them, the leaves will keep coming. Swiss chard is the best variety for taste plus you get the added bonus of the lovely ruby coloured stems that look so pretty in the garden too. As well as the vegetable patch, you can plant chard in the flowerbed or containers as a feature in its own right. 
2. Romanesco cauliflower
This glamorous looking vegetable looks nothing like its pale cousin. The lime green heads featuring crinkly whirled florets make an eye-catching addition to the vegetable garden. Pick the flowerhead when they're small and you'll be rewarded with a second crop. Leave them to grow larger and you can enjoy their beautiful shape and colour as a feature in themselves before picking them for the pot.
3. Purple sprouting broccoli
There's broccoli and there's purple sprouting broccoli – and we know which one we prefer! It's a flavour packed must-grow winter vegetable that's especially good if you're tight on space because if you keep picking it the plant will keep on producing. So it really earns its place in the patch. The tall rangy look of the foliage and pretty purple flower heads make an ornamental addition to the garden too.
4. Cabbage
The winter vegetable garden loves a cabbage for their decorative qualities as well as being a dependable choice for the kitchen. They come in all shapes and forms, as well as ones grown purely for decorative value that can be potted up in containers for a stunning winter display. The variety 'January King' has a slight purple tinge to the leaves as well as a good flavour, while red cabbages look and taste great too.
5. Cavolo nero
Also known as black cabbage, the gorgeous pointy crinkled deep purple-green leaves of cavolo nero look as good in the flower garden as the vegetable garden. It's super hardy and will withstand freezing temperatures. Sow seeds under cover before planting out or buy young plants from the garden centre. Plant more closely together if you prefer smaller tender leaves but they won't look as dramatic.
More ideas: