Best trampolines 2023: 8 buys to keep kids (of all ages) entertained
Invest in the best trampoline and keep everyone active and entertained, no matter your budget, style or space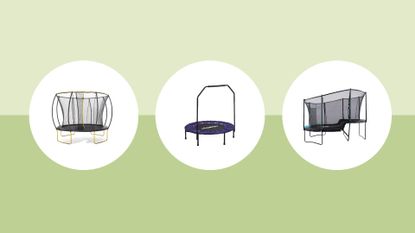 (Image credit: Future)
Whether you've got kids or are a 'big-kid' yourself, having one of the best trampolines in the back garden is a great way to stay entertained. It's true, no one can resist the fun that comes with jumping on a trampoline. Plus, not only will a trampoline bring total joy, they're also a great form of exercise. Suitable for kids of all ages, you can keep the entire household active and entertained, all with one purchase.
It's worth considering a new trampoline as an investment buy. They can be pricey after all, but a good-quality model should last you for years to come. And should you decide your trampoline is no longer getting enough use, it should be in good enough condition to sell on to someone else.
We've rounded up some of the best trampolines below. Each with guaranteed safety features and stand-out specs for everything you need to know. There are different styles too, including inground and freestanding options, so you can find the right one to suit the ages of your children, the space you have available in your garden and, perhaps most importantly, the budget you have available. And if you're looking for more ways to keep the kids busy whatever the time of year, then head to our list of the best climbing frames too.
---
The best trampolines for outdoor fun in 2023
Why you can trust Gardeningetc Our expert reviewers spend hours testing and comparing products and services so you can choose the best for you. Find out more about how we test.
1. Colours by Plum Springsafe 10ft Gold Edition Trampoline
Best all round trampoline: a sturdy, good-looking trampoline with brilliant safety features
Specifications
Best for: Toddlers to teenagers
Recommended age: 6 years+
Shape: Circle
Material: Steel frame
Dimensions: H259, W426, D426cm
Self-assembly?: Yes
Max user weight: 75kg
Reasons to buy
+
Really secure
+
Weather resistant design
+
Enclosure included
+
More stylish design than many
+
Easier to construct than some
+
Excellent value
Reasons to avoid
-
Sewing on the enclosure is fiddly
-
No ladder included
If you're searching for a good-looking, sturdy trampoline with brilliant safety features and a weather-resistant design, then this is the one for you.
Safety features
Keeping your family away from springs is the calling card of all good-quality trampolines. This one comes with a clever Springsafe 2G enclosure that keeps the jumper completely separate from the springs. We tried 'falling' into the sides of the enclosure and it didn't budge, so kids of all ages will be safe and secure.
Design
Let's be honest, nobody wants the hassle of zipping and un-zipping an enclosure every time they get on or off a trampoline, so the unique wrap-over design of this one is a winner. The ends of the enclosure overlap so there's no weakness, and you can simply slip in and out whenever you fancy.
The Gold is the latest in the Colours by Plum series of play products, and is a great way to add a splash of colour to your outside space. The gold is surprisingly subtle and blends well with the greens of the garden. As trampolines are outside all year, they need to be made of durable materials and this one is. The safety pad and enclosure foam are both weatherproof, while the steel frame and gold legs are galvanised inside and out and protect against rust.
Assembly
You'll need two adults to put up any large trampoline and this one is no exception. The step-by-step picture instructions are easy to follow and all the tools you need are provided. You'll need a strong pair of arms to put tension onto the springs, and somebody with patience to 'sew' the enclosure on to the frame. It took us about two hours in total, so much quicker than some.
2. TP 14ft Genius Round Trampoline
Best large trampoline: brilliantly designed for top-quality bouncing sessions in all seasons
Specifications
Best for: The whole family
Recommended age: 6 years+
Shape: Circle
Material: Steel frame
Dimensions: H259, W426, D426cm
Self-assembly?: Yes
Max user weight: 135kg
Reasons to buy
+
Super safe
+
Weather resistant
+
Comes with weatherproof cover and ladder
+
Enclosure included
Reasons to avoid
-
Likely needs a couple of hours and two adults to build
Stylish and sturdy, this beast of a trampoline is a great option for the big families wanting to take part in the fun.
Safety features
Although this trampoline isn't springless, they are well hidden and the surroundsafe enclosure offers solid bounce-back, meaning there's no risk of jumpers coming into contact with the springs.
Design
The sleek black finish makes this an aesthetically pleasing addition to all types of outdoor space. The igloo door entry and (zip free) crawl through tunnel adds an extra element of adventure, while the trampoline ladder and integral shoe tidy means that clumsy and disorderly looking moments are kept to a minimum. Complete with a steel frame, weather-resistant padding and cover, this product will survive the cooler months.
Assembly
Whilst we haven't tested this trampoline ourselves, we'd assume it may take a little more time and effort than others to build, due to its sheer size.
3. Sportspower 10ft In Ground Trampoline
Best in ground trampoline: for optimum bounce and security, the garden fence is your limit
Specifications
Best for: Avid bouncers
Recommended age: 6 years+
Shape: Circle
Material : Galvanised steel
Dimensions: H180 x W305 x D305cm
Self-assembly?: Yes
Max user weight: 100kg
Reasons to buy
+
Weather resistant safety pads
+
Enclosure included
+
Big bounce
+
Great price point
Reasons to avoid
-
Some minor DIY/excavation needed
-
Max users 1
A great option for energetic kids who go above and beyond when bouncing, and parents who want a more permanent fun fixture.
Safety features
With a below-ground steel frame, this trampoline promises great bounce alongside optimum security and durability. It also comes complete with an enclosure net and accompanying steel top ring for added peace of mind.
Design
This trampoline is built for UK weather. Rust-resistant and complete with a PVC trampoline cover, plus anchor pegs, to protect it from the weather.
Assembly
The patented Easi-Store Quad Lok frame makes assembly quick and easy, while the enclosure net can be put up and pulled down in seconds. Adults will like the simple – borderline camouflage – colour-scheme also. Do bear in mind, however, that you will need to excavate a large hole in your garden so that the frame can sit below ground and ensure the jump mat is level with your lawn.
4. TP Toys Infinity Leap 2 Level Trampoline
Best infinity trampoline: for next level bouncing
Specifications
Best for: Thrill seekers
Recommended age: 6 years+
Shape: Circle
Material : Steel frame
Dimensions: H313 x W450 x D290cm
Self-assembly?: Yes
Max users at once: not specified
Max single user weight: 135kg
Reasons to buy
+
Two levels!
+
Super easy YOYO installation
+
Super safe, comes with ladder and fine netting enclosure
+
Weather resistant
The first ever duo-level trampoline, the infinity leap is suitable for all levels of jump, offering exceptional bounce for a heightened experience.
Safety features
As you'd expect with a masterpiece, this comes with a netting enclosure for better safety. There is also a zip-free entry tunnel door for added protection when coming on and off the trampoline.
A first in design
With two levels, boasting unique dual suspension, the coiled metal springs work seamlessly as part of the bungee spring system – guaranteeing better lift, every time. Made from steel and finished in a powdered coating, this trampoline is quite literally on another level.
Assembly
Customers noted this trampoline had a super easy installation, thanks to its YOYO instruction design. Since so many have set it up with ease, we don't doubt it'll be an easy job for you too.
5. JumpKing 6 x 9ft Rectangle Trampoline
Best rectangle trampoline: uniquely shaped to fit into a corner of your garden
Specifications
Best for: All levels of jumping skills
Recommended age: 6 years+
Shape: Rectangular
Material : Not specified
Dimensions: 232 x 182.88 x 274.32cm
Self-assembly?: Yes
Max users at once: not specified
Max single user weight: 100kg
Reasons to buy
+
Comes with a ladder
+
Looks smart
+
Weather resistant
Reasons to avoid
-
Self-assembly can be tricky
A fine rectangular option, the Jump King is for budding gymnasts and a fairly stylish pick for those conscious of their garden decor.
Safety features
The pristine design boasts an integrated safety enclosure system, whereby the netting sits inside the legs of the trampoline. With extra jump you don't need to worry about the bounce of this trampoline. Your kids may fly high but they'll certainly be kept safe thanks to the high-level safety net.
Materials
Built with a galvanised steel frame, plus 20mm of foam padding – this trampoline also has a slightly higher price point, but is durable and built to last.
Assembly
While relatively easy to set up, this rectangular option seems to take a little longer than others to assemble since it has more posts and parts to put together.
6. Sportspower 8ft Outdoor Kids Trampoline with Enclosure
Best trampoline for kids: great bounce, optimum security and a great price point, this is a current favourite
Specifications
Best for: Budding gymnasts
Recommended age: 6 years+
Shape: Circle
Material : Galvanised steel
Dimensions: H242, W244, D244cm
Self-assembly?: Yes
Max user weight: 100kg
Reasons to buy
+
Super sturdy
+
Enclosure included
+
Weather resistant
+
Easy (self) assembly
+
Great price
This is a sound pick for an above-ground trampoline, available in a cute range of colours.
Safety features
Reputed for its sturdy frame and strong springs, this trampoline means you're guaranteed to enjoy a good bounce, while the added bonus of a safety enclosure means you'll have more peace of mind when your little one decides to get wild.
Design
Built from galvanised steel, and complete with weather-resistant safety pads, this trampoline has been constructed so that it can be both easily put up and taken down when you're done, while the rust-resistant finish makes this a great and reliable addition to any UK garden. Oh and it comes in a cute range of colours too from pink to orange, to green.
Assembly
You'll be glad to know this one comes with impressive 'self-assembly'.
7. Semaj Folding Round Trampoline
Best fitness trampoline: for an at home cardio workout
Specifications
Best for: Fitness bunnies
Recommended age: 3 years+
Shape: Round
Material : Steel springs
Dimensions: H113 x W102 x D102cm
Self-assembly?: Yes
Max single user weight: 120kg
Reasons to buy
+
Supports muscles, increasing stamina and balance
+
Small and easy to take down/store
+
Good for small gardens and home gyms
+
Suitable for kids and adults
Reasons to avoid
-
Not weather resistant
-
No safety net
Get ready to up your at-home workouts with this cheeky trampoline, the perfect addition to your home, to get your heart rate going! Not just for kids (but a great way to let them dispense energy) but also for fitness fans who are looking for a gym alternative. After all, a trampoline workout couldn't provide a finer or more fun way to stay fit and healthy.
Safety features
The adjustable handrail on this model gives you more security, while there are safety pads too so kids will be fine under supervision. Bouncing has the added bonus of reducing stress, all while toning the muscles and improving general balance and wellbeing, need we say more?
Design
This can be used both indoors and outdoors in the garden, though it is not weather resistant so will need to be brought in when you're done. Its simple assembly and the fact that it's foldable (and therefore easier to store), means that this is ideal for small space dwellers without much room to spare.
Assembly
Well, there's no assembly required, just find your designated jumping spot (indoors or outdoors) and enjoy your trampolining best life.
8. Chad Valley 6ft Outdoor Kids Trampoline with Enclosure
Best trampoline for toddlers: perfect for tots to test their biggest bounces in safety
Specifications
Best for: Energetic tots
Recommended age: 3 years+
Shape: Circle
Material : Galvanised steel
Dimensions: H195, W183, D183cm
Self-assembly?: Yes
Max weight: 45kg
Reasons to buy
+
Compact so good for small gardens
+
Safety enclosure included
+
Weather resistant pads
+
Easy to store
+
Strong quad lok frame system
This trampoline is specifically designed for little ones around 3 years of age. So, big kids, you may have to sit out on this one.
Safety features
It's safe, sturdy, and sure to let them unleash their inner bouncy monster. The galvanised steel frame is built lower to the ground for easier access, and it comes complete with a safety enclosure for your peace of mind.
Design
The size means this trampoline will took nicely in to any corner of your garden space. Only have a small patio or patch of grass? No problem, your little ones won't have to miss out on the fun. It comes in an equally versatile green colour that'll look pretty in just about any garden background.
Assembly
Parents will like both the price point, and the fact that it's easy to put together since it is a 'quad lok' frame with easy-to-link joints.
---
How we chose the best trampolines
We haven't had a chance to test out every one of these trampolines just yet. Despite this, there are a number of criteria that we followed when we collated this list of the best trampolines out there, including looking closely at specifications and safety measures, which are at the top of customers' agendas.
We also looked closely at a range of sizes, to suit different households, and paid careful attention to including trampolines suitable for a range of budgets. All of these have great reviews, that we've researched and checked to ensure the trampolines live up to expectations.
Click here to find out more about how we test products at Gardeningetc.
How to buy the best trampoline
It's down to personal (family) preference, but there are three key factors to consider when choosing yours:
Design If you're struggling to decide between above ground vs inground trampolines, there are a couple of things to know. In-ground trampolines (aesthetically pleasing some may say) are secured, much like the name suggests, in the ground. These remove some of the danger elements of a raised trampoline, but do require excavation for installation. If you want one of these they are harder to set up and more of a commitment – you might want to think ahead about what to do with the hole when the kids grow up. Then there are excellent above-ground trampolines, which are now pretty hi-tech, complete with safety padding and mesh (a very much 'pimped' version of what you may remember jumping on as a child).
Materials When buying your trampoline be sure to check the quality of its design, the springs, and the materials used to build it. Choosing something that is weather-, fire- and rust-resistant is best to ensure it will last more than a few years while choosing a model complete with robust safety pads is also a must to catch those awkward falls.
Safety considerations You must always take care when using trampolines and follow all the trampoline safety notices provided by the manufacturer of your product. In special regards to children, the Royal Society for the Prevention of Accidents has plenty of advice for parents looking to invest in a trampoline for young ones, so we do recommend having a read of the latest advice and that children, especially young children, be supervised at all times to ensure a safe and enjoyable experience.
---
What is the best trampoline size?
Trampoline size is probably one of the most essential things to consider when investing. If you're looking for a small trampoline for a toddler, be aware that it will need replacing when they grow out of it (and you know they will!).
While if you want one that will stay with you for years to come, and if your child is over 6 years old (usually the minimum age requirement for bigger models) it might be worth investing a little more to increase its longevity.
If you have a small to medium size garden (and small children) six to 10 feet is plenty big enough for them to use until they are about 10 years old. Teens and adults will need at least 12 feet diameter to bounce safely with the exuberance that older kids are likely to exhibit.
We've included a variety of sizes above, from 3ft upwards, but many of the models we've featured are available to order in bigger sizes too if you have the space available in your family garden.
Do trampolines have a maximum weight limit?
In the key product specifications for each trampoline, you'll find details of the maximum weight limit. It's important to bear this in mind when considering the size of trampoline you need. Typically, the bigger the trampoline is, the higher the overall weight limit.
Take a look at the max weight limit stated by the manufacturer in order to keep play safe and to understand whether you can have a couple of kids, or a parent, on there at the same time with no concerns.
Do you need an enclosure on your trampoline?
We'd always recommend that above-ground trampolines have some sort of safety enclosure. Many of the above come with protective safety enclosures, but if yours doesn't we recommend investing in one separately for more security, especially if you have small children.
Enclosure-free trampolines are slightly less of a risk with an inground design as the jump mat is level with the ground. Although there is less risk of anyone falling from a height, for complete peace of mind you may still want to consider adding one to these designs too.
Other trampoline accessories include steps and covers so do check what your one will come with and make sure you're set up for your needs.
Is it worth buying a trampoline cover?
A highly important factor all year round – we'd recommend choosing a trampoline that comes with a cover and weatherproof pads/other properties.
If your trampoline is near lots of overhanging trees it can quickly get covered in leaves and other garden debris, and in our experience you'll be called out into the garden to clean it every time the kids want to play on the trampoline.
Having a suitable cover makes it easier to keep it clean and free of leaves during autumn and winter, so your trampoline can continue being one of the most fun garden activities for kids during the cooler months. It can also help to reduce the risk of mould and algae growing on the trampoline during winter.
Another added benefit would be a rust-resistant frame finish for all of the outdoor picks to increase its longevity furthermore.
---
Browse more of the best trampolines...
If you haven't found the trampoline of your dreams just yet, these are the retailers we would recommend heading to first:
Louise is the Ecommerce Writer for Gardeningetc, sourcing the best buys to spruce up your outside space. When she's not on the lookout for the latest outdoor design inspiration, you'll find her in the winter garden of her East London flat; soaking up the sun on her outdoor patio set or tending to her ever-growing collection of balcony plants.