6 great trampoline accessories: top buys for your trampoline
From fun accessories to safety must-haves, these trampoline accessories will raise your kids' enjoyment to new heights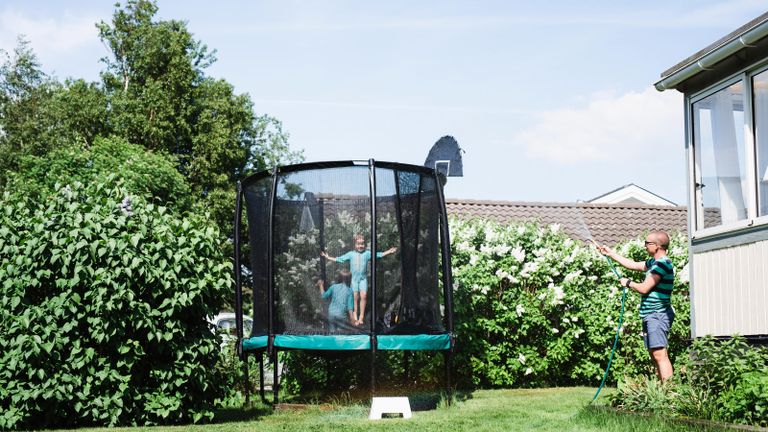 (Image credit: Johner Images / Alamy Stock Photo)
So you've bought a trampoline for the kids, but did you know that by adding some trampoline accessories, you could make it even better, safer and a lot more fun? 
There are a whole variety of items you can buy to soup up your trampoline to the max, as well as safety extras to keep your kids (and the surrounding area) out of harm. 
While we may have covered all of the best trampolines available, it's worth noting that in most cases when you buy one, you rarely get any extras with it, so you should definitely look into the variety of trampoline accessories available to ensure your kids use it as much as possible.
From tents to sprinklers and even safety must-haves like a ladder and an anchor kit to keep the trampoline secure to the ground, we've picked some of our favourite trampoline accessories which we think are bound to excite and delight and keep your children safe at all times.
Trampoline accessories - 6 of the best
Covering fun and safety, these brilliant trampoline accessories will guarantee the kids will be bouncing for hours
1. Cool down in hot weather
2. Learn new skills on a bounce board
3. Climb up quickly with a ladder
4. Add shelter from the hot sunshine
5.  Anchor your trampoline in windy weather
6. Take shelter in a big top tent
Cheap trampoline deals
Thinking about buying a trampoline or upgrading your existing one? We have rounded up some trampoline deals by type, starting with our top rated buys. 
Keep scrolling to find your perfect buy, or why not check out our best climbing frame buying guide for more ways to keep the kids entertained this summer? 
Our best-rated trampolines at their best prices:
Cheap trampolines: