Best pizza oven 2023: 8 options for perfect pizza in your garden
The Gardeningetc team has been cooking (and eating) their way through lots of dough testing the best pizza ovens from Gozney, Ooni, Woody and more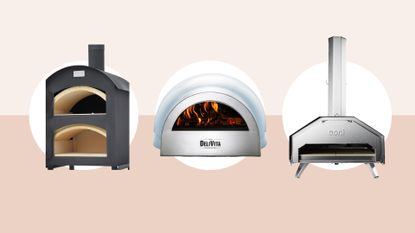 (Image credit: Future)
Investing in one of the best pizza ovens on the market is a great way to make the most of your outdoor space, allowing you to create authentic chargrilled pizza that will add a little more fun to outdoor gatherings.
Plus, it's not just pizza that a pizza oven can create. These versatile outdoor ovens also allow you to grill or bake fish, roast vegetables, slow-cook or barbecue meats, and even bake bread, cookies, or cakes! And, we're pretty sure that all food just tastes better alfresco.
But, what should you be looking for before you buy a pizza oven, and which one is the 'best'? Well, aside from your budget dictating your choice, you'll also want to consider your heating method. Just like the best BBQs, a pizza oven can be wood-fired, gas-fired, or multi-fuel. Wood or charcoal is perhaps the most authentic choice, and can make for the cheaper initial investment, but a gas-fired pizza oven is potentially the quicker and easier option, with gas providing more of a consistent heat and reducing warm-up times. You'll generally pay more for the versatility of a multi-fuel option, but you get the best of both worlds.
To help you make the right choice for you, the Gardeningetc team has put bestselling pizza ovens from brand leaders Ooni, Gozney, and Woody through their paces for this guide, testing performance, ease of use, heat-up times, and considering price points to decide on our best buys.
---
The best pizza oven to buy in 2023:
Why you can trust Gardeningetc Our expert reviewers spend hours testing and comparing products and services so you can choose the best for you. Find out more about how we test.
Best wood-fired pizza oven: tried, tested and loved by us
Specifications
Best for: Overall
Fuel: Wood fired
Materials: Stainless steel
Dimensions: H66 x W38 x D70cm
Reasons to buy
+
Portable
+
Fast – pizza in 60 seconds
+
Great price
Reasons to avoid
-
Has to be placed on a table or some sort of surface
We've tried and tested this Ooni Fyra Portable Outdoor Pizza Oven, and we only have good things to report back. Not only is it affordable, but it's also easy to use, it looks great, it's portable and obviously it makes incredible pizzas, too. It ticks all our boxes! Wood-fired, it can cook pizza dough – specifically a 12-inch size pizza – in just 60 seconds, and it's great for use when you have people over or several mouths to feed.
With a stainless-steel body, this pizza oven holds heat very well and it features a custom-designed fuel tray to allow maximum airflow. Easy to clean and great for all size gardens, it's lightweight, it has foldable legs and a detachable chimney and pellet hopper. Take it on staycations, to a friend's house or just leave it in your garden on your tabletop.
What else do we love? You can also use it to cook meat, fish and vegetable dishes (see you later, big BBQ) and it has a letterbox-style opening to make it easy to check on your cooking pizza.
Gardeningetc rating 5/5 stars – read our full Ooni Fyra pizza oven review
---
Best pizza oven for value for money: this budget-friendly multi-fuel oven is great for famlies
Specifications
Best for: Multi-fuel cooking with lots of extras thrown in
Fuel: Wood, pellets, charcoal, gas (attachment added separately)
Material: Food grade stainless steel
Dimensions: H50 x W41 x D54 cm
Reasons to buy
+
Affordable option
+
Includes everything you need such as the peel, thermometer and cover
+
Makes delicious stonebaked pizza in 60 seconds
Reasons to avoid
-
Door is a tight fit in use
-
Some parts feel a bit rough around the edges
A multi-fuel pizza oven will arguably offer you the most flexibility while cooking outdoors and the improved Woody Pizza Oven is no different. Initially launched as a wood-fired oven, the makers upgraded it with the option to add a gas attachment, meaning a much lower maintenance cooking experience.
In testing we managed to get our Woody Oven up to 500˚C in just under 15 minutes using gas. It took a little longer with wood (we use a combo of pellets and kindling), but leads to similar cooking results of a pizza in around a minute. Unlike some market leaders, you get everything you need with the kit, so while it may lack the finesse of the Ooni Karu below, it does come in much cheaper and includes a peel, cover and a thermometer on the door. All of these need buying separately with other brands but are near essential for cooking. The cover/carry case makes this 12.5kg oven portable too!
The slightly clunky legs and metal-edged front are a minor drawback which don't impair use, but do add a bit of industrial charm to this oven. We did find the door a bit stiff in use, but this was mainly a problem when we cooked with wood and kept opening and closing it to retain the heat between pizzas.
Gardeningetc rating 4.5/5 stars – read our full Woody Pizza Oven review
---
Best multi-fuel pizza oven: use gas, charcoal or wood with this versatile pizza oven
Specifications
Best for: Versatility
Fuel: Wood fired and gas
Materials: Stainless steel
Dimensions: H40 x W77 x D80cm
Reasons to buy
+
Cook with the convenience of gas
+
Quick to heat up
+
Folds away for easy transportation
+
Easy to use
Reasons to avoid
-
You need to pay extra for the gas attachment
The Ooni Fyra's big sister is the Ooni Karu, which is not only slightly larger but three times as versatile. You can use this pizza oven to slow cook with charcoal, create an authentic wood-fire pizza, and embrace the convenience of gas.
The Karu is one of our tried-and-tested favourites, but its higher price tag means it's a little disappointing that the gas attachment doesn't come included. We found our gas-cooked pizzas were easier to control and therefore more evenly cooked, so it is a worthwhile investment in our books. That said, the Woody has just pipped it to second place on our list because of price comparison (despite this getting a slightly higher score) – it costs the same amount as the full Woody kit, before you shell out for the peel, thermometer, gas attachment and cover.
In terms of ease of use, the Karu is as easy as it gets. Keep an eye on your pizza as it cooks and spin every 20 seconds or so for that perfectly cooked crust and bubbly mozzarella. Assembly is a breeze, so you can have it up and running in a matter of minutes. Like the Fyra, you can either buy a bespoke portable table for your Ooni to live on or place it on an existing surface in your garden. It weighs only 12kg, so it's perfectly portable.
Gardeningetc rating 5/5 stars - read our full Ooni Karu pizza oven review
---
Best gas-fired pizza oven: tried, tested and loved by us
Specifications
Best for: Gas-fired cooking
Fuel: Propane gas
Materials: Powder-coated carbon steel
Dimensions: H63 x W58 x D37cm
Reasons to buy
+
Space for 16'' pizzas
+
Simple to set up
+
Easy to use
+
Legs fold up for storage
+
Cooks pizza in 60 seconds
Reasons to avoid
-
It's heavy and the gas tank is even heavier
-
No built-in temperature gauge
We think the Ooni Koda 16 is the ultimate gas pizza oven, serving up 16in sharing pizzas that are perfect for feeding a crowd in just 60 seconds.
Our reviewer found the L-shaped flame of the Ooni Koda 16 took a little getting used to, but once she'd perfected the technique of rotating the pizza every 20 seconds for an even cook, the results were well worth it. That said, you will need to buy a pizza peel separately, as Ooni doesn't include one in the box, and it's essential for getting your pizza in and out of the oven, as well as rotating it once it's in to cook.
Once tried and tested, we loved the Ooni Koda 16's performance, our only other gripe being the lack of in-built thermometer which makes it hard to guage when the oven has reached the optimum temperature for pizza cooking. Again, you can buy this separately, but we would have liked to see one included in the build which is why this oven didn't quite achieve full marks. However, it still makes a great investment for your outdoor kitchen in our book.
Gardeningetc rating 4.5/5 stars – read our full Ooni Koda 16 pizza oven review
---
5. Gozney Roccbox
Best looking pizza oven: safe to touch and available in a range of colours
Specifications
Best for: Looks
Fuel: Wood fired and gas
Materials: Stainless steel, silicone jacket
Dimensions: 57.5 x 45 x 51 centimetres
Reasons to buy
+
Cook with the convenience of gas
+
Folds away for easy transportation
+
Available in a range of colors
Reasons to avoid
-
It takes a long time to heat up
When we tried the Gozney Roccbox it seriously wowed us from the second we took it out of the box. We tried it in Green, and it is also available in a Grey silicone jacket. This keeps warm (but not hot) throughout cooking, so you can touch the pizza oven while cooking.
The fuel box is a little small for cooking with wood, and it also took a long time to come to heat – about 40 minutes. On gas it was a lot more reliable, and our pizza was fully cooked in just over a minute.
While it is quite expensive, it does come with the gas burner included, which is often an add-on for alternative Ooni ovens.
Gardeningetc rating 4.5/5 stars
---
Best pizza oven for a quick pizza: this stylish wood-fired oven will cook a 12 inch pizza with authentic Italian taste in just 90 seconds
Specifications
Best for: Pizza aficionados
Fuel: Wood
Materials: Fibreglass and stainless steel
Dimensions: H35 x W59 x D65cm
Reasons to buy
+
Chic design
+
Will fit balconies and patios
+
Choice of colours
Reasons to avoid
-
Not a classic oven
-
Expensive option
We really do love this pizza oven but that investment price tag has brought it to our number five spot. If you have the budget then this outdoor pizza oven would be so worth it.
It takes 25 minutes to get up to temperature (its maximum is 550˚C) and, once there, cooking a 12in pizza takes just 90 seconds. When testing we found that it was very easy to get the hang of the DeliVita, and we had perfect pizza after just a couple of tries. And although it might not have classic pizza oven looks, we think that's more than compensated for by the fact that this design is small enough to fit into even a balcony garden. We did find it on the weighty side, though, at 30kg in total.
There's a range of colours to choose from, including this vintage blue, plus chilli red, very black, olive green and hale grey, and you can pick from different bundles of tools and accessories with the oven.
Other things we love? You can keep it outside year round, and you can cooks steaks, fish and veggies in it, too.
Gardeningetc rating 4/5 stars – read our full DeliVita pizza oven review
---
Best multi-functional pizza oven: can be used as a smoker, BBQ and chiminea too
Specifications
Best for: A versatile range of outdoor cooking options
Fuel: Charcoal
Material: Steel
Dimensions: H160 x W50 x D36cm
Reasons to buy
+
Two ovens
+
Comes on wheels
+
Bakes bread, cake and more as well as pizza
+
A multipurpose focal point for outdoor entertaining
Reasons to avoid
-
Bulky design
-
Cooking process takes a bit more time (and practice)
Our reviewer loved how much bang for your buck you get with this affordable pizza oven. While it can't cook a pizza in the short times the ovens above can (we are talking 15 to 20 minutes, rather than a minute) it does so much more. The two level oven takes a while to come to temperature but can be used to cook more than one thing – so if you are settled down for an evening in the garden, the cooking time may not be such an issue. Our tester made pizza in it, but also all manner of barbecue food, including burgers.
It takes a while to build and will demand space both in use and when you tuck it away in winter, but it comes with wheels and we can see it being fired up all year and used a bit like a fire pit come the colder seasons. So, while it isn't the best for pizza, it isn't a one trick pony and it certainly represents great value for money.
---
8. La Hacienda BBQ Pizza Oven
Best compact pizza oven: an affordable pick to get more from your BBQ
Specifications
Best for: Space saving
Fuel: Gas or charcoal (from a BBQ)
Material: Stainless steel
Dimensions: 35 x 40 x 15cm
Reasons to buy
+
Small
+
Affordable
+
Simple to use
+
Easy to store
+
Heats up fast
+
Carry handles
Reasons to avoid
-
You need a BBQ to use it
-
Can only cook one pizza at a time
The La Hacienda BBQ Pizza Oven is our pick if you want to cook pizza outside, but know you wouldn't do so often enough to justify the spend on a dedicated oven. While it's not technically a pizza oven, more of a pizza oven attachment for your BBQ, it does do the job well. First of all, it heats up within 10 minutes after being placed on your gas or charcoal BBQ. And then there's the fact it's compact so easy to store and great for those with smaller gardens. It measures 15cm high, 40cm wide and 35cm deep – just enough to cook one pizza or two small ones.
Available in black or stainless steel and simple in features, it has an insulated stainless-steel housing for heat retention, and also a temperature gauge so you know when it's ready for your dough. With a removable stone base, it also boasts carry handles for when it comes to storing, and you needn't assemble it either – it arrives ready for use!
---
How to buy the best pizza oven
When you're looking to buy the best pizza oven for you and your home, there are a few factors which you'll need to consider.
Built-in or portable?
Nearly all of the pizza ovens on our list are portable to some degree. Many are small enough to set up on a table (or other heat-proof surface) and then put away at the end of summer. These are not space hungry (although you will want room to store in a shed or garage), and they can be taken camping or to a friend's house if you want a pizza party elsewhere.
There are some great pizza oven stand ideas so you can make it a feature in your garden for the warmest months while entertaining. One of our picks simply sits atop a BBQ for cooking making it a great choice for occasional use.
A built-in pizza oven is a much bigger commitment. For one, you need a large enough space – safely away from fencing or trees – to build your pizza oven in. You also need to be pretty sure you are going to give it plenty of use. That said, many will double as an outdoor fireplace, so a Trattoria-style brick pizza oven could be a wonderful focal point in your outdoor dining area.
Which fuel type should you choose?
As with barbecuing, the charcoal, wood or gas debate burns strong in the pizza oven community. Some pizza purists would say there is no other way to cook it than in a wood-fired oven, and the authentic smokey taste imparted to the crust is one reason why.
'Cooking with wood and wood pellets provides a fun experience that's a little more elemental,' suggests Arthur Bovino at pizza oven manufacturer Ooni (opens in new tab). 'It offers the primal satisfaction of managing a fire to the right temperature, and provides that smoky scent you associate with the great outdoors. There's also the convenience of being able to use real hardwood in a compact way'.
Wood can also reach higher temperatures than gas, so while gas may bring your oven to temperature faster, you get a more ferocious flame with wood or charcoal. That said, reaching this temperature and tending to the fire is one major reason many choose gas. Wood takes time and effort to manage – you need to constantly top up the fuel between pizzas – but you simply turn on gas much like an indoor oven and let it do the rest.
When it comes to the cost to run your pizza oven, wood pellets tend to come out the cheapest, followed by gas. Wood and charcoal prove the most expensive and you tend to get through a lot of wood as it burns quite quickly. Pellets and charcoal lumps are a slower burn.
Wood-fired pizza ovens are usually cheaper to buy. A multi-fuel oven or gas-only may cost £70 to £150 more than the wood equivalent. As the fuel market is so volatile right now with prices constantly switching, we recommend choosing the oven that best suits your cooking style, and if you have a barbecue, choosing the same fuel as that for cost efficiency of buying in bulk.
Can't choose? Select a multi-fuel option like the Woody or Ooni Karu, or Gozney Roccbox above for flexibility.
Build and materials
When buying a pizza oven you want something that is built to last. Look for an oven with a thick stone floor, at least 19mm thick. While you can pick up a generic pizza oven for a reasonable price at your local DIY store, you're better off investing a little more money (or a lot, depending on your budget) on a brand that specialises in them.
Brands like these will have spent a lot of time and money on developing the look and design of their pizza ovens, so not only will they look great, but they'll have been built with quality materials that ensure years of use.
Temperature gauge
You're never going to get a good pizza if your oven isn't hot enough. It will have a floppy base and take ages to cook. As it needs to reach at least 350˚C (660˚F) to cook a pizza, it helps to know at what point your oven is at the optimum temperature. It's often a guessing game and one that you will get better at the more you use your pizza oven. But if you want to take the guesswork out of the equation, a built-in temperature gauge is a handy extra. If your pizza oven doesn't have one, you can always invest in the best pizza oven accessories and buy a separate thermometer.
Pizza oven sizes
Pizza ovens tend to be measured by the size of the pizza base that they can cook, rather than the exterior dimensions – these usually being either 12in or 16in. A 16in pizza oven is likely to be at least 25–30 inches wide, so make sure you have a big enough table or surface to house it if you're looking to go supersize.
Don't forget, you can also cook a great deal more than pizza in a pizza oven, so if you want to be able to cook a wider range of dishes, you may want to go for a bigger pizza oven size. Head over to our guide on how to use a pizza oven for more top tips.
How much does a pizza oven cost?
Expect to pay from £250 for a quality, portable pizza oven right up to £2,300 and even more for a permanent pizzeria-style brick and clay permanent wood-fired oven. There are cheaper models available but these can sometimes be a false economy as they may not be built to last.
Look out for what is included with the pizza oven. All will include the stone and oven but you will always have to buy fuel separately, so factor this in. Often multi-fuel ovens require you to buy the gas attachment on top of the cost of the oven, too.
Some pizza ovens come as a kit including a peel and thermometer. These aren't essential but it is much harder to get the right temperature without a thermometer and very, very hard to put a pizza in an oven without a peel, so see where they are included. Finally, a cover is a nice extra. It will mean you can protect your oven outdoors over summer.
How we test pizza ovens
Trust us: it isn't hard to find willing pizza oven testers on our team. We get our reviewers to try the pizza ovens in their gardens (as intended) over several weeks. They have to cook a classic margherita pizza in each one and see how long the oven takes to come to temperature and how long the pizza takes to cook. If they oven uses different fuels, they must repeat the process with each fuel type and also, if the oven is suited to cooking other things, try out other recipes such as al forno meals and cuts of meat.
Like all of the products we test, we may be allowed to keep the oven at the end. This means we can give it a good run for its money over several months (or years) and let you know if it is built to last, too.
The products in this list have been tested by different people, some of whom were first time pizza oven users so you can get a real feel for how easy they were to use. After all, these are designed for the regular home cook, not just a pizzaiolo.
Beth tested the Ooni Fyra with her husband and two children giving it the best review set up for a family home. As well as the modern looks and space-saving design, she loved how easy it was to set up. And, though it took a bit of getting used to cooking with wood pellets, she doesn't think you can beat that taste.
Millie is loves to cook and has tested a number of pizza ovens across our home and garden magazines. She tested the Ooni Karu for us on Gardeningetc by taking it to her family home for a pizza party or three. Though it has no built-in temperature gauge, she loved how easy it was to use – particularly with gas – and the pizza was simply delicious.
Gin has been testing all manner of home and garden products in her editor roles on Ideal Home for many years. As such, we knew who to turn to when we needed some pizza ovens testing and she has used not just the DeliVita outdoor pizza oven listed here, but also tested a number of models from Ooni and Gozney too. Her family home has a long garden for testing outdoors and she thought the DeliVita was easy to use, if not so easy to move.
Jason heads up all of the homes brands at Future Plc, including Gardeningetc, so there is little he doesn't know about building and furnishing your property. He was a long time pizza lover but first time pizza oven user when he was sent the Gozney Roccbox to test with his family. His design eye appreciated the appearance but he did find it a little tricky to fire up at first.
Lindsey oversees all of the buying advice content across our websites and tested the Woody Pizza Oven Kit, as well as its predecessor. She loved making pizza and had become quite adept with a pizza stone in her kitchen oven, but loved the ease of use and affordability of the Woody now it comes with gas.