DeliVita pizza oven review
We reviewed the super stylish DeliVita pizza oven to see how easy it was to use and how well it cooked pizza (and more). Here's our verdict...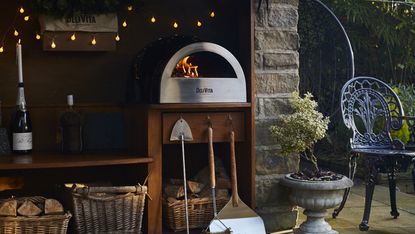 (Image credit: DeliVita)
Quite simply, the most stylish wood-fired pizza oven on the market, the DeliVita is perfect for pizza purists who want to make the most of their gardens this summer
Reasons to buy
+

Can be placed on any surface

+

Cooks pizzas in 90 seconds

+

Easy to maintain

+

Five-year guarantee
Reasons to avoid
-

Not easily portable

-

Expensive

-

Lacks a built-in temperature gauge

-
-
Why you can trust Gardeningetc Our expert reviewers spend hours testing and comparing products and services so you can choose the best for you. Find out more about how we test.
Once the sole preserve of Italian restaurants, wood-fired pizza ovens have become more common over recent years with more compact, freestanding and even portable versions available for the Margherita-obsessed.
A home pizza oven is the ultimate in social cooking kit – you can set it up so that everyone of all ages can choose their favourite toppings and each pizza takes mere minutes to cook so you get (almost) instant gratification.
Having invested in my own home pizza oven several years ago – bringing it out of its shed storage at the first sight of sunshine – I was keen to test out the super slick-looking DeliVita to see how it compared.
I used it every day for a little over a week to make pizza, as well as grill meat and roast vegetables, too. I'd be lying if I said that my family weren't sad to see it go when the loan period ended, but quite frankly, eating pizza every day isn't something that should be encouraged.
Keep scrolling to see how I got on, then head to our best pizza oven buyer's guide for more oven options to help you make your own at home.
DeliVita pizza oven: product specifications
Exterior height: 35cm
Exterior width: 59cm
Exterior depth: 65cm
Interior width: 50cm
Interior depth: 54cm
Weight: 30kg
Maximum temperature: 550°C
Colours available: Very Black, Hale Grey, Blue Diamond, Olive Green, Chilli Red, Blaze Orange and bespoke
DeliVita pizza oven: first impressions
With its traditional stone interior and a sleek, shiny fibreglass surround and stainless steel facade, the DeliVita pizza oven is a seriously stylish piece of kit.
Made in Yorkshire, it's completely waterproof and can be left outdoors year round, as long as it's covered. The company has a snug-fitting cover that is perfect for this if you lack a sheltered area in your garden.
Available in six glossy colourways – from the classic black and grey to the more eye-catching red or orange – it can even be colour-matched to your chosen shade for an extra £300.
As for moving it about, one of the selling points of the DeliVita pizza oven is that it's portable. This, in theory is true, but there's no denying it really is quite large and heavy, despite featuring two hand-shaped recesses either side to make it easier to hold.
For instance, moving it around your garden or lifting it to your car to bring it on holiday is just about manageable, but due to its 30kg weight and 59cm width, the extent of its portability is really down to your strength and stamina. I'd definitely call it more luggable, than portable.
As we have no side access to our back garden, the oven was delivered to our front door and my husband and I carried it though the house together. I absolutely would have struggled to do this on my own.
Optional extras for the DeliVita pizza oven
DeliVita has thought of everything when it comes to making your pizza experience as hassle-free as possible. As well as the oven, DeliVita has a host of accessories to enhance your cooking experience. They're by no means essential for use, but they can and probably will make your life easier when using the oven.
They range from an oven brush and pizza peel to a folding stand, and oven door and even an infrared thermometer gun. Apart from the oven door – which is made to fit – similar items can be bought from elsewhere.
As well as the oven, the company kindly loaned me a selection of these accessories, including a pizza peel, a handy prod and blow tool and a cast iron dish.
It also sells wood starter packs that include organic firelighters, kindling and wood logs (£49.50 for 20kg).
You can find more of the best pizza oven accessories in our guide.
Setting up and lighting the DeliVita pizza oven
The set up of the DeliVita pizza oven couldn't have been easier. Just find a spot for it in your garden – any surface is fine, provided it can bear the oven's 30kg weight. The oven gives off a certain amount of smoke while it heats up and cooks, so bear that in mind when choosing where to place it.
DeliVita loaned me their foldaway oven stand, which is essentially a stainless steel folding table with a row of hooks to hang your tools from and a tray at the base for extra storage. Crucially, this robust stand can hold the weight of the oven.
Lighting it was a cinch, too – you just place a firelighter in the centre at the back, place two pieces of kindling (or thin pieces of wood) either side of it and build up a tower around that, Jenga-style, for another few layers.
Once you light the firelighter, you simply leave it for around half an hour to get to the right temperature (which is approx. 450°C).
When you're ready to cook, add in another couple of pieces of wood – the prod and blow tool came in very handy here – and push the burning logs to the back and sides of the oven to clear some space for your pizza.
This was all pretty straightforward. If you're not feeling very confident though, DeliVita's founder Joe Formisano has posted a series of 'how to' videos on the website to guide you through the process.
Making pizza in the DeliVita pizza oven
If you're not keen on making your own pizza dough, DeliVita sells 'Dough to Go' - pre-portioned pizza dough (£29.50 for 12) that can be stored in your freezer. You just need to remember to defrost the dough balls fully before use.
Pizza dough isn't difficult to make though – you just need to remember to do it in advance of a gathering to give it time for the dough to prove.
Possibly taking pity on me, DeliVita provided me with some of their own dough so I could start making pizzas right away.
Once you manage to stretch your dough out to your desired size, you simply add your toppings and pop it into the oven using the pizza peel. If you've ever used a pizza oven before, you'll know that this is easier said than done.
You need to make sure the peel is well floured so that the dough doesn't stick and there is definitely a knack to the shuffle action required to get the pizza into the oven. But practice, as they say, makes perfect and you're bound to get the hang of it after a while.
If the temperature is hot enough, the pizzas only really need 90 seconds to cook. This is where the thermometer gun would have come in handy as the oven doesn't have a built-in gauge. I was guessing so my first couple of attempts took longer than expected as my oven wasn't hot enough.
However, by my third pizza, I was on a roll! The pizzas came out with beautifully-wood-fired crusts, crispy bases and molten mozzarella on top.
There's more top tips on how to use a pizza oven in our guide.
Cooking other dishes in the DeliVita pizza oven
The DeliVita is, for all practicalities sake, an oven, so while its USP is to make authentic wood-fired pizza, you can also use it to make a host of other dishes, too.
Depending on what you're cooking and what finish you want, you may not need the oven to be as hot as required when cooking a pizza.
You will need a cast-iron dish to cook anything else in the oven – you can't put food directly on the oven floor as you would pizza dough. The company's black iron dish is made specially to fit the oven's dimensions perfectly, but any cast iron pan or skillet would do the job just fine.
I cooked ribeye steaks, as well as marinated courgette slices in the oven, both separately at different temperatures, both turned out really well.
How much maintenance is required for the DeliVita pizza oven?
Thankfully, the DeliVita pizza oven doesn't require a great deal of maintenance at all. You do need to make sure it cools down completely after use before you pop the oven cover on (this could take until the following day).
Giving the stainless-steel front a quick wipe with a damp cloth is definitely advised too. But due to the enormous heat that the oven generates, the majority of the ash inside the oven just burns away, anything else can just be given a quick scrub with a metal wire brush.
How does the DeliVita pizza oven rate?
While it is more expensive than other similar pizza ovens, the DeliVita can be left out year around so it's handy if you don't fancy lugging your oven in and out of your shed or garage repeatedly. It's sturdy, cooks pizza like a pro, and looks just as good as it cooks.
It can be used to make a whole array of dishes, though in all honesty, I'm not sure I prefer the results of cooking other dishes in the DeliVita to what I'd get on the direct heat of a barbecue. Essentially, this is primarily a pizza oven and I can't fault it when cooking pizza. It is by far the most stylish pizza oven on the market, too.
So if, like many others this summer, you're planning a garden upgrade and are installing an outdoor kitchen, then I would definitely recommend the DeliVita pizza oven – it'd make a stunning centrepiece to your alfresco cooking space, while giving you and your family years of culinary enjoyment.
About this review and our reviewer
Ginevra Benedetti is Associate Editor across the homes titles at Future. This means that she spends her days writing about all areas of the home, inside and out, as well as reviewing gadgets and appliances to ensure that you get the best products for your needs.
She lives in a Victorian terrace with a 40ft long garden that backs onto a peaceful council allotment, so thankfully not that many neighbours are disturbed by her six-year-old's endless trampoline antics.
As with all our reviews, the DeliVita pizza oven has been tested first-hand in her garden, using it just as you would so you know exactly what you are buying. The product was loaned to her free of charge and she tested it for as long as possible before returning it back to the brand.
Ginevra is the Deputy Editor of Ideal Home magazine but also writes for Gardeningetc whenever possible, as she loves everything about the outdoors. Over the years, she's worked for the majority of Britain's monthly interiors magazines and their websites, including Homes & Gardens, Livingetc and Country Homes & Interiors. She's written about every area of the home, indoors and out, from shopping and decorating, appliances and home tech, wallpaper and fabric, kitchens and bathrooms, even extensions and conversions.