Ooni Karu pizza oven review: this multi-fuel pizza oven is worth the dough
The Ooni Karu pizza oven can run on wood or gas for either authentic or fuss-free pizza. Here's how it held up when our cooking editor put it to the test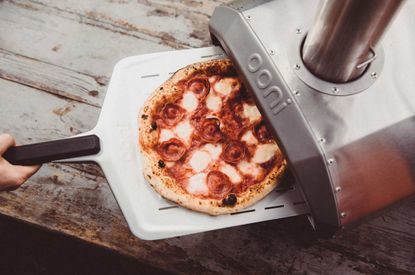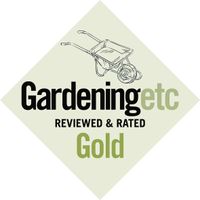 (Image credit: Ooni)
The Ooni Karu is a versatile and easy-to-use pizza oven that's perfect for garden parties and entertaining. It's lightweight enough to take on the go, and can cook a pizza in just 60 seconds. The option of a gas attachment means you don't need to use the chimney, which is great for those who want a more low-lying pizza oven.
Reasons to buy
+

Makes amazing pizza

+

Easy to get the hang of

+

Multi-fuel

+

Not too expensive
Reasons to avoid
-

You'll need to buy extras to make the most of it

-

No temperature gauge built-in
Why you can trust Gardeningetc Our expert reviewers spend hours testing and comparing products and services so you can choose the best for you. Find out more about how we test.
An Ooni pizza oven is on everyone's wish list right now, but is the Ooni Karu pizza oven the right one for you? The Ooni Karu isn't the first pizza oven I've reviewed, but it is my favourite. While the price is still more than I would pay for almost anything else, it's a reasonably affordable pizza oven when compared to premium alternatives from Morso or DeliVita, and it delivers seriously good pizza.
The Ooni Karu needs a few extras to make the user experience that little bit easier, because once you've unboxed this outdoor pizza oven there's actually not much guidance on how to make pizza in it. I do actually like this, because it goes to show just how easy it is to use the Ooni Karu once you've got the hang of it. The best way to learn how to use a pizza oven? Get stuck in and make a pizza!
As a multi-fuel pizza oven I tested the Ooni Karu on both its gas and wood modes to see just how easy it is to use, and while it's hard to argue with the traditional charm of a wood-fired pizza oven, I'm team gas oven all the way. Both tests went excellently, but if you do buy the Ooni Karu I'd suggest adding the gas attachment to your basket. It's a shame you need to pay extra for it, but it does cut down on the initial cost for those who are pizza traditionalists. Keep reading for my full Ooni Karu pizza oven review, or for our other reviews, head to our best pizza oven guide.
Ooni Karu pizza oven: product specifications
Fuel type: gas, charcoal, wood
Dimensions: H80xW77xD40cm
Weight: 12kg
Oven temperature: Reaches 500˚C (950˚F) in just 15 minutes
Pizza size: 12 inch pizzas
In the box: Ooni Karu pizza oven, Ooni pizza stone, fuel tray
I feel there are a few things missing from the box with the Ooni Karu. Make sure you buy a pizza peel, because it's impossible to make a pizza without one.
I would also recommend buying an infrared thermometer for telling the ambient temperature of your pizza oven before putting the pizza in. There's no in-built temperature gauge, so without this it's a bit of guesswork.
Ooni Karu pizza oven review: assembly
Ooni very kindly sent me a modular table to review the Ooni Karu pizza oven on. I don't have any other outdoor furniture so it was definitely required to rest the pizza oven on. The table is very sturdy and fits the oven comfortably, and it was definitely the longest part of the assembly process. The Ooni Karu itself took minutes to put together.
The box was small and the chimney and other extras were stowed inside the oven itself, so it was simply a case of removing them and putting everything together. The instructions were minimal (which I like) and very helpful.
Table aside, the Ooni Karu would be very easy to store. The chimney twists on and off, so it's removed easily and can be stored inside the oven itself. The legs fold away to flatten the oven even further, so it ends up being an easily portable size for storage in the winter.
Ooni Karu pizza oven: preparing to cook
I've used wood-fired pizza ovens before, so it seemed like the natural place to start this Ooni Karu review. The oven was easy to get going. I just added some firewood (there's a visual guide in the handbook of the optimum type of wood) and opened the chimney to increase airflow. Using my infrared thermometer, I found that the oven heated to 350°C in about 20 minutes. Not bad for six small blocks of wood.
This required placing the fuel tray at the back of the oven, where it's easily accessible using the back door. The lid of the chimney needs to be removed, and you can twist the key on the side of the chimney to increase airflow in the oven. This works like a wood burner, the more air you add the fiercer the fire will be (and the oven will heat up). I left the front closed to allow the oven to heat evenly, but this guidance all changes when it comes to gas cooking.
You keep your oven going by simply adding a new bit of wood when the fire dies down, and there's plenty of guidance in the handbook to see when the flames are at their optimum point for cooking pizza.
Ooni Karu: preparing your pizza
Ooni has a pizza dough recipe included in the handbook, but one of the many perks of being a cooking editor is that I was in the process of reviewing a bread maker when writing this review. I switched it onto 'Dough' mode and left it for two hours to prep my dough.
I would advise breaking your dough into even sizes and forming them into individual balls before letting them rest and rise in this shape under a cloth. Split the dough into as many balls as you want pizzas. I found that the equivalent of one loaf of bread made three generous bases. Once that's had time to rest, it's easier to stretch out the pizza base without causing any holes or breakages. Stay patient and keep stretching out in all directions for that flat base. The flatter the better, so be brave!
Before topping your pizza cover the base in a very generous sprinkling of flour and semolina. This prevents the pizza from sticking to the pizza peel and means you can flick it into the oven with no spillages or breaking.
Ooni Karu pizza oven: wood fired cooking
When it came to cooking, the first attempt was surprisingly successful (much to my dad's relief, whose ham and mushroom pizza was our prototype) and it was only a little burnt on one side. I am a believer in the 'first pancake' curse, where your first attempt is usually the worst of the group. This is true of most pizza ovens too, because as time goes on the ambient temperature will get even more consistent and this will result in a truly evenly cooked crust by the end of the evening.
The trick to making these pizzas a success was keeping a watchful eye and turning regularly. This required lifting the pizza out of the oven with the pizza peel and turning it with my fingers every 20 seconds or so. I did this three times per pizza until I had it down to a fine art.
I would advise leaving a few minutes between pizzas, which allows the oven to come back to an optimum ambient temperature and gives everyone's pizza a fair shot at being evenly cooked and bubbly. Check out our guide on pizza oven temperature for more top tips from a pizza expert (not me!)
Cooking with gas in the Ooni Karu pizza oven
Ooni offers a few gas-burning pizza ovens, but the main one is the Ooni Koda. It lacks the traditional chimney, meaning it's low-lying and chic to look at, and this is easily replicated in the Karu. To get it ready for the gas attachment you twist and remove the chimney and then simply slot the cap into the chimney hole.
You also don't need the front door when using the gas attachment, which means you can leave the front wide open and keep a good eye on your pizza as it cooks. I had anticipated the installation of the gas adapter to be a bit of a fuss, but it was incredibly easy. I simply had to remove the back grill and slot the gas burner into its place, before tightening some screws to keep it secure. Overall, it took less than two minutes.
Ignition works similarly to the best gas BBQ. You simply press down on the dial and twist. Once the flame has come on (this took a few tries to ignite) you then can adjust the flame intensity. I left it on high to heat the oven as fast as possible, and it took less time than it had with the wood – about 15 minutes in total to reach 350°C.
With both the gas and wood modes you can see the oven heating up, with flames stretching along the top of the oven and the light almost buzzing with heat. The occasional over-zealous flouring caused a fire on the pizza stone, which was a little scary at first. Eventually, we realised that you can just carry on as normal when there's a small flour fire inside the pizza oven. It usually burns out after a few seconds, and won't impact the quality of the pizza.
Gas vs wood fired: which mode is better in the Ooni Karu?
The charm and rusticity of a wood-fired pizza oven is certainly appealing. It's a more authentic way to cook your Italian-style pizza, but I was left marginally preferring the gas function when testing the Ooni Karu. It is so easy to ignite, quick to heat and almost effortless to clean. If you do buy the Ooni Karu, I would advise investing in the gas burning attachment to buy a bit more versatility.
The technique is very similar, but I found the gas made it slightly easier to get an evenly cooked pizza, and it was also convenient to not have to re-fuel and check on the wood on a regular basis. When cooking with wood, a few rogue flames will exit from the back of the oven if there's a breeze or if you've overfilled the fuel tray. The gas mode feels more weather-resistant because the flames explicitly point towards the centre of the oven instead of sitting at the back.
While I preferred gas for convenience, my mum preferred using the wood-fired mode for its authenticity. It was hard to tell if the taste itself was different when cooking with wood, but wood is a much cheaper fuel option than gas because not only does it not require any additional attachments, you won't need to buy a gas canister to hook it up to.
Cleaning the Ooni Karu pizza oven
Cleaning is incredibly easy with the Ooni Karu. If you use the fuel tray for wood, this simply needs to be removed using the grate and emptied out. It's also a good idea to take out the pizza stone and wipe it down, which removes any leftover oils, flour or spilled toppings. Don't submerge this in water though, as it's meant to be kept dry.
The exterior is worth giving a spritz of a surface cleaner to keep it shiny and new looking, but you'll find that cleaning the pizza oven itself is the least of your troubles after a pizza night. I had a whole kitchen filled with flour, chopping boards, pizza peels and a pile of empty plates to contend with!
Kitting out your Ooni Karu
Ooni offers a lot of extras to expand the functions of your Karu. Some are attractive options, and others are downright essential.
As someone without an adequate outdoor platform, the Modular Table was a great addition to my oven. It has hooks along the front where you can hang your pizza peel, and there are other things you can attach to it such as the Ooni Utility Box and the Pizza Toppings Station (which is a winner for pizza parties, in my book). None of these are essential, but they are fun.
What I would say is essential for any Ooni pizza oven is a pizza peel, because it's impossible to remove your pizza without burning yourself if you don't have one. Something I would like to buy in future is the turning peel. Turning the pizza is a little fiddly on a full-sized peel, but this smaller circular peel will make it easy to pivot the pizza without removing it from the oven entirely.
You don't need an infrared thermometer with the Ooni Karu, but I'm so glad I have one. It makes it a lot easier to tell when the oven is ready and removes a lot of the guesswork from the process. It's also relatively affordable, and there are potential alternatives on Amazon too.
For more inspiration check out our best pizza oven accessories buying guide.
Should you buy the Ooni Karu pizza oven?
Should you buy the Ooni Karu? If you're fortunate enough to find it in stock, all I can say is yes! This is a brilliant pizza oven. Simple to assemble, fun to use, not too expensive when compared to many market contenders, and a really versatile option for those who want to experiment with different fuel types.
I do think it's a shame that the gas adapter isn't included, because this was one of my highlights of testing the Ooni Karu. If you do intend of using a purely wood-fired pizza oven, there is also an argument for choosing the Ooni Fyra instead as it's a cheaper and smaller option designed for use with wood pellets.
I put this pizza oven to the test in the months of February and March, which required a lot of ferrying cooked pizza into the dining room, and uncooked pizza out into the dark and cold. Even so, it was a real pleasure to use it and every pizza night my family had was a triumph. We're looking forward to using it in the summer even more, and I can't wait to get some friends around and host a pizza party in the garden. This pizza oven is a must for anyone looking forward to entertaining this summer, and even if you're dealing with a smaller space, it's compact enough to fit neatly into most patios.
Where to find the Ooni Karu in stock
Our handy widgets should show where the Ooni Karu is in stock right now. If it's not there, you can always try the Ooni website.
About the review and our reviewer
Millie Fender is small appliances editor at Future and heads up all things cooking across Gardeningetc, Ideal Home, Real Homes and more. Whether it's pizza ovens, barbecues or fire pits, she loves any excuse for outdoor entertaining.
Millie put the Ooni Karu to the test in her parents' garden and used it as an excuse to work on her dough-making skills and test out other appliances in the process.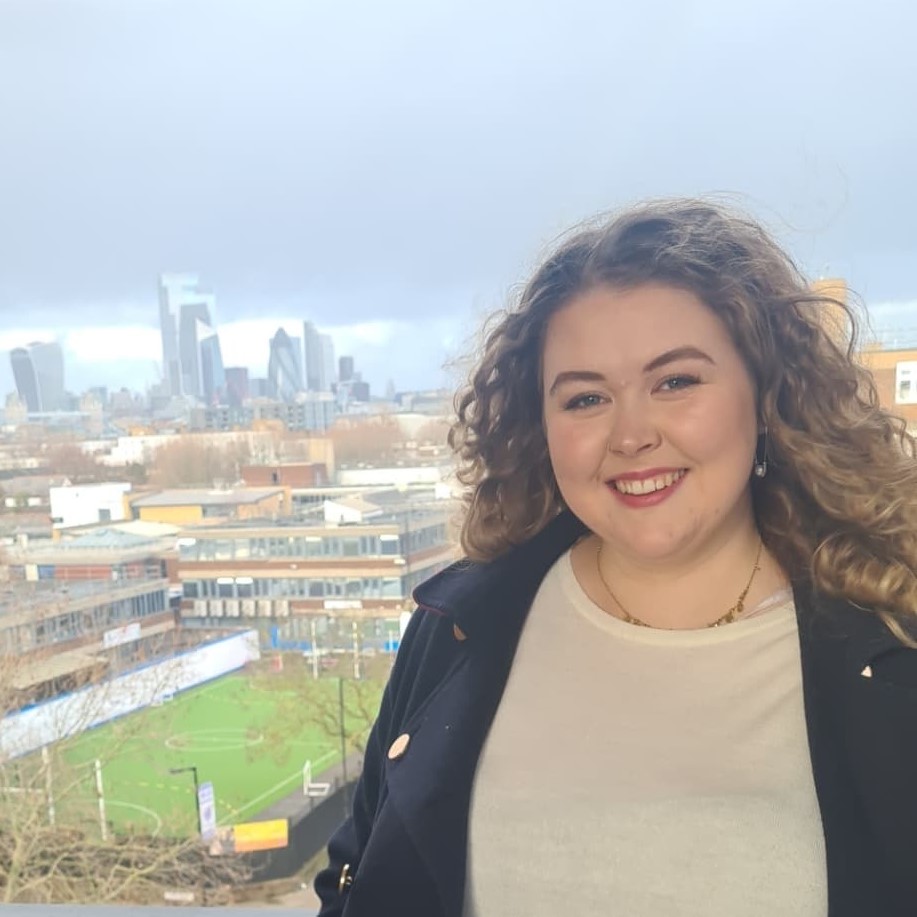 Millie is the Head of Reviews on the Future Homes Ecommerce team. She has been writing for Gardeningetc since the beginning of 2021, covering all things barbecues, patio heaters, and fire pits.