Best BBQ 2023: the top 14 we've tested
These are the best BBQs, as tried and tested by the Gardeningetc team. From hybrid to gas, charcoal, and even an electric grill and smoker...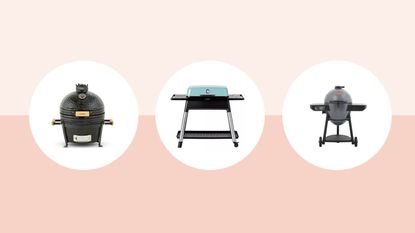 (Image credit: Future)
Perhaps you're buying an awesome gift for the grill-lover in your life, or maybe you're simply preparing for sunnier days. Regardless, if you're looking for the ultimate guide to buying the best BBQ, you've come to the right place. At Gardeningetc we've been reviewing BBQs since the very beginning, and we've built up quite the inventory of BBQ reviews to bring you our recommendations, no matter the size or type of garden you're working with.
BBQs can be split into two main categories. There are gas BBQs, which can be pretty hefty and hard to build but are incredibly easy to light and maintain. A lot of them come with electric ignition buttons which can be twisted to adjust the size of the flames. This means you can cook slow and low for larger cuts of meat, or sear your steaks on high heat before leaving them to rest on a warming rack above the main grill.
Charcoal BBQs are a traditional choice, with that classic smokey smell that will have all the neighbours hankering for an invite. They're typically smaller and cheaper, too, and many come with a portable kettle design that will be easily stored in your shed throughout the winter months. If you already know that you'd like a gas model, then you can head on over to our best gas BBQs buying guide and jump straight in. Otherwise, keep reading for our complete roundup of the best BBQs you can buy.
The best BBQs to buy in 2023
Why you can trust Gardeningetc Our expert reviewers spend hours testing and comparing products and services so you can choose the best for you. Find out more about how we test.
Here's a quick low-down of our top picks. Click through and you'll be sent to the cheapest offer.
Best charcoal BBQ: Big Green Egg
Best gas BBQ: Weber Genesis II EX-335 GBS
Best hybrid BBQ: Char-Broil Gas2Coal Hybrid Grill
Best electric grill: Everdure Fusion Grill
Best smoker: Traeger PRO 575 Pellet Grill
The very best BBQ for most families
Specifications
Fuel: Gas with charcoal tray accessory
Weight: 47kg
Colour: Black
Cooking area: 64.2 x 43.5cm
RRP: £469 for a 3-burner model
Reasons to buy
+
Warming rack
+
Side burner
+
Charcoal tray is easy to store
+
Loads of cooking space
+
Easy to clean
+
Range of sizes
Reasons to avoid
-
Assembly takes time
-
It's a little basic looking
We've tried this BBQ, and it's a top choice for those who don't want to compromise when it comes to quality on either cooking mode. It's also easy to clean, and simple to switch between gas and coal plus it features a warming rack for when your timing is a bit off. Not only is it great for cooking for a crowd, but it even has an in-built bottle opener to make for fewer trips to the kitchen. It's the ultimate barbecue for those who want the best of both worlds, and if you often cook outdoors.
Easily tell the temperature of your grill using the in-built gauge which goes up to 350 degrees, which is plenty for any meal. You can use this BBQ to cook just about anything from halloumi to steak, burgers and even scallops. It also has a side burner which is perfect for, you guessed it: your side dishes. Even when using the charcoal tray with this BBQ you ignite the fuel using the gas burner, which lights easily and only needs to burn for 15 minutes to get the perfect temperature in your charcoal. After using the charcoal tray, you can also store it underneath the BBQ for less faff. It also comes with a holder for the grate tool that helps to lift grates when they're hot or dirty.
The very best charcoal BBQ
Specifications
Fuel: Charcoal
Weight: 40kg/73kg/93kg
Colour: Racing Green
Cooking area: 33cm diameter
RRP: £795 - £1,790
Reasons to buy
+
Iconic design
+
3 sizes
+
Easy to clean
+
Versatile
+
Simple ash removal
Reasons to avoid
-
High price
-
A hefty model
If you're an adventurer who still likes the finer things in life, then try the Big Green Egg out for size. It comes in your choice of three sizes and it can do everything from sear veggies to roast a turkey, grill sausages and even slow cook your food. It can even cook pizza! This bad boy could actually rival your home oven, all in one compact (yet admittedly heavy) piece. We tested the large size and we love it.
It's the high lid that lets you cook larger cuts of meat using indirect heat. It won't get as hot as other metal barbecues – making it safer – but it's insulated and complete with patented airflow features so that you will enjoy good, even cooking. While it is costly, it is an investment and you'll get compliments. Oh, and it's easy to clean. Plus, it's designed to be used year-round, whether in the height of summer or on Christmas morning for that turkey.
This barbecue comes in three sizes with the smallest boasting a cooking surface measuring 33cm in diameter, the medium size 46cm and the largest 61cm. Choose wisely and based on how large your family is (and how spacious your patio is). The bigger the BBQ, the more expensive it is.
The best portable BBQ
Specifications
Fuel: Charcoal
Weight: 6.78kg
Colour: Black
Cooking area: 42 x 26cm
RRP: £179.99
Reasons to buy
+
Easy to store
+
Cleans in dishwasher
+
Hinged lid
+
Great for travelling
+
Lightweight
Reasons to avoid
-
Only comes in one colour
-
No built-in thermometer dial
If you are searching for a portable barbecue to take on staycations, camping or on a trip to the seaside, then this one from Weber is brilliant. In fact, we tested it in a London garden that's compact in size and it fared well. It offers everything a normal-size charcoal BBQ can, without a huge amount of floor space required. It's the best bet for anyone short on space with a tiny budget and a small family to feed.
Equipped with a lid, you can use this barbecue to cook anything from a dozen burgers to kebabs, sausages and even large joints of meat and veggies, too. The size of its cooking space is impressive considering its footprint, though you might need to batch cook on it if you are cooking for a large group. You can also use it to indirectly cook your food and create a keep warm area on your barbecue. This all-in-one unit is easy to store and even easier to cart around. Its legs are foldable and help keep the BBQ secure when not in use. It's super easy to clean due to its compact size and you can put its grates in a dishwasher for ease.
This barbecue also comes in a gas version for those who are interested in a portable BBQ but want the ease of gas cooking.
The best BBQ for families
Specifications
Fuel: Gas
Weight: 66kg
Colour: Slate
Cooking area: 46 x 72cm
RRP: £649.99
Reasons to buy
+
Speedy and consistent heating
+
Modular cooking system
+
Grease-resistant design
+
Gas canister is hidden from view
Reasons to avoid
-
Assembly took a while
-
Lacks that smokey charcoal flavour
This mighty gas BBQ is designed for family feasts. Our reviewer was able to cater to meat-eaters and veggies alike with its expansive four-burner design, and the modular grill system even has room to add a wok or pizza stone. Delish.
The standout feature of this BBQ is its self-cleaning system. It's a smart design, called InstaClean Aqua. You add water to the underside of the BBQ (which also creates a lovely bit of steam to keep food moist) and any fat that drips away from your meat will simply form a layer on top of the water, meaning it's simply wiped away.
There's a thermometer on the top lid of the Campingaz 4 Series Premium S that accurately shows the temperature as you're cooking. This helped to make sure our food was still cooking when the lid was down, and because the dials could ramp down the temperature with ease, it offers complete control when cooking steak, etc.
We think the price is spot on for such a smart BBQ, and while it took a while to assemble, it's durable once you've pieced it all together.
The best smoker BBQ
Specifications
Fuel: Wood pellets
Weight: 58kg
Colour: Black
Cooking area: 3709 sq cms
RRP: £899
Reasons to buy
+
Smart
+
Easy to use
+
Large cooking space
+
Versatile
+
Self-fueling
Reasons to avoid
-
Expensive
-
Pellets are hard to find
-
Large in size
We were blown away in testing by how powerful the Traeger PRO 575 Pellet Grill is when it comes to smoking, grilling and cooking. It's definitely one for serious cooks, or for anyone who likes to impress their guests. Cook fish, meat and veggies with this pellet grill. It's got a drum-shaped body that can fit larger cuts of meat, too. It's an ideal buy for anyone with plenty of patio space, and a love for outdoor cooking.
A Wi-Fi-operated grill? You heard us right. You can receive alerts when your food reaches the ideal temperature, and monitor your grill from the Traeger app even when you're indoors. Simply fill the hopper with pellets, plug it in, switch it on at the back, select the temperature you want it to reach, press the ignite button and you're sorted. It automatically adds more pellets when required, and if you're cooking a joint of meat it makes sense to use the meat probe. This connects to your phone so that you can check cooking progress as you rustle up a side salad or clean the house before guests arrive. Considering its size, it's also quite simple to clean after use, too.
The best portable gas BBQ
Specifications
Fuel: Gas
Weight: 28.1kg
Colour: Black
Cooking area: 2065 cm2
RRP: £465
Reasons to buy
+
Folds down for easy storage
+
Easy to use and clean
+
Ample cooking space
+
Handy prep surface
+
Very easy to assemble
Reasons to avoid
-
Quite heavy for a portable barbecue
-
Gas canisters are disposable and not very eco-friendly
The smart design is what caught our eye with the Weber Traveler. It has a generous cooking area but folds down to a pull-along for easy transportation. We rated it 4.5-stars out of 5, mostly because of how easy it is to use, clean and cart around. It's app-connected, too, and it offers a handy prep surface. It's the ultimate portable gas BBQ for large families that might want to avoid a charcoal option. If you're often staycationing, then this is the buy for you.
Beyond the sturdy wheels and grippy handle, this BBQ is useful for more than just travelling. Because it folds flat we could imagine it propped against the wall of our garden shed when not in use. It's also got smaller, disposable gas canisters that won't take up much space, either. Whilst handy for being on the go, it's something to consider if you're trying to be eco-conscious. Design aside, we were wowed by the cooking space that Weber has been able to pack into the Traveler. It cooked up corn and an enormous tomahawk steak with plenty of space to spare. We think it could cook for four to six people, easy.
The best multifunctional BBQ
Specifications
Fuel: Gas, wood chips
Weight: 22.7kg
Colour: Black
Cooking area: D38.5cm
RRP: £232
Reasons to buy
+
Flexible cooking
+
Great smoky flavour
+
Speedy roasting
+
Generous drum capacity
Reasons to avoid
-
Teeny grilling area
-
Not best for slow cooking
Taking only 40 minutes to assemble, we were off to a great start with the Char-Broil Big Easy Smoker, Roaster and Grill. For the price, it looks like a premium model that will stand the test of time, with an unconventional design that's probably more akin to the type of BBQ you'd buy in the USA. It allows you to slow cook inside the barrel of the BBQ, and you can use wood chips to smoke your meat for heaps of extra flavour.
The actual cooking surface is a little small for feasting, so it's better suited to those cooking for three or four people than serious garden parties. We used this BBQ to roast chicken, slow-cook pork shoulder, and even make a speedy pizza that might just rival the best pizza ovens.
This BBQ is gas-powered, and because the cooking surface sits top the main drum body of the grill, it means it will take a longer time to pre-heat than most BBQs. Cooking was very even though, and once again we took full advantage of the smoking modes here to make some extra flavourful sausages. Delish.
8. Weber Smokey Joe Premium
The best small BBQ
Specifications
Fuel: Charcoal
Weight: 3.5kg
Colours: Black, Slate Blue, Smoke, Ivory White, Crimson, Spring Green
Cooking area: D37cm
RRP: £85
Reasons to buy
+
Compact and lightweight
+
Simple to clean
+
Hinged lid
+
Comes in 6 different colours
+
Affordable
+
Dishwasher safe parts
Reasons to avoid
-
No handles for carrying
-
Not the most secure whilst transporting
-
No built-in thermometer dial
Reviewed by our ecommerce editor Annie, this BBQ is brilliant for small spaces. At just 37cm in diameter and 3.5kg in weight, this tabletop BBQ is the best buy for anyone with a smaller garden, terrace or balcony to work with. It's a great option if you're on a smaller budget, too. We tested this BBQ over a number of uses and have decided it's best for anyone who needs something compact that won't take up any floor space in their garden. The only reason it's not our best for portability is that its tuck-n-carry lid isn't the most secure when carting around from A to B.
Its lid gives your food a desirable yet subtle smoky taste, and with enough cooking space for 6+ burgers or three steaks, you could use this BBQ to cook a small chicken or an entire Tomahawk steak. The lid also can sit on a stand to shield wind away whilst your BBQ is lighting, or whilst it's lit. It comes in six colours and can be left outside, whilst it's also easy to clean with dishwasher-safe parts.
9. Everdure Fusion
The best electric-powererd BBQ
Specifications
Fuel: Electric, charcoal
Weight: 35.9kg
Colour: Orange, black
Cooking area: 1600cm2
RRP: £999
Reasons to buy
+
Comes with a stand, and freestanding legs
+
Long cable
+
Electric ignition, charcoal taste
+
Rotisserie included
Reasons to avoid
-
Having to plug in
-
The rotisserie wobbled
You may think that it has to be charcoal for a proper BBQ, but that doesn't mean you can't enjoy the easy ignition that other models will offer you. The Everdure Fusion needs to be plugged in, but once you've done that it will ignite your charcoal in just seven minutes. It also has a rotisserie button, which when using the rotisserie attachment included will keep your chicken, sausages, kebabs, or whatever else you might cook spinning for a juicy finish.
We adored the look of this BBQ. It's totally modern, and can be used freestanding or with the included stand which is very sturdy. Assembly was a breeze, only taking 30 minutes in total. The cooking area was enough to feed at least four, but the lack of lid means you'll be unable to keep food warm once it's finished cooking.
When using the rotisserie it had a bit of a wobble, which might be because we used the rotisserie rods on the highest of three settings. We didn't have the same issue on the other two. And the taste? Deliciously smokey, just how we like it. An attached hinged lid makes checking on the progress of your food a hassle-free experience, while a hinged cooking grate means adding more fuel is easy, too.
10. Char-Broil All-Star
The best gas BBQ for small families
Specifications
Fuel: Gas
Weight: 30kg
Colour: Black
Cooking area: 45cm diameter
RRP: £399.99
Reasons to buy
+
Great for small families
+
Easy to move around
+
Foldable shelves
+
Handy tool hooks
Reasons to avoid
-
Assembly is complicated
-
The instructions could be better
The Char-Broil All-Star is a great little barbecue if you want something that's gas-powered but you don't have much to spend. It's ideal for smaller families and it offers plenty of cooking and storage space. We tested it on a small patio and it proves itself to be the perfect cooking companion, time and time again. In short: it's faff-free, affordable and has everything you need to cook up a storm for yourself and a few others.
It might take some getting used to, but this compact gas barbecue is brilliant. With cast-iron grill grates that are durable, rust resistant and easy to clean, it promises to cook evenly and with fewer flare-ups, using TRU-infrared technology. It has a built-in thermometer dial so that you know when it's ready (it takes around 10 minutes). And a handy keep warm shelf to help get the right timings. The side shelves provide room for prep but they're foldable, keeping it slim when you're not cooking.
11. Tower Kamado Maxi Charcoal BBQ
The best affordable Kamado
Specifications
Fuel: Charcoal
Weight: 30kg
Colour: Black, green
Cooking area: 23.5cm diameter
RRP: £399.99
Reasons to buy
+
Affordable alternative
+
Compact
+
Comes with waterproof cover
+
Versatile
+
Easy to clean
Reasons to avoid
-
Heavy
-
Not for cooking for large gatherings
If you like the look of the Big Green Egg but aren't so keen on the price tag, then try this one out for size. This Tower Kamado BBQ is similar to the mini Big Green Egg but at a fraction of the price. It's heavy and durable, it offers a decent size cooking area for a small family and it retains heat very well. Whilst it doesn't come with all of the add-ons that a Big Green Egg might, it may just be the BBQ to suit your needs right now.
This compact barbecue offers a surprisingly spacious cooking area for the fact it's a tabletop. It has a built-in temperature gauge that will let you know when it's up to temperature for baking, cooking, searing or smoking. We used this barbecue to cook 6 burgers at one time and noticed its handles stayed cool to the touch, whilst it retains heat very well. It's also super easy to clean after use and thanks to its compact size it's easy to store, just bear in mind it's heavy.
12. Everdure Furnace Gas BBQ
The best looking BBQ
Specifications
Fuel: Gas
Weight: 34kg
Colour: Mint, Graphite, Orange
Cooking area: 2915cm2
RRP: £899
Reasons to buy
+
Easy to use
+
Looks great
+
Storage shelf
Reasons to avoid
-
Slightly tricky to clean
-
Pricey
Ready to cook within five minutes, you can use this gas BBQ to cook pretty much anything you desire. With a built-in temperature gauge, it's easy to use even when you're cooking for a large group of people. It's plenty sizeable for tackling a party, in fact, it can cook up to 28 burgers at one time, and it has heaps of space so that you can separate your burgers from your wings and your veggies.
We like the high lid, which would fit heftier roasts and large meals for slow-cooking. It doesn't have a keep warm space although you could use one of the burners on the lowest temperature for this. Design-wise, it comes in a range of colours and offers storage space underneath for holding everything from your buns to your Ketchup. And in terms of build, it's definitely made to survive years of use, though it's too nice to leave outside for the elements to damage. It's on wheels for easy moving.
We also tested the Everdure Force 2 (opens in new tab) which is a very similar barbecue but with two burners instead of three. We rated this 4 stars out of 5 also. If you have a smaller budget, a smaller family and a smaller garden, then go for the Force 2 instead of the Furnace.
13. Everdure by Heston Blumenthal The Cube BBQ
The best stylish (and small) BBQ
Specifications
Fuel: Charcoal
Weight: 8.1kg
Colour: Orange, Graphite, Stone, Khaki
Cooking area: 670cm2
RRP: £199
Reasons to buy
+
Stylish in 4 colours
+
Easy to transport
+
Comes with tray and food holder
+
Easy to light
Reasons to avoid
-
Doesn't have a lid that you can use whilst hot
-
Difficult to clean
-
Cannot be left outside
Tried, tested and loved by us, this brilliant portable BBQ works using charcoal, and it cooks food impressively well considering it doesn't come with a lid that you can use whilst in operation. We think that this tabletop BBQ is ideal for smaller families or couples with not a lot of space on offer to buy a charcoal BBQ since it sits on a tabletop and looks pretty at the same time. Otherwise, it's handy for taking camping, on staycations or to the beach or for a pretty picnic.
Complete with a bamboo preparation board and a plastic food storage tray, all parts of this barbecue stack together, held secure with strong clips. When it comes to cooking, it's great for smaller crowds and can be used to batch cook, though we would probably avoid cooking a joint on there as it doesn't have a lid that you can use whilst cooking. You can also position the charcoal wherever you like, to directly cook your food or (slowly) indirectly cook pieces of meat or fish.
Available in four stylish colours, this portable BBQ gets 5-stars from us when it comes to looks. With metal handles, you can bring it in from the unreliable British weather and store it in a cupboard with complete ease since it cannot be left outside in the rain. You can put the grates in your dishwasher to clean them, but the interior of the BBQ is a little harder to keep looking its best.
The best premium BBQ
Specifications
Fuel: Gas
Weight: 84.8kg
Colour: Black
Cooking area: 3264cm2
RRP: £1,699
Reasons to buy
+
Three large burners
+
Sturdy and durable design
+
Great warranty
+
Works with a smart app
+
Brilliant side burner
Reasons to avoid
-
Assembly takes a while
-
High price tag
This BBQ used to sit in our #1 spot, but it's out of stock right now. We'll let you know when it's back.
Our editor put this one through its paces, and she was a total convert to smart Weber grilling. One of Webers' most immense barbecues to date, the Weber Genesis II EX-335 GBS is a serious grill for those who really care about their barbecue. We tried it and we still love it to date. It's the top gas BBQ for serious foodies and offers total control over three burners. It's definitely built to last. We enjoyed using the Weber Connect Smart Grilling app for notifications about when our food would be ready. This made it a lot easier to deliver that perfectly medium-rare steak.
With a generous cooking area, you can serve up for a large party with this model and the warming rack means you can get all the timings right. We really enjoyed the height of the grill, and the side burner is also far more capable than many of the best barbecues we have tested. The stainless-steel Flavorizer Bars of this model promise the flavour barbecued food should have, but with the adjustability of gas and the simplicity of electronic ignition.
---
How we tested these BBQs
We like to have hands-on experience with all the products we feature in our guides, and our best BBQ guide is no exception. We've reviewed all of the products in this guide with our Gardeingetc badge sitting comfortably alongside them. If they received a minimum of four out of five stars then they've made the cut, and they'll stay in this guide.
When we're writing up our reviews, we look out for the really important things like how easy it is to set up, cook meat and veggies, and then store and maintain it after each use. We do also take into consideration the overall look and size of the BBQ because, after all, we don't all have a large space to flex our outdoor cooking skills. This is something that our review panel understands, which is why we've selected barbecues to try out (for you) to suit our own home set-up. Read more info on how we review BBQs.
Our review process normally takes up to eight weeks, although this is entirely dependent on the great British weather so it may take a little longer.