The best garden furniture stores 2022: what and where to shop
The best garden furniture stores to shop to find stylish, great value, and durable outdoor furniture, including the top outdoor materials to have on your radar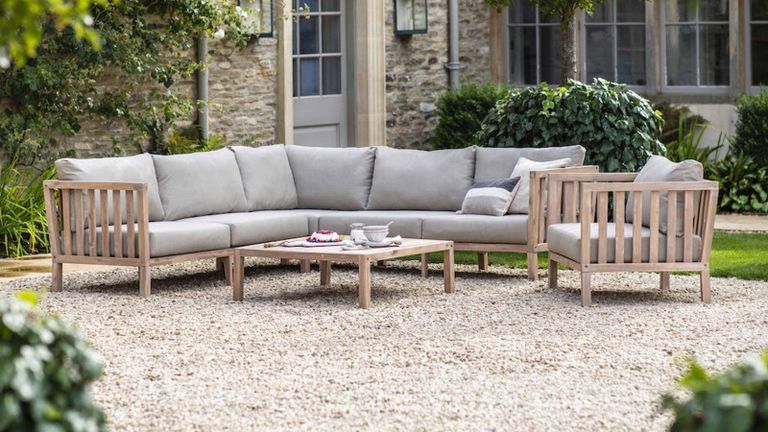 (Image credit: Garden Trading)
Looking for the best garden furniture? Over the past few years, most of us have come to appreciate the outdoor spaces we have access to more than ever before, whether that's a shared communal garden, a patio filled with plants, or a decked area you can spill out onto on a warm summer's day to extend your indoor living area outside.
And, sourcing the best garden furniture for your space is a sure-fire way to increase your enjoyment of time spent alfresco, whether you're looking for a garden table and chairs to host a BBQ, a spacious corner sofa or lounge set to kick back and relax around a fire pit, or a smart foldaway bistro set to maximise the potential of a smaller space.
But what is the best garden furniture? After all, whether you're looking for timeless rattan garden furniture or one of the best garden benches, you'll soon come to realise upgrading your patio furniture doesn't come cheap! So how can you ensure that investment is built to last? And where should you begin to find the best garden furniture to create your dream outside space, whatever your style and budget?
In this article we aim to demystify the garden furniture buying process, helping you to recognise the materials that are worth splashing the cash on, and those that may be a little more style over substance. We've also rounded up the top stores to shop garden furniture at, based on the Gardeningetc team's extensive joint experience, including some of our top picks from each brand.
---
The best garden furniture stores: where to shop
Ready to get straight into shopping? Here's the Gardeningetc edit of the best garden furniture stores you can shop today, with options for every style of garden, and budget.
Want to find out how to choose the best garden furniture in terms of durability and longevity first? Or get help deciding whether you need a dining set, corner sofa, or lounger to maximise your outdoor space? Just scroll to the bottom of this guide for all of the detail.
1. John Lewis & Partners
As well as John Lewis & Partner's own brand range, the retailer also offers the more affordable ANYDAY collection, plus offerings from rattan outdoor furniture favourites Kettler, and great value bistro sets from the likes of EMU. As usual, the brand achieves a good mix of great design and good value in its ranges, with a focus on quality designs that feature weatherproof aluminium frames and hardwearing hardwoods.
Shop now: John Lewis & Partners garden furniture
---
2. Homebase
Homebase is a great place to find the best of both worlds, with a mix of affordable powder-coated steel garden furniture and good value aluminium sets if your budget can stretch a little further. The Spirit Garden Corner Sofa Set, which has just been relaunched after a sell-out year last year, is a particularly good buy, blending a contemporary aluminium frame with teak details at a very good price point. Plus, there's also a great selection of modern and more traditional rattan garden furniture sets on offer.
Shop now: Homebase garden furniture
---
3. Barker and Stonehouse
Barker and Stonehouse has garden furniture to suit pretty much every style, whether you're looking for a timeless rattan corner sofa or a contemporary concrete dining table for statement alfresco dining. The brand's outdoor furniture tends to feature weather-resistant aluminium and durable hardwoods, so expect prices to be a little more expensive. But, if you're looking to create an outdoor living area that will become the focal point of the garden, this is one of our favourite stores to shop.
Shop now: Barker and Stonehouse garden furniture.
---
4. Leekes
Independent department store Leekes is a great place to find some of the top brands of garden furniture under one roof, whether you shop in-store or online. You'll find durable and elegant aluminium-framed rattan garden furniture from Branblecrest and Kettler, contemporary outdoor sofas and dining sets from Hartman, as well as a good selection of Garden Trading's bistro and lounge sets.
Shop now: Leekes garden furniture
---
5. B&Q
As well as catering to all your DIY needs, B&Q also stocks a large range of gardening essentials, including a good selection of reasonably priced garden furniture; think good value rattan garden sets, wooden lounge sets, and compact metal bistro sets. There is a mix of materials on offer, from hardwearing aluminium to powder-coated steel, so just make sure to check the small print so that you're aware of what you're investing in. You'll find advice on which materials to pick to best suit your needs at the bottom of this guide.
Shop now: B&Q garden furniture
---
6. Argos
If you're looking for garden furniture that looks the part, but doesn't break the bank, then Argos Home is a great place to head, mainly thanks to the addition of the Habitat brand to its offering. To achieve that affordability, most lines are made from powder-coated steel or slightly less durable hardwoods, so there will be a compromise on outdoor weatherproofing compared to higher price point aluminium or teak wood alternatives. However, its low prices and contemporary designs definitely nail it in the style stakes.
Shop now: Argos garden furniture
---
7. Garden Trading
Perfectly combining timeless design with a modern twist, there's a lot to love about Garden Trading's garden furniture range. And, although its pieces are somewhat of an investment, quality materials and hardwearing designs make its outdoor range good value over the long term. We especially like the pared-back wood options that blend classic British style with a nod to cool and contemporary Scandinavian style.
Shop now: Garden Trading garden furniture
---
8. Dunelm
Stocking a modern selection of own-brand garden furniture, alongside options from Charles Bentley, Norfolk Leisure, and many more, Dunelm offers everything from Adirondack chairs to contemporary garden sofa sets, and all at affordable price points.
Shop now: Dunelm garden furniture
---
9. MADE
A great place to source contemporary garden furniture, MADE focuses on stylish seating and dining options that are perfect for an urban courtyard, but work just as well in a modern family garden. You will pay a little more than most high street retailers for the brand's focal point designs, plus, the retailer is somewhat renowned for its (often very) lengthy lead times... but, if you want garden furniture that stands out from the crowd and offers plenty of wow-factor, it's hard not to be seduced by its eye-catching offering.
Shop now: MADE garden furniture
---
10. Wayfair
Whatever the time of year, and whatever your budget, you can pretty much be guaranteed to find garden furniture options to suit at Wayfair. The brand prides itself on curating one of the biggest selections of indoor and outdoor furniture going, and as such you'll find everything from anti-gravity deckchairs to rattan garden sets listed on its online storefront. Just be aware that pricing and discounting can change on an almost daily basis, so if you find a good deal, it's best to snap it up rather than delay.
Shop now: Wayfair garden furniture
---
11. Cox & Cox
Nothing says 'classic English country garden' quite so eloquently as Cox & Cox's outdoor furniture collection, with the brand offering a swoon-worthy array of timeless rattan seating, wooden dining tables and chairs, plus, an extensive range of hanging egg chairs. The only downside is that the brand's lead times can be lengthy, so order as soon as possible to ensure you can be sitting pretty outdoors as soon as the good weather arrives.
Shop now: Cox & Cox garden furniture
---
12. Robert Dyas
For no-frills garden furniture that's good on value, then Robert Dyas offers a huge selection of affordable outdoor seating, including reasonably-priced garden dining tables and chairs, cheap sun loungers, plus plenty of outdoor extras including some of the best hot tubs, garden parasols, and outdoor bean bags.
Shop now: Robert Dyas garden furniture
---
13. Amara
If you want to bring designer style to your outside living area, then alongside Amara's own-label garden furniture range, the brand offers a curated collection of outdoor furniture from some of the biggest names in contemporary international design, including Danish brands HAY and Ferm Living, French label Fermob, and Italian names Kartell and Seletti.
Shop now: Amara garden furniture
---
14. La Redoute
French online retailer La Redoute is a great option for sourcing something a little bit different for your patio space. It offers a great mix of classic wooden bistro sets and practical outdoor furniture, alongside some super contemporary on-trend designs. The brand's online sales are also well worth keeping an eye out for, with some hefty sitewide discounts regularly making an appearance.
Shop now: La Redoute garden furniture
---
15. OKA
If budget allows, then OKA is our go-to for beautiful outdoor design. A mix of heritage British style and global influences mean the brand's garden furniture collection offers a treasure trove of timeless classics and statement pieces. We especially love its elegant rattan garden furniture, statement dining tables, and contemporary lounge sets.
Shop now: OKA garden furniture