Vegetables to plant in October: 12 crops to sow and grow this month
Here are the best vegetables to plant in October, including peacock kale, black radishes, Japanese onions and asparagus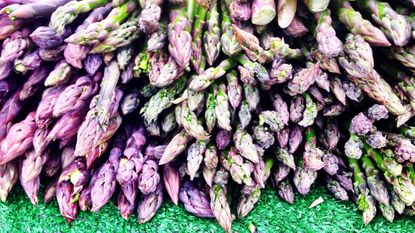 (Image credit: EyeEm / Alamy )
Choosing vegetables to plant in October may seem challenging at first. But you'd be surprised how many crops you can start off in style as the cooler months begin. The likes of slow-maturing Japanese onions and asparagus revel in the freshness of the late fall garden. Some, like broad beans, take advantage of the slower pace on the plot to overwinter to tender perfection. Others like peacock kale and green-in-snow can be enjoyed as micro leaves or baby greens weeks after sowing, or left a bit longer to develop more complex and spicy flavors.
Selecting crops with different harvest points is especially important as winter approaches. You'll have been spoiled for choice in early fall as a multitude of veggies seemed to fall into your lap – but now there will be more gaps, and any crops stashed in food stores will only last so long. The trick at this point in the vegetable planting calendar is to make the most of every minute of daylight, by setting off slower-developing bulbs and roots in the ground, or kickstarting hardy greens, mustards and beans under glass.
Just make allowances for frosts, and protect outdoor crops with tents, fleeces, cloches and cold frames. Stay on top of the weather, adding protection and support where necessary, and you're all set. Our guide to the best crops to start now will help you make the most of fast and fresh pickings alongside existing homegrown harvests – and ensure you have plenty more to look forward to in the coming months…
12 vegetables to plant in October for months of hearty harvests
Some of the best vegetables to sow now will quietly bulk up as the harsher weather pinches. Japanese onions, garlic, cauliflower and asparagus are primed to make the most of winter dormancy. Roots like black radishes relish the cool freshness and, while they take slightly longer to harvest than they would in summer, they soon deliver a spicy kick even in the heart of winter.
And if you're after a few fast returns on October-sown kitchen garden ideas, worry not! Punchy green-in-snow and giant spinach bulk up surprisingly fast. And for a really zippy nutritious feast, why not just load up some bean sprouts?
1. White cauliflower
A well-formed cluster of tightly packed curds is a joy to behold, making the cauliflower one of our top vegetables to plant in October. Nutty, peppery and pleasingly plump, early-summer cropping cultivars like 'Snowball' and 'Barcelona' can be sown in cold frames to overwinter at their leisure.
If you grow cauliflowers you just have to bear in mind that they are cool season brassicas and need moist, fertile soil. They also need light to develop the leafy layers that keep their curds well covered as they fill out.
There are plenty of great varieties to try. 'Seoul' develops a strong root system so it thrives even in stressed conditions. 'Barcelona' is ideally suited to an October sowing and develops bright white curds. And popular 'Snowball' is a great all-rounder, very compact and can also be frozen. Cauliflower are some of the best winter vegetables to grow, thanks to their highly resilient natures and steady growing needs.
Knowing exactly when to harvest your cauliflower might take a bit of practice to get right. It can take anything from three to five months, depending on the variety you choose. As a general rule, the head should be firm and compact. Don't wait until the little florets start to open and split – that's a sign it is moving past its peak of flavor.
2. Winter-hardy peas
If you're like us, you're always planning your next fix of peas. The good news is, as soon as you wave goodbye to a summer of pods, you can crack on with the next batch. October sowings are surprisingly effective, as long as you select the right varieties. As Amateur Gardening's fruit and vegetable expert Lucy Chamberlain points out. 'The advantage of sowing peas now instead of spring is earlier maturity, plus a sizable root system that gives impressive yields,' she says.
The key to success with October sowing is to use only hardy varieties, and to avoid waterlogging. The quality of your soil will have a major bearing on how you sow, so if you aren't sure about soil types, it's worth finding out. If you have a sandy, well-drained soil, sow direct and cover emerging plants with cloches. If you don't have the right soil or are worried about exposure, sow into deep pots, place in a cold frame and plant out in March.
The best pea varieties will be round-seeded varieties, which are naturally better suited for colder, wetter conditions. Wrinkled seeds, by comparison, have plenty of crevices for water to be held and are best for spring sowings. Great October options include 'Douce Provence' and 'Meteor'. They have a high tolerance for exposed sites, so are great for balcony gardens and roof gardens. Another hardy variety is 'Feltham First', a traditional high-yielding favorite.
Lucy studied horticulture at Writtle and Wye colleges, before going on to be a Horticultural Advisor at RHS Wisley for six years. She has been Head Gardener on a 100-acre private Essex estate for the past 7 years, but she still writes regularly for titles such as The Garden, Gardeners' World and The Guardian. She's the author of the RHS Step by Step Veg Patch book, as well as the fruit and vegetable growing expert for Amateur Gardening magazine, providing readers with invaluable grow your own advice in every issue.
3. Hardy basil
In our rundown of vegetables to plant in October, we urge you to make room for some aromatic basil. As a focal point for your indoor herb garden, this is a lovely low-maintenance crop. To grow basil, just give it a sunny spot in a warm corner. Lucy recommends you sow a small pinch of seed per 3in (8cm) pot, and do this successionally for a continuous harvest.
Sow over seed compost and cover with a thin layer of vermiculite, then water gently. Place in a propagator or cover with a clear bag. Remove once seeds germinate. Place in sunshine or under grow lights, and keep the compost moist (but don't overwater as basil doesn't like to sit in the wet for long). Place in separate pots once plants have two true leaves. Keep indoors, repotting as roots show through the drainage holes. Alternatively, harden off for two weeks in spring and move out into a larger container, raised bed or well-drained, fertile soil. Basil can work well with companion plants such as tomatoes or spinach.
Whether your preference is for something citrussy like Ocimum x citriodorum or 'Mrs Burns Lemon', classic large-leaf 'Genovese', compact 'Greek' or Thai 'Siam Queen', there's a basil to suit every taste.
4. Black radish
Hungry gardeners looking for the most peppery payloads in the colder months should definitely make room for the black radish. This hardy sooty skinned radish, (Raphanus sativus var. niger) is not only one of the best plants for beginners but it is also perfect for late fall plantings. It thrives in cooler climates and develops quickly so its needs are few.
If you have a yen for growing radishes and want to try at this time of year, you just need to maintain a constant of at least six hours of daylight per day – and ensure ground conditions are kept moist but not waterlogged.
With its wild and rustic appearance, the black radish packs a hale and hearty punch. It's loaded with vitamins A, C and E as well as iron and potassium and is said to maintain a healthy gut, a clean liver and a bright immune system. Oh, and as well as being even tastier than its red counterpart, the black radish is easier to store and can be kept for longer into winter. The only thing to bear in mind with harvesting is that it takes slightly longer to grow a black radish, at around 55-70 days.
Direct-sow in moist, rich, well-drained soil with a pH of 6-6.5. Space 4-6in (10-15cm) apart or thin once seedlings are a few inches tall (the pickings make a tasty snack or garnish). Cover with cloches to protect from the elements. Black radishes make excellent companion plants for onions, chervil, dill and parsnips. Keep the ground weed-free, then pick crops when 4in (10cm) across and firm to the touch. Delicious, grated in salads and in winter-warming broths and stir-fries!
5. Green in snow (winter mustard)
Fast-growing, robust and resilient to the cold, the 'winter mustard' (as it is also known) is championed for its suitability to fall planting. Loaded with vitamins, this spicy number makes a zingy 'cut and come again' crop for chillier months. As long as it is protected from frost, Brassica juncea is happy with fresher autumnal temperatures and quickly finds its feet either in open ground or undercover in a greenhouse or cold frame.
Bulking up quickly, these spicy greens are some of the easiest vegetables to grow from seed. And for those who love growing lettuce in winter, these oriental salad staples can be sown at regular intervals for months of fresh and feisty pickings. Sow in drills or 12in (30cm) pots and thin to 3in (8in) apart. When harvesting these firecrackers, just bear in mind that the bigger the leaves are allowed to grow, the spicier they taste, so pluck while young every few weeks for a manageable tingle.
Green-in-snow are great companion plants for other cut-and-come-again greens like mizuna, rocket and claytonia. For those looking to grow thyme, sage, mint and dill, winter mustard also works well in tandem as it amplifies the natural flavors.
6. Peacock kale
Superfood par excellence, cool and crispy kale stands proud on the plot. Capable of withstanding the chilliest winters and as ornamental as it is nutrient-dense, Brassica oleracea is one of the most striking vegetables to plant in October. And as the name suggests, peacock kale is one of the fanciest crops you can grow in winter. Large, fluffy and wispy, like savory white snowflakes growing in the garden, these curious crops bulk up through the cooler months to produce a sweetly peppery feast.
Peacocks may look like divas, but they are surprisingly low maintenance. As anyone who knows how to grow kale will tell you, these crops appreciate a rich, slightly alkaline soil (prepared with aged compost or similar organic material). They also appreciate exposure to around six hours of sunshine a day. Sow direct at 6in (15cm) intervals and thin when 3in (8cm) high. Suitable companion plants for kale include beans, leeks, chives, lemongrass, rosemary and alliums.
You can grow this kale both as a mature crop and as a micro leaf. As Lucy Chamberlain notes, kale makes a lively young 'cut and come again' salad. If growing just as a baby leaf, sow generously under glass in a tray of multi-purpose and harvest with scissors. Perfect with fennel, ginger and nuts.
7. Garlic
Prolific, plump and easy to grow: this month is a great time to learn how to grow garlic, as Lucy Chamberlain explains. 'If you start crops off in autumn, you'll have a better chance of creating bigger bulbs,' says Lucy. 'The extra growing time encourages a more extensive root system to form, which in turn gives more foliage to fuel large heads.'
Just don't use supermarket cloves! Order from a garden center or seed supplier to be sure yours are disease-free. Choose from hardneck or softneck varieties, and stick to hardier varieties. Hardneck 'Extra Early Wight' and softneck 'Picardy Wight' are both robust enough to tolerate winter conditions. There's also violet-streaked 'Germidour', marbled 'Caulk White' and 'Elephant' for monster cloves.
Garlic grows best in full sun and well-drained sites. The standard method is to plant cloves in situ to overwinter under cloches. If your soil is prone to waterlogging, you can start your garlic off in raised garden beds, or in modules under a cold frame before planting out in spring. Some of the best companion plants for garlic include cabbages, kale and potatoes. Alternatively, move garlic outside in large containers after hardening off. With regular watering, very large crops can be enjoyed.
8. Asparagus
Asparagus is certainly not in the 'fast fix' category of gardening – but it's well worth starting some in October. While many gardeners focus on learning