Best hot tubs: 6 top buys for year-round fun
Spend your money on the best hot tubs for a spa day in your own back garden. They can be used all year!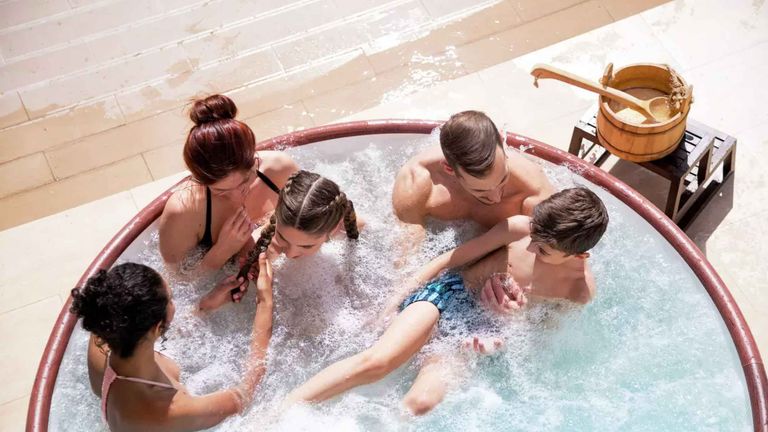 (Image credit: Lay-Z-Spa)
Spending your money on one of the best hot tubs? You can find six of the best buys in the UK, below. These hot tubs are all high performing and good looking, and some are even purse-friendly, too. A great way to spend time in your garden year-round, a hot tub can heat to 40ºC and some of them are inflatable so you can take them down when they're not in use. Alternatively, turn off the heat and use your (cold) tub in the summer when the sun's out.
When choosing the best hot tubs around, we've considered everything from each one's size to how many people they can seat (comfortably!) as well as how many jets they have. Some hot tubs are inflatable, others need to be firmly fitted in your garden. Opt for the former if you're on a budget and the latter if you're willing to splash the cash. Not all inflatable options are an eyesore, however, and we've even found a smart hot tub that you can connect to your Alexa. Yes, such a thing exists. From Lay-Z Spa to Canadian Spa and Leisure Spa, keep scrolling for our top-rated picks.
The best hot tubs
1. Lay-Z-Spa Helsinki 7 Person AirJet Hot Tub
Best hot tub: it looks the part and plays the part
Reasons to buy
+Bargain price+Large+Looks good+Easy to setup+Comes with cover
This is a great option for your garden in terms of both price and performance.
Looks
It can seat seven people at any one time and it features a Nordic design of faux wood. We love it.
Key features
Equipped with FreezeSheild for year-round use, this hot tub can heat, massage and filter all at the same time. It has a powerful integrated 87 air jet system. Not just that but it sports a 2,050 kw heater and setup is easy – simply inflate, fill with water and heat. In the box comes an inflatable cover while the tub itself comes with a two-year guarantee.
2. Lay-Z-Spa Cancun
Best cheap hot tub: perfect for smaller gardens and outside spaces
Reasons to buy
+Grey rattan+Affordable+Durable+Easy to use+Comes with cover
The Lay-Z-Spa Cancun seats four and is the perfect size hot tub for a small garden.
Looks
It's made from Tritech material which is both durable and comfortable, while it features a grey rattan pattern around the outside. It even has a a blue and white coloured floor similar to that of a swimming pool for a more authentic spa experience.
Key features
What this hot tub lacks in price it definitely doesn't lack in features – it has 81 jets and a power-saving, automatic timer-controlled heating system. With a 2.05 kw heater, this hot tub is easy to use and keeping it clean is simple. In comes with an inflatable cover to protect it from the weather.
3. Lay-Z-Spa Ibiza AirJet
Best square hot tub: jam packed with features
Reasons to buy
+Feature-packed+Cover included+Affordable price+Square shaped
Reasons to avoid
-Not as nice looking as other models
The Lay-Z-Spa Ibiza AirJet is an affordable yet feature-packed option.
Looks
The square design is easier to fit smaller spaces while it has enough seats for six people. It also comes with a tough cover for protecting it from the weather.
Design features
This hot tub includes 96 air jets and is constructed from TriTech for durability purposes. It boasts a rapid heating system that's fully adjustable from 20ºC to 40ºC. It also has an energy-saving timer so you won't pay when it's not in use. Not only that but it's safe to use, too.
4. Canadian Spa Halifax Plug & Play
Best luxury hot tub: for the ultimate spa experience
Reasons to buy
+Mood lighting+Delivery and installation included+Cascading waterfall+Digital controls
Reasons to avoid
-Expensive
This product is so popular it has flown off the shelves. Check back soon for stock updates. If a price shows above, you're good to go.
The Canadian Spa Halifax Plug & Play is the best luxury option since it's easy to set up and it comes with free delivery and installation.
Looks
This is a proper hot tub – no inflating needed – and its high-quality compact frame will last years and years. It can seat four people at one time.
Key features
Though small, it's feature-packed – this hot tub features LED mood lighting, a cascading waterfall and a built-in aromatherapy canister to enhance the spa-like experience. That and the fact it has an Ozone water purification system and digital Balboa controls to adjust the temperature and economy settings. The best part? Since it's a proper hot tub, it only needs a handful of jets to work well. A very high-quality hot tub for a bargain price tag when you consider the amount of features.

5. CleverSpa® Brooklyn
Best looking hot tub: finished in black matte with rose gold details
Reasons to buy
+Stylish+Affordable+Comes with add-ons+Lots of jets+Easy and quick to setup
Reasons to avoid
-Not everyone's style
The CleverSpa® Brooklyn would look great in any garden or patio.
Looks
It seats up to four adults at any one time and can be fully inflated in just five minutes. It boasts a stylish matt black and rose gold finish, while it has a soft-touch digital control panel built into its sidewall.
Key features
It boasts an integrated pump and heating system, while it has 110 powerful jets. It filters, heats and massages all at the same time and in the box also comes two headrests, two pairs of slippers and a cover. A bargain price.
6. Lay-Z-Spa Milan Wi-Fi Controlled Hot Tub
Best smart hot tub: control your tub with Alexa or Google Assistant
Reasons to buy
+Cushioned floor+Freeze Sheild Technology for year-round use+80 jets+You can control it from your phone+Voice controllable from Alexa or Google Assistant devices
Reasons to avoid
-Not the best looking
Choose the Lay-Z-Spa Milan Wi-Fi Controlled Hot Tub – not only is it high performing with lots of cool features and a WiFi connection, but it's spacious and comfortable, too. It also features 80 different jets for an all-surrounding massage experience.
Looks
Looks-wise, this hot tub looks like any other inflatable option. With enough seats for four to six people to enjoy the bubbles and a cushioned floor, you could spend hours in here. Boasting a blue exterior, this hot tub comes with a cover that clips on to protect the water inside the tub at nighttime or during bad weather.
Key features
Connect and control this hot tub to your smartphone by using the Lay-Z Spa app. From here you can tell it to heat up while you are out of the house (or even out of the country). You can use it in conjunction with an Alexa or Google Assistant device, too, so that you can control it with your voice. Not only can you turn it on using these methods, but you can adjust its temperature, power on the jets and even turn off the filter. That and Freeze Sheild Technology makes it great for year-round use. The water inside will never freeze, no matter how much the temperature drops.
How to buy the best hot tub
Seats
Depending on how large your outdoor space is and how many people are in your household, choose a hot tub based on how many seats it has. Usually, as a rule, the more seats it has the higher the price tag. Something to bear in mind.
Jets
Jets are what get the bubbles going in a hot tub, so it's important to have lots of them. Be sure to bear in mind the size of your hot tub and compare it to the amount of jets. Inflatable hot tubs should have ten times more jets than that of a proper, permanent fix hot tub.
More great ideas for your garden: