Best hot tubs 2022: 7 garden spas to help you relax and unwind
These best hot tubs, from hard-shell to inflatable Lay-Z-Spas, will transform your garden into the ultimate outdoor spa experience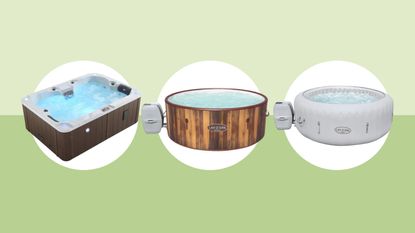 (Image credit: Future)
Gardening Etc Newsletter
The Home Of Outdoor Living
Thank you for signing up to . You will receive a verification email shortly.
There was a problem. Please refresh the page and try again.
Would you love one of the best hot tubs to unwind and enjoy a glass of wine (or two) in? Who wouldn't? Adding a resort-worthy hot tub to your patio or decking is the ultimate way to optimise your garden space to its full relaxation potential.
Whether you've got a small space and are buying for just two people or you have a large lawn and want a hot tub you can invite friends over to enjoy, being out in your back gardens has never been so fun. In fact, your home will be stealing the top spot as a favourite hang-out place as soon as you've got yours inflated or installed.
And the good news is that you don't need a huge budget to be able to do so. You can kick back in the therapeutic waters of a heated hot tub, from anywhere between £300 and £3,000, depending on the style you choose.
We've rounded up the best hot tubs on the Gardeningetc team's radar below, including a mixture of the best inflatable hot tubs and hard-shell options at different price points. There's also plenty of buying advice to help you make the right purchase below, at the bottom of this page.
Pair one of these top tubs with the best garden furniture and you'll have yourself a spa-worthy set-up you (and your guests) just won't want to leave.
The best hot tubs to buy in 2022
The best hot tub overall
Specifications
Type: Inflatable
Seats: 5-7
Dimensions: H66cm x D180cm
Water capacity: 1123L
Reasons to buy
+
Great for large families or parties
+
Faux-wood finish gives a more premium look
+
Great price point
+
Easy to inflate
+
Freeze technology for year-round use
One of the top hot tubs out there for balancing performance and price, the Lay-Z-Spa Helsinki tops as our best overall, with not just great customer ratings but a win for our reviewer.
The important stuff
Easy to inflate, this blow-up hot tub has much thinner walls than most other inflatables, which makes for more space inside the hot tub and allows up to 7 adults to enjoy a spa experience at one time (although we think 5 people ensures everyone has comfortable leg room). It may be inflatable but it still packs a powerful punch as an outdoor spa you can use all year round thanks to its 'FreezeShield' technology.
Features
In keeping with its high-end feel, it feels sturdy, despite its thinner walls than most, and - inspired by traditional Scandinavian wooden hot tubs – it has a wood-effect print on the exterior that puts it far from a paddling pool. Not to mention, it can heat, massage and filter all at the same time, with a powerful integrated 180 air jet system offering a welcome jacuzzi experience. Bliss!
Testing
We had one of our US colleagues write this review for us, and over in the states, Lay-Z-Spa is known as Bestway Saluspa. So, we reviewed the Bestway Saluspa Helsinki which is exactly the same product. Our reviewer loved it for its stylish design that beats the larger paddling pool look of other options. But more so, she's impressed with its heating capacity that keeps the temperature at 40 degree without fluctuation.
Best inflatable hot tub
Specifications
Type: Inflatable
Seats: 4
Dimensions: H66cm x D180cm
Water capacity: 669L
Reasons to buy
+
Super easy to set-up
+
Contemporary grey design
+
Freeze technology for year-round use
+
Great price
With many inflatable hot tubs on the market, it can be tough sifting out which one is best. We've reviewed a few and found this Barbados model to be up there with the best, especially if you are searching for something smart.
The important stuff
It's a relatively average size tub, seating 4, though we'd suggest this as a two adults, two kids arrangement, as the thicker sides do make it a tighter fit.
Features
It doesn't take a lot of effort to install or inflate (as some can be a little fiddly), looks moderately stylish and offers all the same spa features, including 120 air jet spa experience and WIFI connectivity for easy control.
Testing
Our tester loved this model as it proved perfect for kids and adults alike, perhaps down to the paddling-pool style (don't let it put you off), but did find the bubbles to be quite noisy. So if you're looking for family-fun over a relaxing tub experience - and one that won't break the bank – then this could well be the best hot tub for you.

3. Lay-Z-Spa Zurich Airjet
The best hot tub for families
Specifications
Type: Inflatable
Seats: 4
Dimensions: H66cm x D180cm
Water capacity: 669L
Reasons to buy
+
Easy to use and control
+
Great size for families
+
Luxury look
+
Affortable price
+
Faff-free
Reasons to avoid
-
Poor set-up instructions
-
Noisy in bubble mode
Tried, tested and loved by the Gardeningetc team, the Zurich is well-equipped for families. This hot tub is a faff-free option for parents with kids who love to splash. It's a far cry from basic, but it won't have you staring at your mobile phone every two sections confused. Control it via its pump and leave it in your garden year-round with no worries.
The important stuff
We can't comment on how easy this hot tub was to inflate, as there was a part missing from the box so it took us quite a while to work it out. Also, we found the instructions to be quite confusing. It does state on the box that it takes 10 minutes from unboxing to inflation if you have the correct parts. It can seat 4 people comfortably, though you could definitely fit 3 adults and 2 children in there easy.
Features
This hot tub is more energy efficient than previous Lay-Z-Spa models, and it's equipped with an insulating cover that keeps the heat in well. Similar to other models, it has a rapid heating system, plus a total of 120 jets. Though it's not smart, so you can't control it from your smartphone.
Testing
Our reviewer upgraded their Lay-Z-Spa tub from an old model, and couldn't help but notice how much better the Zurich was when it comes to energy efficiency, staying hot after use and also looks. This is a design lover's dream, with a stylish grey suede-look finish.
4. Canadian Spa Kelowna 21-Jet 4-Person Hot Tub
The best hard-shell hot tub
Specifications
Type: Hard-shell
Seats: 4
Dimensions: H79cm x W153cm x D211cm
Water capacity: 700L
Reasons to buy
+
Traditional style
+
LED mood lighting
+
Easy installation
Reasons to avoid
-
The most expensive on our list
-
Only really suited to large gardens with permanent space for a hot tub
For a traditional hot tub that has all the extra amenities you could desire, this Canadian Spa four-seater hot tub delivers the ultimate outdoor spa experience.
The important stuff
This is a 'proper' hard-shell hot tub – no inflating required – and its high-quality frame is designed to last for years and years, with no worries about punctures or deflation. However, that does mean it's going to take up a lot more space to store, or it will need a permanent spot in the garden
Features
It offers individual hydro-massage jets that can be individually adjusted, LED mood lighting, a backlit cascading waterfall, a Bluetooth sound system, and a built-in aromatherapy canister. It has the highest price tag on our list, but if you're after the ultimate hot tub we think this is one of the best hot tubs for a luxury spa experience.

5. CleverSpa Inyo 4 Person Hot Tub
The best affordable hot tub
Specifications
Type : Inflatable
Seats: 4
Dimensions: H65cm x D180cm
Water capacity: 800L
Reasons to buy
+
One of the cheapest tubs
+
Freeze technology for year-round use
+
Easy to inflate
Reasons to avoid
-
Fitting four adults at once might be a squeeze
-
Simple design
-
Not the most stylish
If you don't want to splash out on your next garden buy, then this super affordable hot tub is at a great price point. Currently retailing at £299, it's a bargain buy that won't compromise on quality.
The important stuff
Like most of the inflatable hot tubs on our list, it offers the all-important 'freeze-technology' that enables year-round use, even throughout cool winter temperatures.
Features
It's easy to inflate and an 800 litre water capacity makes it a good size too, with room for up to 4 adults to enjoy 110 massaging airjets. The bright colour, whilst fun, doesn't make it the most stylish add on to your outdoor space, but included in the price is an insulated top cover and double locking safety clips to help to retain heat when your hot tub isn't in use and to ensure outdoor safety. A great compromise on paying a little less, we think.
6. Lay-Z-Spa St.Lucia 3 person Inflatable hot tub
Best small hot tub for two
Specifications
Type: Inflatable
Seats: 2-3
Dimensions: H66cm x D170cm
Water capacity: 605L
Reasons to buy
+
Simple design
+
Easy to inflate
+
Small and compact
+
Energy saving size and low price
Reasons to avoid
-
Not suitable for more than 3 people max
-
No LEDs
For something a little more intimate for you and a partner or friend, this small hot tub is best for just the two of you. It can squeeze in an additional person, but for comfort's sake, and the three's a crowd saying, we'd recommend keeping it to just a couple bums on seats.
The important stuff
Not only will it save you on cost, given its low price point, but it'll also be cheaper to run, thanks to its water capacity of 605 litres.
Features
But despite its size, the St Lucia still offers everything you'd expect from larger Lay-Z-Spa models, such as 100 water jets and Freeze Shield technology, for all-round use. It's simple to set-up and nothing extra special in design, but it's sleek enough to not look out of place on your patio or decking. Whether you've got a small space or would prefer a party for two, then this best small hot tub is ideal.
7. Lay-Z-Spa St. Moritz 7 person Spa
The best large hot tub
Specifications
Type: Inflatable
Seats: 7-9
Dimensions: H71cm x D216cm
Water capacity: 1190L
Reasons to buy
+
Best for large families or events
+
Contemporary rattan finish
+
Freeze Shield™ Technology for use all year
This hot tub is the largest on our list at 1190 litres, so whilst it is more expensive to buy and run, it is worth considering if you're a big household or host a lot of family and friends.
The important stuff
As we previously mentioned, the beauty of an inflatable tub is that you can move it around if you fancy a change of scenery. We think this one would look great both indoors and outdoors, and the rattan effect would blend into your garden's aesthetic a lot better than other inflatable choices. In fact, customers seem to love this modern finish, as noted in the reviews.
Features
Not only does this large inflatable hot tub by Lay-Z-Spa seat up to 9 people, but it also comes with 180 jets for enough bubbles to go round. Just picture you and all your friends and family unwinding in style every weekend. For years to come too, since it has FreezeShield technology, as expected with most Lay-Z-Spa models.
---
Looking for a cheap hot tub?
Just like everything garden-related, this year the best hot tubs are selling out fast, especially with the current heatwave! And since we're seeing a lot of them available with big discounts and savings, it's worth taking note of the best deals now.
---
How do I choose a hot tub?
There are a few key hot tub brands out there but a wide range of styles, types and sizes. Before you buy it's important to consider which would work best for you, and your garden. This includes asking whether you'd need/prefer:
A portable or static model? An inflatable hot tub isn't just a cost-effective choice, it also means it doesn't have to sit in one spot year on year, plus you can deflate it easily to store it away when it's not in use. A hassle-free option, an inflatable hot tub comes packaged in a compact box, and just requires unfolding, inflating, and then filling with water – which you may need to allow 1-2 hours for, depending on water pressure. Built-in hot tubs are a more expensive, permanent option although they can make a stylish garden feature. This type may also require specialist involvement to be craned in, depending on its size and access.
Two, four, six-person or more? How large your outdoor space is and how many people you're expecting to use the hot tub at any one time will, of course, impact your hot tub choice. When choosing, bear in mind the hot tub marketing can often be a little optimistic... In other words, what's described as a 6-person hot tub often means 4 or 5 would be more spacious and comfortable seating experience.
How much does it cost? And this includes the price of running a hot tub too. Whilst hardshell hot tubs can cost from £3,000 to £10,000, the best inflatable hot tubs range from just £300 to £1,000 (potentially even less if you check out our hot tub deals page), and can be easily unplugged and stored away when not in use. When budgeting for your new hot tub, don't forget to factor in an increase to your energy bill (we're sorry to say).
Are hot tubs expensive to maintain?
How much your hot tub takes to run will depend on its size, water capacity and how much you use it. Providing you don't come into any additional spending on repairs or replacements, a good quality hot tub should cost you no more than £30-£40 per month, according to hot tub brand Aqua Warehouse. This is for an average 4 person hot tub of a 700 litre capacity. Though to put it simply, the more you use the hot tub the more energy and water you will use.
What surface can my hot tub go on?
As long as you put your hot tub on a solid base and can run electrics to it (unless you've opted for a stove-fired option) you can put it anywhere! Though it is always advised to use a RCD-protected socket and not an extension lead.
The area required of course depends on the size of the hot tub you choose; consider the circumference for the hot tub itself, plus additional access room.
Corner spots are good for providing a little shelter from the wind, however, having your hot tub right next to the wall of your home is probably too close. The steam that comes from the water may seep into windows and water splashed from the tub may cause a slippery walkway. You'll also want to avoid placing it under a tree to prevent leaves and debris from raining down while you're soaking.
There's plenty more hot tub ideas in our design guide too.
Do you need a hot tub cover?
Most hot tubs come with a cover included, which can be very useful for insulating and maintaining the temperature when the tub isn't in use, as well of course for covering the open water from debris and making it safer for children. They're also make life much easier when it comes to hot tub winter care.
Along with a cover you might also want to think about a hot tub shelter for over the top of the hot tub whilst you're in it. This can be especially useful on sunny days when you want some protection from the rays, or some shelter from the drizzle! As an alternative to a permanent canopy, check out the best gazebos for some budget buys.
How often do you need to clean a hot tub?
Enjoy crystal clear waters with our guide to how to clean a hot tub. Otherwise experts at the British and Irish Spa and Hot Tub Association (opens in new tab) are clear that even a straight-forward inflatable design will require some hot tub maintenance. Their advice is that "the essential points on upkeep relate to the water's quality and purity and a sound filtration system. All hot tubs and swim spas will come with a warranty, and your dealer will be able to advise you on how to keep high-quality water in the hot tub".
---
How we chose and tested these hot tubs
The team at Gardeningetc team has reviewed a couple of these hot tubs first-hand so that we can give a fair verdict on which ones are truly the best. We've reviewed the first 3 products in this guide, all from Lay-Z-Spa. For those hot tubs we haven't yet reviewed, we've done the research and measured them against specific criteria to their dimensions, water capacity, how many people they seat and of course, how much they cost. We've also cross-checked our favourites with customer reviews to make sure the hot tubs on our list live up to expectations.
For an insight into how we evaluate these hot tubs as best, our how we test page has more info on this process.