Lay-Z-Spa Barbados hot tub review
We did a deep dive on the Lay-Z-Spa Barbados hot tub to check out its bubble performance, ease of use and all-round home-spa benefits. Here's our verdict…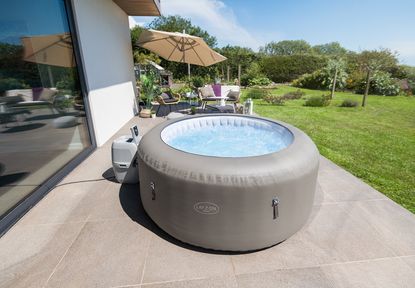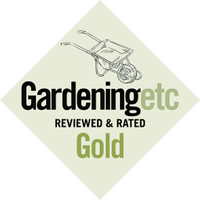 (Image credit: Lay-Z-Spa)
Don't be put off by the out-sized paddling pool looks, this inflatable spa punches way above its weight and packs a lot in for the money – a real treat for anyone missing their spa days/foreign holidays
Reasons to buy
+

WiFi controlled

+

Well insulated

+

Easy to maintain

+

Two-year warranty
Reasons to avoid
-

Noisy in full-bore bubble mode

-

Poor set-up instructions
Why you can trust Gardeningetc Our expert reviewers spend hours testing and comparing products and services so you can choose the best for you. Find out more about how we test.
With our foreign holiday cancelled, the chance to review the Lay-Z-Spa Barbados hot tub could not have been better timed.
Our two daughters, aged six and nine, were BEYOND excited of course, and I am basically half-fish and will spend many hours in the bath, given opportunity. Only my husband Nick had his doubts; where will it go? How much will it cost to run? Luckily, we have a pretty large garden, around 1,000 sq m. And when I explained it would go where we usually put the girl's 10ft pool (which he hates for its plastic garishness), Nick started to come around. News that the Lay-Z-Spa Barbados is one of the most energy efficient hot tubs available sealed the deal.
Keep scrolling to see how we got on then, check out our best hot tub buyer's guide for six more top buys for year-round fun.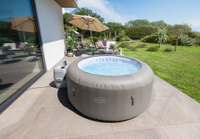 Lay-Z-Spa Barbados AirJet | Available to buy on pre-order for £699.99 at Lay-Z-Spa
This hot tub is available to buy on pre-order so it can be yours as soon as it comes into stock. You'll just need to add it to your basket and Lay-Z-Spa will take care of the rest. Free UK delivery is included, too.
Key specifications:
Seats: 2-4 adults
Water capacity: 669 litres
Cable length: 7m (approx)
Power supply: UK 13 amp/240V
Maximum heat: 40°c
Heat up time: 6-8 hours
Dimensions (inflated): H66cm x 1.8m dia.
First impressions
The box is reassuringly big, but I still wasn't expecting it to be quite so heavy. It took two of us to manhandle it from the front door to rear patio, plus a couple of rest breaks! The box handles are square-edged so cut into my fingers, too – rounded ones would be an improvement, but my oven gloves saved the day/digits. That aside, the contents were snugly packed and not excessive on the packaging/plastic front = good eco points.
Getting started
Here's the funny thing about putting it together. Once we sussed it out, it was completely logical and straightforward. Practically child's play. Getting to that point wasn't easy though. The instructions are brief to say the least. One page of the instruction book consisting of 10 images – no written explanation of each stage. Luckily there is a link to Bestway's YouTube channel with a much more helpful instruction video. Turns out it's just a case of plugging the heater unit in, blowing the tub and lid up, attaching three tubes, and then screwing on the filter and chlorine attachments inside. We were left with a few random 'spare' connectors though, which didn't help on the confusion front. It only took about 30 minutes of head scratching to put together in the end, and a further hour to fill. The water temperature was 19°c from the hose and it took about eight hours to reach 35°c, which is pretty impressive.
WiFi controls
Setting up the WiFi connection was just a case of downloading an App and following the instructions on my iPhone. I did have to put a signal booster in the kitchen so that the WiFi signal would reach the hot tub. Luckily, I had one to hand but the distance between your router and where you want to put your hot tub is something you need to consider if you want to use the remote-control function.
Sanitation
One more point to consider is sanitation. While it did come with a filter, plus a spare filter, there was no chlorine or alkaline tablets included. Like a good Girl Guide, I had both in stock (used for the girls' aforementioned pool) but you might like to get shopping so your water is chlorinated from day one. If you don't, you'll need to empty the hot tub after each use. We used ClearWater multifunction Chlorine tablets, around £9 for 50, plus ClearWater pH plus, £19.79, which just takes the harshness out of the chlorine. We also used ClearWater Dip Tests, £10.50 for 25, to make sure the levels are correct. Both girls have eczema so we can't afford to get it wrong. All from Amazon.
What the Lay-Z-Spa Barbados hot tub is like to use
The control panel on the heater unit is super easy. The buttons are intuitive, with bubbles on the bubble button, and a flame sign for the heater etc. You can lock the controls to prevent children messing with them, but it didn't take our two long to work out how to unlock.
Getting in is pure bliss and it's surprisingly comfortable given there isn't any of the ergonomically shaped seats you get in a permanent hot tub. I'd recommend not having the water levels too high (there are marker lines on the inside indicating min. and max.) so that you can use the top of the pool as a head and neck cushion without getting water in your ears when the bubbles are on. Speaking of bubbles, there are 120 jets (or rather air holes) around the full perimeter and the results are really quite impressive. You don't get the massaging effect of a professional whirlpool but the bubbles jubble your jubbly bits well and the spread of bubbles is even so nobody gets left out.
And how easy the Lay-Z-Spa Barbados hot tub to use
The WiFi App is really handy, you can easily view the real-time pool temperature, and turn the heater, bubbles and filter on from your phone. You can also set a timer from your phone, or on the main control panel, which is useful if you want to save money. Keeping it clean is a simple case of washing the filter once a day (and replacing it once a week) and keeping the chemical levels up. Emptying is also easy, just detach the pipes and release the plug.
Additional features
The thing that most impressed about the Lay-Z-Spa Barbados was its insulation. This is largely due to a new EnergySense Insulated Liner and Lid, which makes it 40 per cent more energy efficient compared to other Lay-Z-Spa models. In real terms, this means you can turn the heater off when not in use and the temperature stays reasonably high. For example, if I turned it off at 8pm after an evening dip, in the morning it was still around 26°c and only took about two hours to get back up to 35°c. Admittedly we tested it in August, when the outside daytime temperatures were around 16-18°c. It is designed for all-round use, but, I imagine, the temperature would drop lower and you'd want the water higher, so it'll cost more to run in winter.
How does it rate?
The Lay-Z-Spa Barbados hot tub is a new model so there was only one customer review available – a lady called Anita who found it easy to set up but struggled with the WiFi connection (I can recommend a signal booster, Anita).
Final verdict: is the Lay-Z-Spa Barbados hot tub worth the investment?
Given the price and size (two adults fit comfortably, any more would be far too intimate for me), I was seriously impressed by the Lay-Z-Spa Barbados and would recommend it to anyone looking for an affordable, portable hot tub with low running costs. Being on the small side isn't a bad thing – it's cheaper to heat, fill and keep clean, and it'll easily fit in a small garden without gobbling up play space.
If I had one negative comment it would be the noise levels when the bubbles are at full power. You can choose between 100 per cent power or 50 per cent power and I'd always choose the latter as it emits a high pitch whistle at full bore, which is not relaxing in any way, shape or form. However, I am noise sensitive (or intolerant); the children didn't even notice it. The dogs got quite disturbed though!
For us, the fun factor was by far the biggest benefit. Nick and I have used it much more than we imagined, even on colder days it's lovely to sink under the bubbles and enjoy an end-of-day catch up (with a glass of wine of course – there are two handy cup holders in the heater unit). And the girls have spent hour-upon-hour playing in the bubbles. They've used it far more than they ever did their pool, despite it being much bigger, primarily because their lips don't turn blue after 20 minutes. One Sunday their two cousins came over and they were in there for seven hours straight, with only the briefest breaks for food and the loo. They all slept very well that night!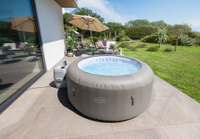 Lay-Z-Spa Barbados AirJet | Available to buy on pre-order for £699.99 at Lay-Z-Spa
This hot tub is available to buy on pre-order so it can be yours as soon as it comes into stock. You'll just need to add it to your basket and Lay-Z-Spa will take care of the rest. Free UK delivery is included, too.
More reviews:
Linda fell for the interiors world soon after graduating Cardiff's School for Journalism and has been happily writing for the likes of Gardeningetc, Homes & Gardens, Livingetc, Ideal Home and Real Homes for two decades. Her current home in Devon was previously a commercial nursery – they grew the plants that garden centres buy. After renovating the house, the garden is now on her radar and she has grand plans to overhaul the extensive outdoor spaces.