Bestway Power Steel Rectangular pool set review
We reviewed the Bestway Power Steel Rectangular Pool Set during the lockdown's heatwaves – here's what we thought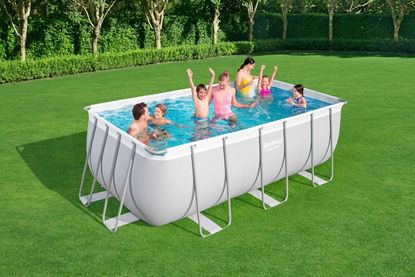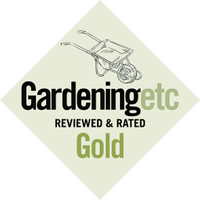 (Image credit: Bestway)
Quick and easy to put up, and the perfect source of endless entertainment for a summer in lockdown. The only downside is the environmental implications of using large amounts of water. On the other hand, you rarely have to refill it, unlike paddling pools
Reasons to buy
+

Super easy to put up and collapse, with no tools required

+

Great value for money

+

Filter pump means cleaning and maintenance is simple
Reasons to avoid
-

Heavy when in box which made moving it into the garden tricky

-

Ladder feels a little unstable when climbing in and out

-

Doesn't come with pool cover
Why you can trust Gardeningetc Our expert reviewers spend hours testing and comparing products and services so you can choose the best for you. Find out more about how we test.
Reviewing Bestway's 13ft 6in Power Steel Rectangular Pool Set wasn't actually a stretch for us – in fact, it was a delight, especially during a largely hot, dry summer spent in lockdown. It's not beautiful to look at, but that aside, we couldn't have been happier with the cool staycation vibe it brought to the garden, and the endless hours of entertainment (or peace and quiet) every member of the family got from it.
To properly put the pool to the test, our best candidates for the job were a range of overexcited six-to-18 year olds, although the adults have had a quiet dip when no one else was around too. The children used the pool whatever the weather, in swimsuits and, to some hilarity, in wetsuits when the weather turned a bit cooler.
As a frame of reference, our average-sized urban garden is on different levels so there was no open expanse of space to put the pool. However, at around 7ft wide, it is just small enough to fit perfectly in a corner against the garden fence adjacent to the house, without overwhelming the garden. So, in case you're worried that you'll need a massive garden to have this pool, there's no need to be put off.
The basic must-knows? The pool needs a level, flat surface to sit on, has a filter pump to keep it clean once filled, and comes with a ladder to climb in and out of the pool. The water comes up to around adult waist level which, for a pop-up pool in the garden, is everything we could ask for.
In this review we focus on the requirements and the realities of having the pool: how easy it was to put the pool together; how it withstood the kid-based enthusiasm (or bashing); how well the filter works; how much water it uses; and whether it's worth the price tag. Here's what we found...
Key details for the Bestway Power Steel Rectangular pool set
Box weighs 76kg
It took one and a half hours for five people to get it up and in position
Pool itself is quicker to erect than the ladder, which is a little fiddly
It took six hours to fill the pool with water
It took an hour or so to figure out how the filter worked and get that up and running
Capacity is 8,124 litres
The pool measures 4.12m x 2.01m x 1.22m
Made from Tri-Tech™ material which features a three-ply reinforced layering system; a polyester mesh core encased in two layers of heavy gauge PVC
30 days for returns
Includes cleaning chemicals in the ChemConnect kit
First impressions
The box the pool arrived in is tall and thin, so easy to get through the front door (good to know if you don't have side or rear access to your garden) but its weight (76kg) makes it heavy for an adult to tackle alone, especially if it has to go up or down stairs. If you don't have direct garden access and need to carry it through the house, we found it easier to unpack the box in the hallway and carry it through in separate pieces.
Getting started
The instructions state that the pool does need to be more or less on a level area of ground (our garden has a very shallow slope which has given us a slightly deeper and a shallower end, but anything much steeper than that might not work). Another must is that the ground the pool is on needs to be solid and be able to hold the pool's weight, basically on grass or a solid patio.
You should also consider the fact that when you eventually need to drain the pool, the place you're going to drain the water to needs to be accessible. The pool does have a plug on one side of the pool to drain it from, and the flow control drain valve means draining and disassembly is made that much easier – you can also attach a hose with the (included) adaptor to direct and drain the water away.
As for setting up the pool, the instructions are spectacularly simple to read and, luckily, so is the pool to set up. It only took around an hour and a half for five people to get it up and in position (with putting the ladder together taking up the majority of that time as it is a bit more complicated). Our garden hose doesn't run particularly fast but we calculated that it took around six hours to fill it, and another hour or so to figure out how the filter worked to get it running.
If you are completely opposed to reading the instructions, there is an instruction DVD, but considering the manual is mostly images (similar to Ikea furniture manuals), we stuck to that method.
You simply lay out the pool's shell where you're going to erect the pool, and just thread straight and U-shaped frame parts through the shell's pockets, clicking them together as you go, and you're done. No tools are required, one of our favourite features of this pool. The pool's shell was up and ready within about 40 minutes with three of us working on it.
The pool's ladder was definitely more tricky to put together. While the manual with pictures was clear and easy for the main pool, the ladder has lots of parts, so it took a good hour of fiddly frustration to complete it (and a few well-earned drink breaks).
Something else to note is that the pool doesn't feel particularly sturdy without water, however, once filled, it's completely solid.
The lengthiest job was filling the pool with water, which took about about six hours (with help from some torrential rain). One of the big issues with having the pool is the environmental implications of how much water the pool actually takes; the capacity is 8,124 litres – so if you're on a water meter or there's a hosepipe ban looming, you may want to think carefully.
However, if you maintain the pool water, keeping it clean so you don't have to keep draining and refilling the pool, it becomes less of an issue.
Keeping the pool clean
This is where the chemical kit and the filter (included, plus we invested in a net to scoop out any leaves and bugs) come in: our pool has been up for two months and been regularly tended to (which doesn't take up too much time, and the instructions are easy to follow). The water has remained perfectly clean and pleasant, with no refills, even though it has been used everyday. About six weeks in, we did run out of chlorine granules, though and ordered a top up from Amazon.
The filter pump is the feature that makes this a pool rather than a glorified paddling pool. It's attached to one side of the pool at two points (which we had facing the fence to hide it from view) to circulate water and to filter small particles out; you also add the chemicals that are in the ChemConnect kit into it. You do need to consider the placement of the pump as it needs to be plugged into the mains, ideally via an external point. The instructions do not recommend trailing a wire and extension lead across the garden to reach an internal socket, and neither do we. You can't use the pump while people are in the pool, so you will need to remember to turn it off at this point.
When it comes to cleaning the pool, the manual recommends that you clean the pool walls (the official term being PVC liner – if you're feeling fancy) regularly and check the filter cartridge, replacing it when it's dirty. However, this isn't actually as much hassle as it may sound and you shouldn't need to do it too regularly (after two weeks we still didn't need to do either), but it is important to make sure you get the pH of the water just right. For those of you who hate the science-y sound of that, don't worry, the instructions are very detailed and easy to understand on how to do this.
What it's like to use the Bestway pool
Adults: you can do about five strokes before you reach the end of the 13ft 6in pool - larger pools are available. Kids: go crazy.
The only thing to note is that the sides of the pool aren't strong enough to withstand much weight, so don't expect to be jumping off the sides or clambering in and out via anything but the ladder.
The ladder? A bit wobbly but safe if you're careful.
What's included with the Bestway pool
Included with the Bestway Power Steel Pool we tested are a 530 gallon filter pump with filter, ChemConnect chlorine dispenser (for cleaning purposes), safety ladder and a repair patch included. So don't worry about having to buy everything separately because Bestway have made it super easy for you.
The only things we improvised were a pool cover (from a big piece of tarpaulin) to keep it cleaner when we're out and keep the heat from the sun in it because this pool is cold (but we love it). We also improvised a fishing net to clean out the pool and have tricked the kids into thinking using it is fun so the pool stays clean. You can, however, buy a pool vacuum separately, but we haven't really felt the need for it.
When it comes to what the pool is made of it is Bestway's trademarked Tri-Tech™ construction. Put simply, it is a material which features a three-ply reinforced layering system; a polyester mesh core encased in two layers of heavy gauge PVC, offering the utmost strength and durability. This means it is built to withstand large water volume weight, harsh ultraviolet rays and chlorine, too. Sounds impressive, right?
The pool also comes with a two-year warranty and free delivery; there are 30 days for returns.
Packing the pool away
While we have not actually had the chance to take the pool down and pack it away (which we will do when it gets colder in autumn) if setting it up was anything to go by, we assume it will be super easy and relatively hassle free. Just be aware that although when it's folded down it doesn't take up too much room, if you are at a push for space this may be an issue. And we are under no illusions that we'll be able to get it back in the box, so we'll be buying a garden storage trunk to keep it in good condition off season.
How it rates
Online reviews are so positive in review of this pool, all of them stating it is a great investment, especially if you have kids to entertain. We can't really fault this item as it's our favourite part of the garden and we constantly look forward to using it. Perfect for hot summers and colder days (with a wetsuit) when a paddling pool just won't do.
More outdoor fun: