5 low-maintenance annuals for your garden
Looking for beautiful blooms that don't require much care or attention? These low-maintenance annuals are just what you need...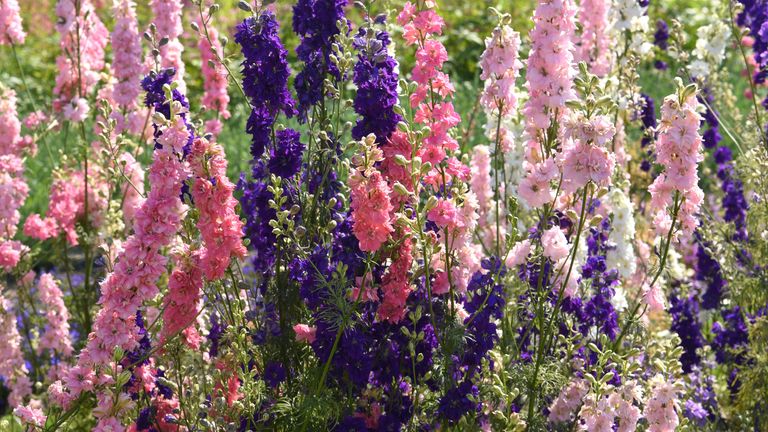 (Image credit: Thompson & Morgan)
Annuals are those lovely plants that come into life, set seed and then die within one season or year. We might get to enjoy their blooms for one time only, but they still give us plenty of colour and joy in the process. Choosing some fabulous low-maintenance annuals for your outdoor space is a wonderful way to give your garden a lovely seasonal boost.
Spending the winter months planning what you're going to plant and enjoy next year is a great use of your time when there's not as much to do out in the garden at this time of year. So take a look at five of our favourite low-maintenance annuals and start thinking how they could work in your 2021 planting scheme. For more inspiration, head over to our guide to garden borders for plenty of planting and design ideas.
1. Poppy
This much sought-after variety will be the talk of your garden! They will give your flowerbeds and borders an unusual silvery grey blue colour that catches the light when the sun shines on the petals. They love rich, well drained soil and sunny or partially sunny spots. There are single and semi-double flowers to enjoy and you can cut them for your vases too. Once they have flowered you can leave them to self seed or they're a great way to feed and attract birds into your garden through the autumn and winter months.
2. NIGELLA/LOVE IN A MIST
A hugely popular choice for gardens, Nigella has a unique look that adds colour, texture and contrast to borders and containers. It's a hardy annual that you can sow in the autumn and it will be flowering by spring, and attracting lots of bees and butterflies in the process. It comes in blue, lavender, pink and white and it is a great cutting flower too. Nigella will grow up to two feet high and works well in cottage gardens and wildflower meadow-style spaces.
3. Larkspur
Larkspur is a hardy annual that can be sown in March, April, May, August and September. It will flower in June and July and reseed itself. A beautiful variety, Larkspur is perfect for cottage garden ideas and has a gorgeous colour palette of pastel pinks, lilacs and peach. Ideal for borders, they add a gracefulness to a garden in a similar way to delphiniums and foxgloves, plus the stems will also look fabulous when cut and arranged in a tall vase.
4. Viola
Viola is a pretty petalled flower that will add a lovely burst of colour and texture to your garden. They can also be used in hanging baskets and containers and are super easy to grow and maintain. Flowering from spring to autumn, they are the gift that keeps on giving. You can sow them from February to April and plant out your seedlings in May, or plant direct during June and July. Remember to deadhead them to stimulate new growth and they'll reward you with more flowers.
Find out how to make a hanging basket in our guide.
5. Snapdragons
Snapdragons are annuals, though some varieties are 'half-hardy' annuals – this means they're not fans of the cold so it's best to sow them indoors in a pot and plant them out later after the first frosts. Despite this, they are easy to grow. For a long lasting display, snapdragons are a fabulous choice for country cottage-style gardens, borders and containers. Their fluffy petals add a softness to a scheme whilst adding gorgeous colour. You'll find more ways to add interest to your outdoor space in our patio gardening ideas feature.
Read more:
Sophie has been an interior stylist and journalist for over 20 years and has worked for many of the main interior magazines during that time, both in-house and as a freelancer. On the side, as well as being the News Editor for indie magazine, 91, she trained to be a florist last year and recently launched The Prettiest Posy where she curates beautiful flowers for weddings and events.