5 practical ways to protect your spring bulbs during winter
Give your spring bulbs the best possible start with our top tips to protect them from pests and cold weather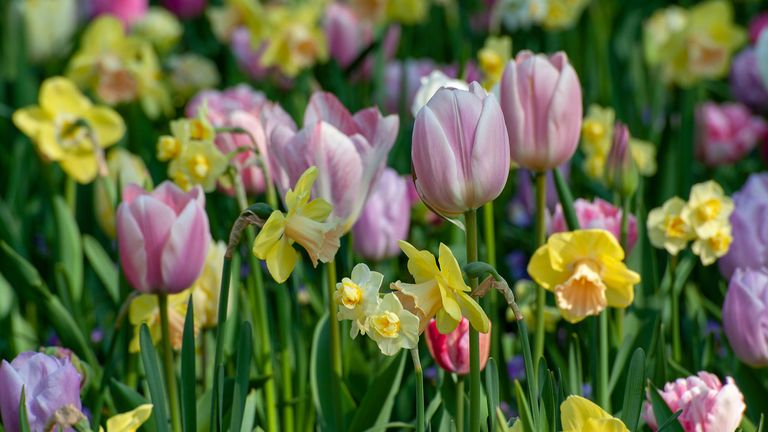 (Image credit: iBulb)
When you've spent time and money planning, buying and planting bulbs for beautiful spring displays in your garden, the last thing you want is for them to be washed away in the rain, frozen in the first frost or dug up by a hungry squirrel.
To combat these risks and give your bulbs the best chance of producing stunning flowers next spring, there are a few quick and easy tricks you can incorporate into your garden, so keep scrolling for our clever ideas to protect your spring bulbs.
1. PROTECT THEM FROM PESKY PESTS
Not only do we need to be mindful of frost and snow over winter, but also animals such as squirrels, digging dogs and other wild creatures, as Philippa Burrough, owner of Ulting Wick Garden explains. 'We have muntjac deer around us that love to graze on the tulips, especially when they emerge early in spring. To stop them destroying our displays we net whole beds or use chicken wire cages to stop them getting to the flowers. Squirrels are less of a problem for us, but if you are plagued with them in your garden over winter, then chicken wire is also your friend. Simply place a piece over the top of the pots and secure it in place to stop them getting to the bulbs.'
2. Dig a little deeper
It can be worth digging down deeper to protect the bulbs from both digging pests and frosts, especially when it comes to learning how to plant tulips. Tulips need to be planted at least three times the height of the bulb, and remember to even out the soil after so there's no giveaway sign that there's something planted there. For best results use a dibber to help you make the hole, as these are designed to make consistent holes in the soil with very little effort.
3. Opt for a mesh cloche
A netted garden cloche can easily be assembled on top of your freshly planted bulbs. It will protect them from cold and wet weather, including frost and heavy snow and allow the bulbs to grow whilst still being protected during the early spring months. If you choose a design with windows you can tie them up to allow in some light and warmth on those brighter sunny days.
4. KEEP THEM INSIDE
Of course, one option is to grow and nurture your bulbs inside and to plant them in pots instead of outside in flowerbeds – a great option if you don't have a garden or it's on the small side. Another reason to do this is because, let's face it, winter can be a little gloomy and colourless, so having some beautifully scented hyacinths and narcissi blooming on your windowsill can be uplifting. Bulbs that you buy at this time of year have been pre-chilled so they will open up around Christmas and New Year thinking that the warmer temperatures (inside your home) mean that spring is here.
5. Wrap them in fleece
You can give your bulbs a head start by covering them in frost protection fleece when temperatures drop. It's great value and an easy way to protect your bulbs and the plants once they start to peek up above the soil in early spring. One layer of thickness will protect temperatures up to minus 2 to 3 degrees, or for those extra chilly nights you can double the layer and it will protect them to minus 6 degrees. You can also re-use it in the summer to keep pests away.
More spring bulb advice: