5 simple ways to save money in your garden
There are several ways to tighten the purse strings when it comes to gardening, so check out our favourite budget garden ideas and see how much you could save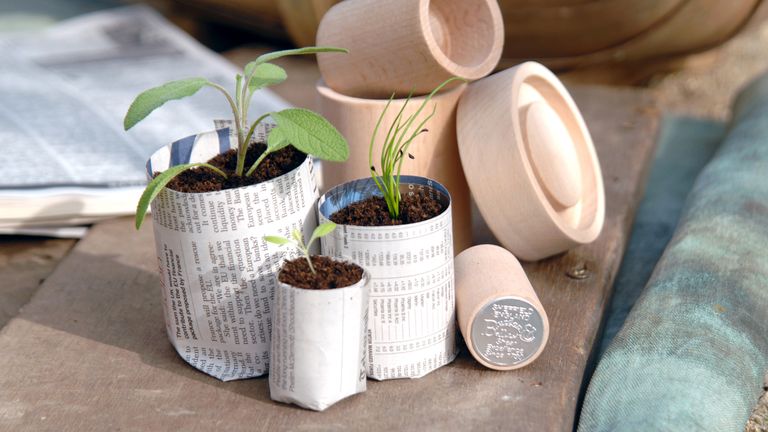 (Image credit: Burgon & Ball)
It's possible to have a beautiful garden without spending a fortune if you're prepared to include a few budget garden ideas along the way. By going back to basics, you'll save money but your garden will still bloom for you.
One of the top tips is to avoid impulse buys that you think you need but don't – we've all done it at some point! Also think about how you can save money by sharing some of your garden tools and plants with family and friends. You could even organise a local plant and seed swap where you can share seedlings and cuttings with other garden fans in your area.
Making just a few small changes can soon add up to considerable savings over the course of a year, so keep reading to see where you could trim the budget in your garden, then check out our garden design ideas for more inspiration for your outside space.
1. BUY REUSABLE SEED AND PLANT LABELS
More often than not, it's the small things we buy a lot of that can quickly add to our garden expenses. If you grow loads of seeds, chances are you use up lots of plant labels for everything from your favourite herbs to seedlings for your veg patch. What's more, as a lot of labels are made from plastic, they're not particularly environmentally friendly either. Look out for reusable alternatives instead, such as these attractive slate tags, which will withstand the weather and can be used time and again. You'll find more ideas on how to create an eco-friendly garden in our guide.
2. USE TERRACOTTA POTS
Terracotta pots are a classic choice for any garden and their timeless looks will never date. They will also last for years if you look after them properly, making them a great investment. At the end of every season, give them a good clean and check for cracks. If they get damaged by frost over winter, there's no need to throw them out as you can still put them to good use. If they're looking a bit worse for wear, simply break them up into small pieces to create crocks (broken pieces of terracotta) and use the pieces at the bottom of larger pots to improve drainage.
3. Make your own compost
Buying multiple bags of compost can add up over the course of a year, so why not make your own instead? Once you know how to compost you'll realise that it's easier than you might think too. Start by collecting a few key ingredients that we all have in our homes and gardens, such as dry leaves, grass and plant clippings, eggshells (crush them down), coffee grounds and fruit and veg scraps, then put them on your compost heap straight away. Nature will take its course over a period of several months to a year or more, gradually breaking down the materials to create a fabulous compost that you can use throughout your garden.
Don't want to wait up to a year to get your own compost? Our guide to hot composting explains how by using certain techniques you can create this garden essential in as little as four weeks.
4. CREATE YOUR OWN SEEDLING POTS
Not only will this idea save you money, it also means you don't need to buy plastic pots or trays for your seedlings. All you need is a newspaper or newsprint and a handy wooden pot maker. This set comes with different sized moulds so you can make various sized pots to suit your seedlings needs. Then pop in some compost and your seedlings to the finished paper pot. Once the seedlings have hardened off and are ready to be planted outdoors, you can plant them straight into the soil in the newspaper pot and it will naturally biodegrade. Genius.
Find out how to grow flowers from seeds in our guide.
5. CHOOSE YOUR TOOLS WISELY
They say 'a bad workman always blames his tools' but we believe it's how you use them that matters! The main thing to remember is that you don't need to spend a fortune on garden tools as there are plenty of places that sell strong, good-quality, affordable tools that are more than adequate if you're on a budget. Check out places such as car boot sales or local online selling sites too as these can be great for picking up affordable secondhand buys.
Whether you're after a pair of the best secateurs or the best lawn mower, make sure you head over to our buying guides hub to find the best prices on all our top-rated products.
Read more:
Sophie has been an interior stylist and journalist for over 20 years and has worked for many of the main interior magazines during that time, both in-house and as a freelancer. On the side, as well as being the News Editor for indie magazine, 91, she trained to be a florist last year and recently launched The Prettiest Posy (opens in new tab) where she curates beautiful flowers for weddings and events.
Sponsored by