7 creative ways to use pallets in your garden
From outdoor sofas to planters and storage, think sustainably and discover the potential of pallets to furnish your outside space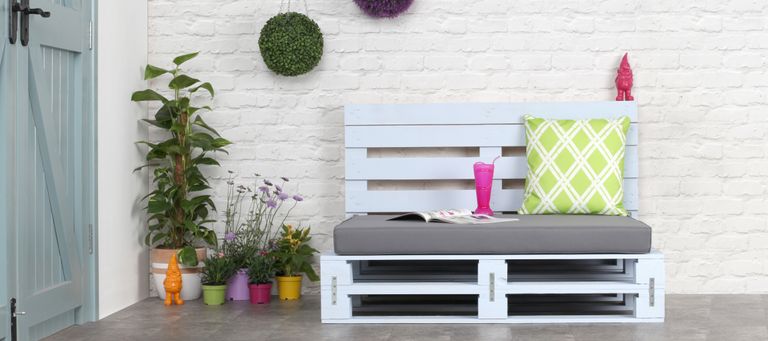 (Image credit: Rustoleum)
By Amelia Smith
One of the best things we can do to create more eco-friendly homes and gardens is to upcycle. Pallet projects are taking the garden design world by storm, as these boxy wooden planks (which would otherwise go to waste) have the potential to be transformed into a multitude of exciting things.
We've gathered seven of the best, easiest and most stylish pallet project ideas below. Honestly, you'll be surprised at how simple they are – for some you don't even need a hammer! So, if you're in need of an outdoor sofa, a new coffee table or some extra garden storage, don't rush to the shops. Be inspired by the creativity, grab yourself some (free) pallets and build your own.
If you want more inspiring ideas for your patio, check out our best patio gardening ideas.
1. Stack 'em up for a comfy picnic table
Sometimes the best things in life are the simplest. To recreate this alfresco dining spot à terre, all you have to do is take two pallets, sand them down and degrease the wood. When the pallets are clean and dry, paint on woodstain in the direction of the natural grain for a smooth finish. Let the paint dry and simply stack the pallets, scatter some outdoor cushions and you're good to go. Japanese tea ceremony meets grown-up picnic! And without a screw or hammer in sight, it's the perfect pallet project for even the most novice of DIYers.
2. Hang on the wall to show off your best herbs
Vertical planting is a great way to make the most of every inch of your space, and this pallet planter by @clairecreasey85 has us inspired. Simply sand down the pallet, attach three pieces of wood to the bottom of each pallet leg (to hold the plants), and paint the pallet in a colour of your choice – Beach Blue from Cuprinol is used here. Then staple black plastic liners into the six planter sections, hang on the wall and get planting! We're loving how Claire has stencilled the name of each herb onto her planter for added character and charm.
3. Build the swing seat of dreams
This idea from Mano Mano may look like a real challenge, but it's surprisingly easy to create! Depending on the size chair you want, line up two or three pallets in a row, and insert lengths of timber on each side of the pallets and through the middle. Fix the timber to the pallets with screws and saw off the overhang.
Now your pallets are attached to each other, drill a hole in all four corners of the chair and thread sturdy rope through the hole and beneath the chair too. Attach your chair to a tree or solid structure, position a mattress and cushion on top, and prepare to relax. Protect the mattress with vinyl covers when not in use, and bring inside where possible.
4. Attach wheels for a portable coffee table
If your patio is a lounge area, gym, laundry room, party pad, playroom, dining room and sunbathing hotspot all rolled into one, portable furniture is the way to go. This pallet transformation couldn't be simpler. Simply sand your pallet down, fix a wheel onto each corner and paint the top! We're loving this vibrant Dazzling Yellow from Cuprinol. So when you're finished with your morning coffee and it's time for your virtual yoga class, simply role your coffee table to the side to maximise the space you've got. Genius!
5. Get set for summer parties with a mini outdoor bar
If you've found yourself taking a tipple in the garden more often recently, this one's for you. But only if you're up for a more challenging project, that is. As this one involves taking the pallets apart first and working with the planks individually rather than a pallet as a whole. You need to assemble the planks into a box shape and then attach a hinge to create the shelf when in use, and to protect your precious cargo when it rains. Head to Mano Mano to find out exactly how it's done.
6. Keep tidy with a handy tool station
Keep your garden tools in order and save space with this clever storage hack. As always, begin by sanding down your pallet. Stand on its end and attach an extra plank to each of the top of the legs, to create shelves for extra hidden storage. Then add extra planks to fill in all the gaps in the surface.
Screw all the extra planks onto the pallet and saw off the overhang. Paint your pallet and then drill in a variety of hooks to suit the tools you wish you hang. This design, created by Mano Manouses U-shaped hooks, S-shaped hooks and coat hooks. Attach to your wall, hang your tools and enjoy gardening in a neat and orderly fashion.
7. Build your own outdoor sofa (and save serious £££s)
Outdoor sofas are so popular at the moment, but they do tend to come with quite a hefty price tag. So save yourself some money, and help the planet, by building your own. All you need to do is clean, sand and paint your pallets. This lovely Powder Blue paint from Rustoleum has a nice chalky finish. Once the paint is dry, stack your pallets to create the right seat height and secure with screws. Position your vertical pallet to create the backrest and secure with screws again. Add a padded cushion for comfort, dress with decorative cushions and your alfresco living room is all set.
Read more: