Alan Titchmarsh reveals the one thing you must do in your garden before spring
The gardening presenter shares his clay pot cleaning tip that will help your garden to thrive when spring finally arrives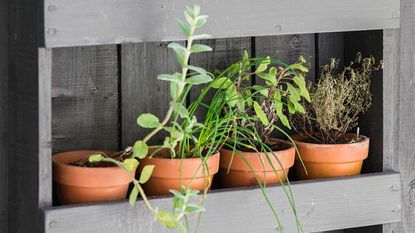 (Image credit: Future)
If your thoughts have turned to get your garden ready for some spring colour, Alan Titchmarsh has a garden tidying tip you need to hear.
Before you start planting bulbs the presenter and gardening expert revealed in a video on the Gardeners' World website that you need to clean your clay pots first. He warned gardeners to be sure to get rid of any snails hibernating in them and lingering dirt, or risk the consequences further down the line.
'What you do is entirely up to you. Me, I've never been able to crunch a snail underfoot. But you don't want to leave them because come this spring, they'll start munching everything,' he explained.
Read more: How to clean garden furniture - get your outdoor furniture ready for spring
Alan opted to throw the snail over the hedge to stop them coming back into his garden. He then set to cleaning the pots.
Although dirty pots may not sound like something that should be top of the priority list, he warned that they can actually carry disease. The gardening expert suggested washing clay pots with warm soapy water and plastic pots with a kitchen scrubber.
He also suggested taking care to soak clay pots for an hour or so before cleaning them. Alternatively if you're feeling fancy the presenter revealed that you can invest in proper pot washing brushes.
'If you really want to be posh and clever, then proper pot washing brushes are wonderful and you can use them outside as well as in,' he explained. 'And again, when you've got it all off, do that trick of standing them and letting them drain.'
As well as getting pots cleaned and ready for spring, it is a good idea to use this time to make sure your other gardening tools are in top condition.
'Things like hoes need to be sharpened. All your tools need to be cleaned of mud,' explained Alan.
Read more: Want to grow your own in 2021? Here's what to grow in a greenhouse each month
'That way you can make sure that when you come to use them, if they're oiled and ready and hanging on the wall, as soon as you take them off and get on the soil, they're ready to use.'
For more Alan Titchmarsh tips you can catch more of his tips on the Gardeners' World website. He also presents Love Your Weekend on ITV.
Will you be getting your garden ready for spring with his top tip this week?
Rebecca has worked as a homes and interiors journalist for over four years, and is currently the Deputy Editor on Ideal Home online. Previously, she was the News Editor across the Future homes and gardens brands, including Gardeningetc.com. She lives in a rented flat in South London where she makes the most of window boxes to create small container gardens. Inside she has a jungle of houseplants in nearly every room which she does her best to keep up with regular watering and repotting.