The sellout Aldi log burner is back in stock for a stylish garden update
The Aldi log burner was a sellout success when it launched online earlier this year – if you missed out it is now back in stock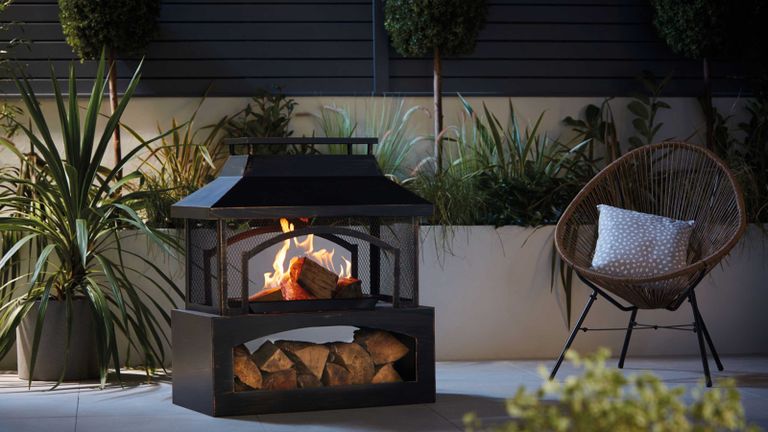 (Image credit: Aldi)
The Aldi log burner has become one of the best firepits to invest in this season, that is if you are able to get your hands on it.
Following the success of the Aldi Egg chair which sells out instantly every time it lands online, the discount supermarket has become a garden furniture powerhouse. The latest summer garden specialbuys have made recreating beautiful outdoor living space ideas, without spending a fortune, a reality.
It's no surprise that in the last garden specialbuy drop there was almost a 15-minute wait to even access the website, demand was so high. If like us you waited in the queue only to find the Aldi log burner (opens in new tab) sold out, the good news is Aldi has brought it back.
The sold-out log burner is now back in stock exclusively online. However, it is already selling fast so you will need to act fast.
It is a small wonder that the log burner is on track to be a two-time sellout success. Priced at just £69.99 it is half the price of an almost identical version at Primrose.co.uk costing £139.99 (opens in new tab).
If you're looking for a spin on traditional firepit ideas, the log burner is the perfect alternative. The design mimics a traditional fireplace, pushing the outdoor living room trend further. As the summer heat is starting to melt, the log burner is a perfect solution to cooler summer evenings.
Gardenline Outdoor Log Burner, £69.99, Aldi (opens in new tab)
The gardenline outdoor log burner is made out of black steel and is 94 x 82 x 45cm in size. It has been designed in a contemporary style, the firepit is housed under a metal roof with mesh sides. There is space to store logs under the firepit.
Due to the steel material the fire pit will rust overtime, so it will need to be stored inside when going long periods without use. In terms of fuel it can burn untreated wood and heat logs.
The log burner has already racked up 605 five star reviews from the last time it was on sale. 'Bought this a few weeks ago and I'm really pleased with it, looks really nice and is bigger than expected, a great addition to my garden, great product for a great price!' wrote one reviewer.
If you're taken with the log burner our advice is to act now or regret it later.
As the News Editor on Gardeningetc, Rebecca covers everything from the common mistake your making when pruning your roses, to handy tips about how to keep your houseplants alive. She has been covering all things gardening for two years across Homes & Gardens and Ideal Home. There isn't a single gardening trend that passes without her knowing about it.
She's currently the proud owner of a thriving container garden on her small city balcony and a jungle of houseplants. Small gardens and container plants are her specialties.
Sponsored by