Angela Scanlon shares her secret to designing a garden ahead of her new BBC series Your Garden Made Perfect
The new BBC series Your Garden Made Perfect is a new garden design show like no other, using virtual reality to transform gardens small and big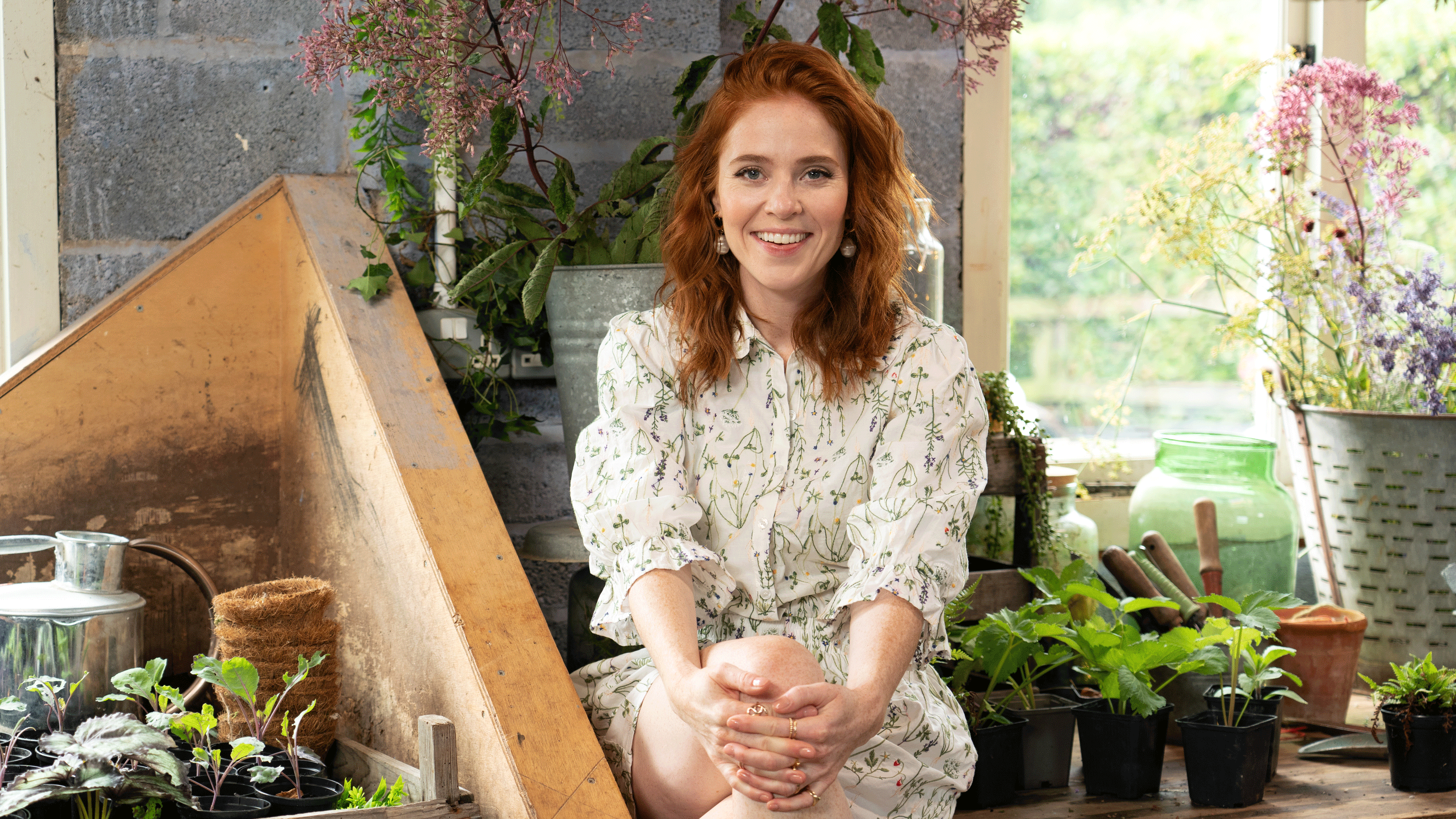 (Image credit: BBC/Remarkable TV/Gary Moyes)
If you were a fan of the BBC series Your Home Made Perfect, Angela Scanlon is returning to our screens next week to tackle our gardens in the new show Your Garden Made Perfect.
The show promises to be bursting with garden design ideas, tricks of the trade and inspiring garden transformations. In each episode, a pair of garden designers will go head to head to pitch their vision for two garden makeovers.
'Your Garden Made Perfect is a brand-new garden design show like no other,' explains Angela. 'In a nutshell, we take a couple who are completely stuck about what to do with their garden and get some fantabulous designers in to create design solutions using virtual reality.'
'Once they've chosen a design, we make it happen (I say "we", I've yet to pick up a shovel but happy to get involved when I'm called on!).'
The projects will vary from big budget transformations to small garden ideas. 'Along with our four award-winning garden designers, Pip Probert, Helen Elks-Smith, Tom Massey and Manoj Malde, we also have Joel Bird on board as our small spaces designer,' adds Angela.
'He gets properly stuck in renovating smaller spaces with smaller budgets, so there really is something for everyone.'
After spending time in the company of award-winning garden designers Angela has learned a fair few garden design tips. She reveals that the main thing she's learned from the show is to think of the garden as a room.
'It's made me think of my garden as a room in itself, instead of just a lawn with some shrubs,' explains Angela. 'When it was warm enough, we would bring our kitchen table outside, have our meals out there, create a little dining area, bring our chairs from the living room.'
'It's had me thinking about how we can use the garden so it isn't somewhere to just put a blanket and sun lounger once a year,' she adds.
Considering how you can make use of the space in the same way as you would a kitchen can make tackling a garden design project less intimidating. Now that many of us are at home all day, making the most of outdoor space is more important than ever.
Encouraging people to really take this idea on board and make use of their outdoor space is key for Angela. 'I want viewers to be inspired to get outside in 2021 and give their gardens some attention,' she says. 'Reclaim it as prime year-round living spaces and it doesn't have to be done on a big budget. Even if you have never gardened in your life, this show will wow you with incredible and ingenious design solutions.'
The first episode follows Demi and Laura whose busy family life in Hertfordshire, has left them with a lacklustre 'L- shaped' garden. It desperately needs an injection of life to make it the perfect space for their large, fun-loving family.
Tune into BBC Two on Thursday 4th February at 8pm or catch it on BBC iPlayer to see the full transformation.
Read more:
Rebecca has worked as a homes and interiors journalist for over four years, and is currently the Deputy Editor on Ideal Home online. Previously, she was the News Editor across the Future homes and gardens brands, including Gardeningetc.com. She lives in a rented flat in South London where she makes the most of window boxes to create small container gardens. Inside she has a jungle of houseplants in nearly every room which she does her best to keep up with regular watering and repotting.