Are garden centres open? Here's what the new lockdown rules say
Find out if garden centres are allowed to stay open in your area during lockdown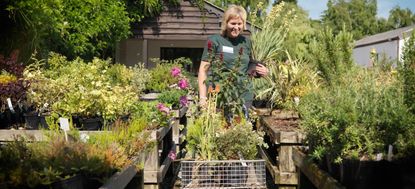 (Image credit: Getty)
Are garden centres open in your area? With all parts of the UK now under strict lockdowns following a surge in coronavirus cases, most non-essential shops and establishments have been ordered to close. However, it appears that what is essential is interpreted differently in different parts of the UK, and whether or not you'll be able to visit a garden centre this winter will depend largely on where you live.
During the first national lockdown in March 2020, all garden centres in the UK were required to shut, reopening in May, with many people flocking to their local garden centres the day they reopened (remember those queues?). However, this time around, decisions about garden centre closures have been taken independently by devolved governments.
Keep reading to find out if garden centres are open in your area, or if you want to shop from the safety of your own home, then head over to our feature on where to buy plants online and get everything you need delivered direct to your door instead.
In Scotland, the decision was made to close all garden centres except for click and collect services. Nicola Sturgeon explained the decision in a statement at the Scottish parliament: 'Given the severity of the situation we face and the need to limit interactions as much as possible, we intend to define essential retail more narrowly than we have done recently. In short, that means homeware stores and garden centres will be classed as non essential and will therefore require to close, with the exception of click and collect.'
In Wales, garden centres are also closed, with the exception of the Dobbies garden centre in Swansea, which sells food and pet supplies, and therefore has been deemed essential.
Garden centres in Northern Ireland have been closed since Boxing Day, despite residents' expectations that they would've been classed as essential.
England is the only country in the UK where garden centres have been allowed to remain open even after the announcement of a March-style lockdown that bans all activities that aren't essential. Garden centres will remain open to the public alongside supermarkets, hardware stores, and pharmacies.
The announcement that garden centres will remain open in England has provoked both jubilation and anger, with some people concerned that they will draw unnecessary crowds, while others celebrate the fact that they still have somewhere to go other than their local supermarket.
If you are planning to visit your local garden centre, you should note that any on-site cafes will be closed, unless they have a takeaway option.
Read more:
Anna writes about interior design and gardening. Her work has appeared in Homes & Gardens, Livingetc, and many other publications. She is an experienced outdoor and indoor gardener and has a passion for growing roses and Japanese maples in her outside space.