BARGAIN! This Flymo strimmer is on sale at Amazon right now
Buying a new grass strimmer? This easy-to-use model is now just £49.95 with free delivery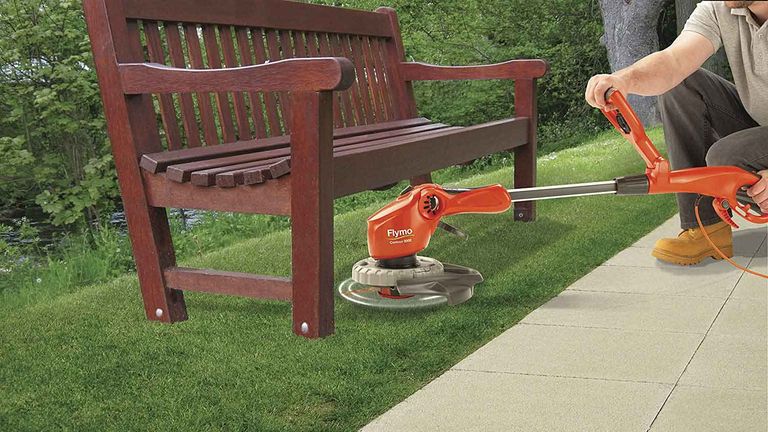 (Image credit: Flymo)
Looking to buy a new strimmer? Whether your current one is soon to pack up on you, or perhaps you are new grass owners (exciting stuff, eh?), investing in a good model – perhaps the best strimmer around – is a smart idea. It'll last you years, especially considering how you don't need to use it all year. For those who don't know: strimmers are used to finish off your garden, after lawn mowing, to tidy up the edges of your grass and get to hard-to-tackle areas that a lawnmower otherwise can't get reach. They are, due to their slim size, easy to store, while inexpensive models tend to be corded but come with a long wire so as to reach your entire garden. 
Today, when scrolling through Amazon, we spotted the Flymo Contour 500E Electric Grass Trimmer and Edger on sale. This strimmer (that can double as an edger) is now only £49.95, down from £59.99. Not only is it a great buy if you have a small to medium sized back garden to maintain, but it's clearly a bargain and this price includes free delivery. It even comes with a plant guard to protect your trees and bushes – should you not be an expert strimmer already, of course – as well as a unique wheel for easy edging around decking and patios. You can adjust the handle to the user's height, so no matter if you're tall or short, you can use this strimmer comfortably. No more excuses for anyone to miss doing this chore. It also boasts a soft-grip handle so that you have total control, and it has a double line feed for fast use. Less time spent maintaining your garden means more time to spend chilling on a sun lounger on your lovely cut grass.
Check out this great strimmer deal below, and get buying fast before its price changes again.
Flymo Contour 500E Electric Grass Trimmer and Edger | Was £59.99, now £49.95 at Amazon
Boasting a 10-metre long cable as well as cable storage, this strimmer has a 500-watt motor built inside and a 25cm cutting width. It also has a 1.5mm wide cutting nylon line, and it benefits from being quiet when in operation – in comparison to other strimmers – while it has a foot panel for when you are tackling your shrubs. Easy to store and lightweight, this strimmer weighs only 3.1kg. All Flymo products come with a standard two-year warranty, should you not get on with it or for whatever reason and it needs to be returned.View Deal
Head to our dedicated garden tools section for more product recommendations and guides on how to maintain your garden – front or back.
Our top five strimmers...
Don't mind splashing out more cash? Then these are our best-rated strimmers if you have a delicate or large lawn that needs constant care. Click on them to be taken to the retailer that can offer the best price on the web as of today...
Bosch EasyGrassCut 18-26 Cordless 18 Volts Grass Trimmer
Gtech Cordless Grass Trimmer GT 4.0
Einhell GC-CT 18/24 Li P Cordless Grass Trimmer Kit
Black+Decker 18V Cordless 28 cm String Grass Trimmer 2.0Ah Lithium Ion Battery
McGregor 3-in-1 30cm Corded Grass Trimmer
Also see: