Create a DIY outdoor cinema to keep your family entertained this weekend
See how this ordinary patio was transformed into a magical DIY outdoor cinema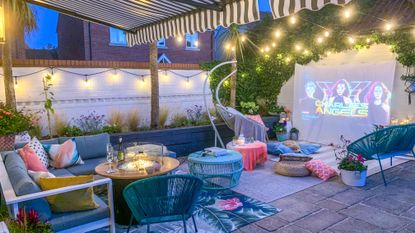 (Image credit: Oh So Kel)
With cinemas and theatres shut, a DIY outdoor cinema is a genius way to bring the family together. Over the past year or so, our gardens have become much more than just patches of grass, and they're now places where we escape to dine, play, exercise, meditate, and so much more.
The ability to get creative with our outdoor spaces has been a lifeline for many and that's exactly what Kel Harmer has done with her own garden sanctuary, using some fantastic garden design ideas to transform her plot into an outdoor space that has something for everyone.
Before – how the garden looked before its makeover
Founder of Oh So Kel and award-winning blogger, Kel Harmer decided to give her garden a makeover last spring. There was too much red brick in the garden, which made the space feel enclosed, so Kel wanted to paint it white for a fresh feel.
After – the stunning transformation revealed
To create an indoor-outdoor living vibe, Kel added a fire surround to the newly painted white walls. Painted in a soft green, it adds a striking focal point to the end wall during the day. A trio of mirrors above it adds further interest.
Inspired by a trip to Miami, Kel decided to make her own DIY outdoor cinema on this end wall too. To create the screen, she used string, pegs and a kingsize white sheet hung across the wall. A projector was placed on the garden table and the family streamed their favourite movies from a mobile phone via Chromecast.
Kel then added plenty of cosy blankets, candles and festoon lights to create a romantic ambience. Bowls of popcorn and a glass of chilled wine finished the experience nicely.
We're not the only ones who have been captivated by Kel's garden transformation. Even retail giant Wilko picked up on this genius DIY outdoor cinema idea via Instagram, captioning the post 'Garden GOALS'. We can't help but agree!
Kel told us, 'During lockdown we decided to get creative in the garden by making our own DIY movie night using a sheet, string and pegs. We'd updated the space after being inspired by the decor in Miami so really enjoyed our indoor-outdoor living by watching all our favourite films out there!'
As the house is three storeys, Kel also put up awnings and added screens (by Screen with Envy), plus window boxes from Ikea to break up the space by the back door.
When it came to choosing the best garden furniture for the space, an L-shaped sofa and vibrant string chairs are perfect for laying back and enjoying a movie when teamed with tropical cushions and faux fur throws. A selection of outdoor rugs also helps give the space a relaxed feel.
If you'd like to find out more on how Kel created her DIY outdoor cinema, check out the e-book at ohsokel.com/freebies.
Love the idea of creating your own garden cinema? You can find the best outdoor projector for your space in our buying guide.
Stephanie Durrant is the Deputy Editor of Style at Home magazine. She's is an experienced journalist with more than 12 years under her belt working across the UK's leading home magazines. She enjoys gardening and enthusiastically stroll around garden centers. She usually sticks to potted alpine varieties in her own small garden, such as sea thrift and succulents that can deal with some neglect! However, one day she dreams of having a large outdoor space with colorful wild flowers, billowing cherry blossoms and sweet-scented honeysuckle and jasmine filling the air.