A doctor reveals why now is the best time to get gardening to improve your health
From weightloss to stress-busting, the benefits of gardening are endless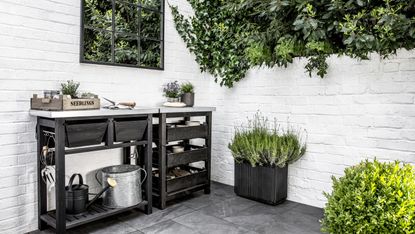 (Image credit: Garden Trading)
Don't give up on your health and fitness resolutions just yet because the gyms are closed. According to BBC One's Doctor in the House, Rangan Chatterjee, gardening can be just as effective at getting your brain and body in shape this January.
This January is going to be bleaker than most, however, if there is one thing you should do it is make time to garden. While gardening in the cold might not sound all that appealing, author Rangan Chatterjee reveals now is the best time to reap the health benefits of gardening.
'If you garden there are so many benefits,' Dr Rangan Chatterjee explained on the Gardeners' World podcast. 'Yes it's physical activity, but you're getting outside.'
'Getting outside is a critical part of our health and wellbeing,' he explains. 'In the autumnal and winter months, staying inside has lots of problems whether it's your mood or what's called the circadian rhythm that helps you sleep at night.'
He explained that this year has been worse than most for missing out on these benefits. 'Lots of people are doing Zoom meetings all day. They're staring at screens, they're not even commuting or getting out to work.'
It might sound simple, but just carving out a few minutes in your day to go outside and tend to your spring bulbs or organise your potting shelf could have huge benefits. As well as helping you shed the pounds with a little exercise, it could also help fight off some health conditions.
'Gardening has multiple benefits,' explains Dr Chatterjee. 'We know from science that being in nature lowers your stress level called cortisol. That is a primary stress release hormone – when you actually go out into nature cortisol levels start to go down.
'Stress in itself drives a lot of different conditions. In fact, the World Health Organization a few years ago called stress the health epidemic of the 21st century,' he adds, pointing to type 2 diabetes, obesity, insomnia, brain problems and memory issues as conditions that stress can contribute too.
If you want to reap the weight loss benefits of gardening too, you might have to get your hands dirty. Following our tips on how to weed a garden or planting some of your favourite bulbs can burn an impressive 400 calories in an hour. However, if you only have time for a smaller job, making time for them can make all the difference to your health (and your gardens.)
'Just being outside will make all the difference. Even just looking at nature you are also going to lower stress levels of the hormone cortisol, even if you're not moving or gardening,' explains Dr Chatterjee.
If you're at a loss for what to do in the garden this winter take a look at our 10 essential gardening jobs for January. Keep both yourself and your garden in good shape in 2021.
Read more:
Rebecca has worked as a homes and interiors journalist for over four years, and is currently the Deputy Editor on Ideal Home online. Previously, she was the News Editor across the Future homes and gardens brands, including Gardeningetc.com. She lives in a rented flat in South London where she makes the most of window boxes to create small container gardens. Inside she has a jungle of houseplants in nearly every room which she does her best to keep up with regular watering and repotting.