Carol Klein reveals the one thing you should always do before buying a plant to check it's healthy
Carol Klein shares her top tip for how to tell if a plant is healthy before going through the garden centre checkout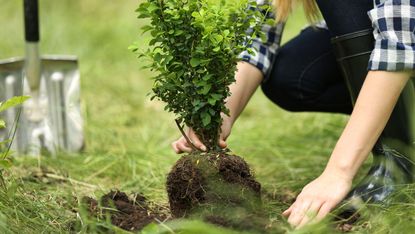 (Image credit: Future)
If you are planning a trip to the garden centre this week, Carol Klein's tip for how to tell if a plant is healthy will ensure you get the most out of your new shrubs and plants.
Purchasing everything from the best shrubs for small gardens to trees for garden boundaries can be expensive, so you want to make sure you are making a good investment. While you might be familiar with checking the leaves and branches, the Gardeners' World presenter reveals that you should also be checking what lies below the soil – the roots.
In her new TV series Gardening with Carol Klein on Channel 5, the gardening expert shared many of her practical tips for getting the most out of your gardening. It just takes one look at Carol's stunning garden in her Devon home, Glebe Cottage, to see her flair for gardening.
In the first episode of the two-part series, Carol demonstrated how to plant up a shrub into a container. She explained that before buying a shrub to plant up you should always check the roots first.
'When you're buying your shrubs don't be frightened to demand to see its roots. Take it out of its pot and have a look,' she urges.
While you might be shy about dumping a plant out of its pot at the garden centre it is the best way to check you are getting your money's worth. 'You don't really want to be buying a shrub whose roots are going round and round, that means it's pot bound and it's going to take a long time to establish wherever you plant it out,' Carol adds.
The RHS also urges budding gardeners to take a good look at the roots before investing in a shrub or tree. 'Don't be shy about checking the roots of container-grown plants,' says the RHS website.
However, they do urge caution when checking the roots at the garden centre. 'It is unreasonable to look at the roots of every plant,' they state. However, if it is a plant you are intending to buy it is acceptable to check the roots before going through the checkout. Just be sure to ask the garden centre staff for help if you want to check the roots of larger trees.
In the garden centre or store you can check the roots of smaller shrubs and plants by easing the plant out of its pot and tilting the plant on its side. Check any visible roots to make sure they are healthy.
Healthy roots should be white or tan and succulent. There should be enough of them and they should be long enough to hold the soil in the shape of the pot. However, if all you can see is lots of roots going round and round, the plant is likely pot bound.
Rebecca has worked as a homes and interiors journalist for over four years, and is currently the Deputy Editor on Ideal Home online. Previously, she was the News Editor across the Future homes and gardens brands, including Gardeningetc.com. She lives in a rented flat in South London where she makes the most of window boxes to create small container gardens. Inside she has a jungle of houseplants in nearly every room which she does her best to keep up with regular watering and repotting.