The one thing you should never do when cleaning outdoor wooden furniture, according to a cleaning expert
This common cleaning tip is actually a big outdoor wooden furniture cleaning mistake, explains cleaning expert Lynsey Crombie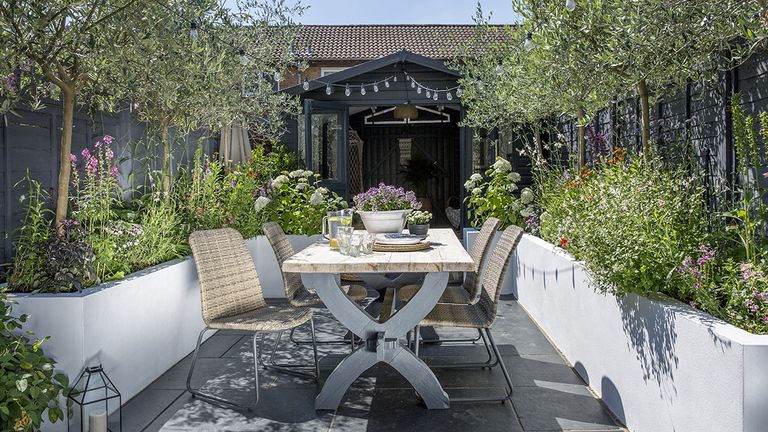 (Image credit: Lizzie Orme)
The days are getting longer and brighter so our attention has turned to how to clean outdoor furniture to get it ready for spring. However, cleaning expert Lynsey Crombie has surprised many by contradicting common cleaning advice for wooden garden furniture.
Lynsey Crombie, also known as Lynsey Queen of Clean to her 224 thousand followers on Instagram, is a bestselling author and cleaning influencer. She regularly shares her cleaning tips on Instagram and on ITV's This Morning.
Speaking on the British daytime talk show she revealed that you should never try and clean wooden furniture with hot soapy water. Instead, the cleaning expert recommends reaching for a dustpan and brush instead.
'Starting with the wood first of all,' Lynsey said. 'Now, never ever, when you've got wooden furniture, go to it with a bucket of hot soapy water. That's not the right thing to do.'
'Grab a dustpan and brush and just knock off the cobwebs, the leaves, all those little bits and pieces that you are going to get.' Lynsey's advice is a little controversial as a little soap and water is often recommended as the best way to clean outdoor furniture.
When it comes to cleaning garden furniture, Ryan Schwarze, Head of Luxury Rattan contradicts Lynsey's advice by recommending that you 'fill a bowl with warm soapy water using some washing up liquid and wipe down your furniture gently with a soft cloth.'
There are a few reasons you might want to try to avoid using water where possible on wood furniture. This is because it can cause damage and discoloration.
Water can also cause wood to swell, split and crack. However, as long as you choose to clean your garden furniture on a warm day when it has plenty of time to dry in direct sunlight you should be fine using a little soapy water.
Instead of tackling marks with a cloth and soap, Lynsey instead recommends using sandpaper. 'If you've got marks on there that are bothering you, you can actually just use a bit of sandpaper, and just really, really gently rub of those marks,' she says.
If you do choose to take the sandpaper to your best garden furniture Lynsey warns that you must be incredibly careful. 'Don't press too hard because you don't want to ruin your lovely furniture, so just be gentle.'
To give outdoor wooden furniture a new lease of life, Lynsey recommends using HG Hard Wood restorer. 'You can get this in DIY shops – what you do with this one is you get your wooden bench or your wooden table. Lay it on some newspaper because this will stain grass and patios.'
'Spray it once, leave it 10 minutes and spray again. What this is going to do is it's going to bring your wood back to life. It's going to restore it and make it look all really lovely,' says Lynsey. 'After 24 hours, once it's properly dry, you can come out and use your nice wooden furniture.'
If you have an on-trend rattan furniture set, instead of opting for the hardwood finisher, once you've dusted and washed your furniture, you can get it gleaming again by wiping it down with a little olive oil.
Will you be sticking with the recommended soap and sponge when cleaning your best garden benches? Or trying out Lynsey's advice?
As the News Editor on Gardeningetc, Rebecca covers everything from the common mistake your making when pruning your roses, to handy tips about how to keep your houseplants alive. She has been covering all things gardening for two years across Homes & Gardens and Ideal Home. There isn't a single gardening trend that passes without her knowing about it.
She's currently the proud owner of a thriving container garden on her small city balcony and a jungle of houseplants. Small gardens and container plants are her specialties.