This rattan furniture cleaning tip uses what you already have in your kitchen cupboard
Forget fancy store-bought furniture cleaners; this is the only ingredient you need to get your rattan garden furniture looking like new again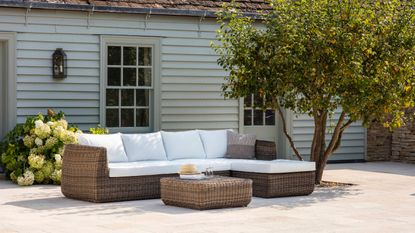 (Image credit: Garden Trading )
Rattan furniture cleaning can be fraught with difficulty. After all, although rattan is one of the best garden furniture types, it doesn't like excess moisture, can be photosensitive, and can be perceived as more high-maintenance than other types of garden furniture.
If you've looked at advice on how to clean garden furniture, you've probably come across a lot of 'damp cloth' tips, but damp cloths just aren't always effective on rattan, particularly when it's been left outside for a while. What you probably didn't know is that very best ingredient to thoroughly clean your rattan loungers or garden sets is probably already in your kitchen.
This magical ingredient is...olive oil. Cleaning with oil may seem counterintuitive, but olive oil is surprisingly effective at lifting grease, grime, and stains, while at the same time conditioning the materials it's being worked on, which is exactly what rattan needs.
Ryan Schwarze, Head of Luxury Rattan says: 'Using olive oil to treat rattan is a great hack to refresh your furniture in time for summer. Start with a small amount of olive oil on a soft polishing cloth and continue to rub the oil into the rattan until it has been completely absorbed. The key tip is here is that a little goes a long way. This method of treating rattan furniture not only adds a protective layer to reduce the risk of chipping, but also a lasting shine.'
The only thing to be aware of is that 'needs time to completely dry before use or storage', so always pick a sunny day for using this method. Also, avoid saturating the furniture with the oil – the idea is very much to rub the surface of the rattan in order to clean it, not to permeate the material.
Cleaning rattan furniture with olive oil can be used on both natural and synthetic rattan pieces, but Ryan recommends 'that this method only be used on older rattan pieces as modern furniture is of higher quality, will last much longer and is durable against the outside elements.' In other words, if you have furniture made from weather-resistant rattan, you're unlikely to need to clean it at all.
Technically, polyrattan isn't actually rattan at all, and if you do need to clean it, you'll be fine with all-purpose garden furniture cleaners that can't be used on natural rattan.
If you're on a garden cleaning mission before spring, you'll want to check out our guide on how to clean a patio and get that looking its best too.
Anna writes about interior design and gardening. Her work has appeared in Homes & Gardens, Livingetc, and many other publications. She is an experienced outdoor and indoor gardener and has a passion for growing roses and Japanese maples in her outside space.