5 easy jobs to do in your greenhouse this month
Although this is a quieter time of year in the garden, there's still some prep work that can be done to get you ready for spring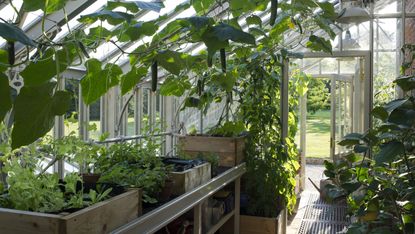 (Image credit: Alitex)
For many of us, our gardens are still fairly dormant at this time of the year and it's hard to even spy even a couple of buds on the trees. Despite that, it can be a great time to get a head start on spring by tackling a few essential jobs now.
Greenhouses, no matter how big or small, can be invaluable in the garden for sowing seeds and protecting plants during this colder weather. Just like our other garden buildings, however, they need to be maintained to keep them in good working order.
After the winter storms and heavy snow some of us have had, it's time to check that our greenhouses are ready for action for when the warm weather appears.
Keep reading for some simple greenhouse and seed sowing tasks you can add to your gardening list this weekend, then make sure you check out our winter garden jobs for more ways to get your garden set for spring.
1. Give your greenhouse windows a good clean
Rather like a spring clean in our homes, we need to remember to give our greenhouses a once over too. We're big supporters of natural cleaning solutions, so this organic citrus extract disinfectant from Dobies is a winner. It's ideal for cleaning your windows, pots, seed trays and small tools.
You can also use it to keep your water butts clean – you can add it to the water which will keep it free from disease.
2. Sow your winter salads
Growing lettuce in winter is a brilliant way to start your growing season early, and now is the perfect time to sow your winter salad leaves.
The greenhouse is the ideal spot to get them started. With snow and frosts still around, you can cover your seedlings with a fleece to give them that extra layer of protection.
For the best results, make sure your seedlings get plenty of light and don't let them get too leggy.
There's more tips on what to grow in a greenhouse in our practical monthly planner.
3. Keep pests and diseases at bay
Any fly is annoying, but this small fungus fly adore greenhouses and flutter around your head whilst you pot up. They mainly appear in March (though we have seen some around before then) and September, which means that their larvae are growing in February and August.
They are pretty small and thankfully the adults only live for a few days, but in that time they mate and lay eggs. The young feed from fungal growth and decaying matter (of which there is plenty around at these key times of year) and they love damp soil.
They are most commonly found in seedlings and soft cuttings, so if you are growing seeds in your greenhouse you may see them. The best course of action is to not overwater your seed trays as they like moist soil.
Check out our 5 garden pests to look out for if you're keen to protect your precious plants and crops.
4. Have a tidy and plan for spring
If this is one of the first visits to your greenhouse this year, then choose a fine day and have a really good clean.
Give it a good sweep, throw out any broken tools, check the dates on any seed packets and fertilisers and check for cracked or broken glass.
Open up the door and windows to give it a good boost of fresh air too. Also double check for any structural damage that may have occurred and make a list of repairs if needs be.
Want some inspiration for other ways to make use of your garden glasshouse? Our greenhouse ideas are a great place to start.
5. Start sowing flowers
You can start sowing cut flower seeds now in your greenhouse. As long as they are undercover and not exposed to the elements they will be fine.
If you're not sure where to start when it comes to choosing what to grow, then check out The Floral Project. You can buy monthly seeds to start off on your windowsill or greenhouse, and each kit has different seeds in it.
The February kit is available now and you'll find rudbeckia, phacelia, lemon mint, malope and Canterbury Bells. Or subscribe and receive your monthly seeds throughout the year.
Sophie has been an interior stylist and journalist for over 20 years. She recently trained to be a florist and launched The Prettiest Posy where she curates beautiful flowers for weddings and events.