Follow this expert low maintenance deck tip for an effortless summer outdoor space
This low maintenance deck tip will help you change the way you use your garden this summer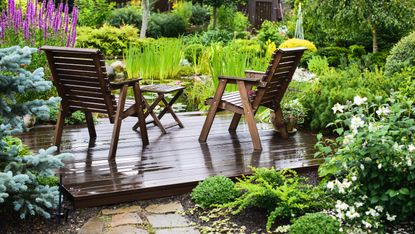 (Image credit: Nadanka/Getty Images)
A low maintenance deck can make the difference between an outdoor space that is effortless and one that you'll be worrying about all the time. As far as low maintenance garden ideas go, a decking area can drastically reduce the amount of work your garden will require. However, not all decking ideas are equal where it comes to ease of maintenance – some can add a lot of annual or even quarterly labor to your other garden jobs.
How can you make sure that you deck is low-maintenance? It's all about the material. Those good-looking blond wood decks that you see require a lot of work to keep them looking that way – plus, the best pressure washer, decking oils and stains, cleaners, and often replacing a plank here and there, because all timber, no matter how high-quality, is prone to algae growth and rot.
The solution? Choosing a composite deck material. Charles Taylor, Director at Composite Prime, explains that composite decking is highly suited to 'high traffic, family gardens' – composite decks have 'the ability to stay free from cracks and splinters, increasing their lifespan and making them bare-foot safe.' This is particularly important if a decking area is part of one of your hot tub ideas. If you're planning to walk to a from the hot tub barefoot, then you'll definitely want a low-maintenance material.
Composite decking planks are typically made from a combination of wood and plastic, but you can take the low-maintenance level even further with an all-plastic deck. Lewis Walch, managing director of recycled plastic business Kedel, also warns against timber decking, which needs 'constant maintenance to protect it from rot, splinters and decay.' Lewis recommends recycled plastic decking – it's not just low-maintenance but 'requires no maintenance and lasts a lifetime.'
If you're thinking that a plastic deck will never look as good as a real-wood one, you'll be surprised by just how realistic modern low-maintenance decking materials are. It is true that an all-plastic deck will feel a bit different underfoot from wood, but many composite decks actually reproduce the warm feel of real wood quite well. Ultimately, the choice is yours, but if a low-maintenance outdoor area is your priority, there's a lot more to decks than wood.
What are the problems with composite decking?
Of course, no material is without its problems, and composite and plastic decks are no exception. One of the main issues with non-wood decks is that they tend to get hotter than wood in the summer. If you decking area will be exposed to direct sunlight, covering the area with some sort of shade, such as one of our pergola ideas, will eliminate the problem of overheating.
The other potential issue with composite decks is that you can't paint them as easily as wooden decks. They can be painted, but they will need sanding and priming beforehand – otherwise, the paint will not take.
Convinced composite decking is the perfect choice for your low maintenance space? Find the best composite decking for your budget in our guide.
Anna writes about interior design and gardening. Her work has appeared in Homes & Gardens, Livingetc, and many other publications. She is an experienced outdoor and indoor gardener and has a passion for growing roses and Japanese maples in her outside space.