Don't plant mint in your garden borders, experts warn – here's what to do instead
If you're planning on growing mint this season, be aware that it's an invasive garden plant, gardening experts say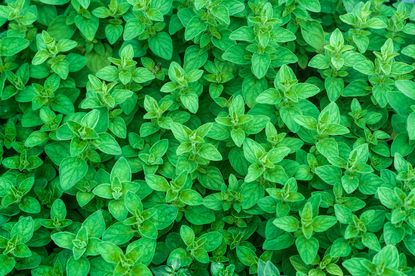 (Image credit: Getty Images)
If you're planning to learn how to grow mint this year, you need to know that it's an invasive garden plant, according to gardening experts, including Monty Don. The presenter said of mint in an episode of Gardeners' World: 'mint famously is invasive. Put in in a border and it takes over.'
Mint is known for its sprawling growing habit – which many gardeners ignore. Plant mint in a garden border, and in a few months' time you won't have anything other than mint in that border. The plant will continue growing sideways indefinitely, suppressing other plants. One year, Monty even set an experiment by planting mint in one his garden borders – it did take over.
'Plant it in a container unless you're prepared for it to completely take over,' says the presenter. He uses an old basin with holes drilled in it as a container – mint isn't fussy about what it grows in. The Royal Horticultural Society also suggest using 'a large, bottomless bucket and plunging [it] into a gap in the soil, making sure the lip of the container remains above the surface to prevent shoots from escaping over the top.'
So, you can still grow mint as part of a herbaceous border, although it's probably best suited to container gardening ideas. Whichever method you choose, do not plant your mint straight into a garden border without any containment.
There is another reason why mint shouldn't be planted in garden borders. One of the best things about this herb is the variety of scents and flavors on offer. From apple to ginger and chocolate, and even pineapple, mint comes in a wide variety of cultivars with unique tasting qualities. However, if you plant these different varieties together, eventually they'll all smell and taste the same. For this reason, you should always plant them apart and in separate containers.
Finally, if you're harvesting your mint for tea, don't worry about over-picking. The more you pick, the more new shoots will appear.
If you want to grow other herbs to add to your food or drinks too, head over to our guide on how to create a herb garden.
Anna writes about interior design and gardening. Her work has appeared in Homes & Gardens, Livingetc, and many other publications. She is an experienced outdoor and indoor gardener and has a passion for growing roses and Japanese maples in her outside space.