How to fill your home with houseplants for free
Want free houseplants? Here's how to indulge in the houseplant trend without spending a thing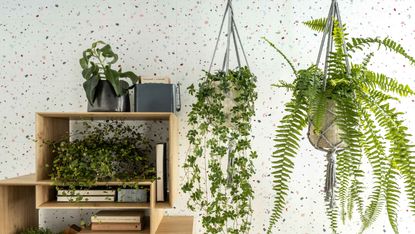 (Image credit: Cuckooland)
Houseplants are the perfect way to bring a bit of the outside world into our homes. Over the last few months this has never been more important, with so many of us spending long spells of time at home.
However, if you don't have the money to spend on new houseplants there is another way to fill your home with plants for free. Whether you're looking to start a collection of the best indoor plants or finish your indoor jungle, houseplant propagation is the perfect way to do this on a budget.
Propagating a houseplant means using parts of a large plant to grow another one. This can be done by a range of methods including cuttings and dividing plants.
The best part is you don't just have to make use of the houseplants that you own. You can call upon friends and family who already have a collection of thriving houseplants at home to start your own collection.
Keep reading for our top tips, then check out our budget garden ideas for more ways to save money in your garden.
How to fill your home with free houseplants
1. Take stem cuttings
If you have an eye on your friends scented geraniums or ivy, ask if you can take a small cutting (4-6 inches). Take the cutting from a main stem or side branch, just below where the leaf meets the stem.
Place the cutting in a vase of water, out of direct sunlight. When roots started to sprout, you can plant it up. The method works with most fast-growing, multi-stemmed houseplants.
2. Take leaf cuttings
This is another method of taking cuttings from a houseplant to grow a new one. The best method to take cuttings can vary between houseplants.
African violets can be propagated by simply breaking a leaf off from the stem, popping in a vase of water to form roots and then potting up. However, with a snake plant, cut a leaf into angled sections using pruning sheers. Dip the bottom ends in rooting powder before putting into potting soil.
3. Divide existing plants
Plants that produce offshoots from the root, such as aloe vera, can be divided to create new plants. Simply remove the plant from its pot, then carefully separate each offshoot, making sure it still has as many roots attached as possible.
Immediately pot the offshoot into a new plant pot. Keep the soil moist for the next few weeks to allow the roots to settle and begin to grow again.
If you live in a colder climate it is best to avoid propagating houseplants during winter. During this season many plant lay dormant or slow their growing.
However, there is nothing to stop you preparing your pots and supplies. Not to mention scouting out the best houseplants among your friends until the weather starts to warm up again.
Feeling inspired to start a new houseplant display? There's lots of brilliant ways to show off your new plant babies in our indoor plant ideas feature.
Read more:
Rebecca has worked as a homes and interiors journalist for over four years, and is currently the Deputy Editor on Ideal Home online. Previously, she was the News Editor across the Future homes and gardens brands, including Gardeningetc.com. She lives in a rented flat in South London where she makes the most of window boxes to create small container gardens. Inside she has a jungle of houseplants in nearly every room which she does her best to keep up with regular watering and repotting.