Garden expert warns against this common trick for removing moss from a lawn
Dobbies' horticultural director explains why this common trick for removing moss could be putting wildlife in your garden at risk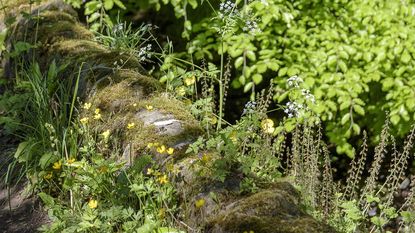 (Image credit: Polly Eltes)
Moss can be beautiful among woodland trees, but less so when it has taken over a garden lawn and patio. If you are struggling with the green plant you might be tempted to try the common hack for removing moss using soap. However, a gardening expert reveals that this could do more damage to your garden.
When scarifying a lawn, the first step is to kill any moss spores. The dish soap moss hack is commonly used by gardeners as a simple and safe method to do this.
The method involves either sprinkling washing up powder over the affected area or spraying it with a solution of dish soap and water. After 24 hours, in theory, the moss should dry up and turn orange and brown, so you can rake it up.
However, Marcus Eyles, Horticultural Director at Dobbies Garden Centres warns that this tip is far from safe and effective.
'If you are trying to get rid of garden moss, washing up powder or liquid should not be used. Not only is it not effective, but it can also have detrimental effects on wildlife,' he explains.
Instead he recommends using Lawn Sand to remove any moss from your garden. 'The best product to use to remove it is Lawn Sand,' he explains.
'This will turn the moss black and you can then rake it out and add it to the compost heap. This should be used in line with the instructions on the pack.'
Lawn Sand is a mixture of one part iron sulphate, three parts ammonia sulphate and twenty parts dry sand. The lawn sand is selective in which plants it kills, it is able to kill broadleaf weed and moss without affecting the grass.
The lawn sand should be applied to a lawn using a spreader to distribute it effectively. Once it has been applied to the lawn, when it settles on moss and broadleaf weeds it scorches them and turns them black.
When the lawn sand has done its job rake it over to avoid the sand building up. A high pressure hose can also be used to remove any build up of sand.
If you do have children or pets avoid them walking or playing on the lawn until the lawn sand has been watered in after 48 hours.
Read more:
Rebecca has worked as a homes and interiors journalist for over four years, and is currently the Deputy Editor on Ideal Home online. Previously, she was the News Editor across the Future homes and gardens brands, including Gardeningetc.com. She lives in a rented flat in South London where she makes the most of window boxes to create small container gardens. Inside she has a jungle of houseplants in nearly every room which she does her best to keep up with regular watering and repotting.