Gardening expert Frances Tophill reveals the plant every healthy vegetable patch should include
The horticultural expert and gardening presenter shares her vegetable patch tip for the one plant you should invest in when growing your own fruit and vegetables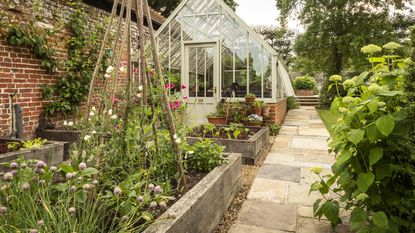 (Image credit: Alitex)
When it comes to planting up an allotment or vegetable garden many of us would focus on growing the classics such as carrots and tomatoes. However, gardening expert Frances Tophill says there is one plant no healthy vegetable patch should be without - a blueberry plant.
On a recent episode of Love Your Garden on ITV, presenters Alan Titchmarsh, David Domoney, Frances Tophill, and Katie Rushworth transformed the garden of Roisin Pelan, a woman who has raised thousands for cancer charities, whilst living with the illness herself. One of Roisin's main requests was for an allotment to supplement her healthy diet.
In the episode, Frances gave a quick rundown of how to grow blueberries and why they're essential in a healthy allotment. If you've been searching for small vegetable garden ideas and that one plant to include this is one you should definitely try at home.
'No healthy veg patch would be complete without a blueberry because it's a superfood and it also tastes incredible,' says Frances on the show. While blueberries are easy to look after, Frances, who has shared her gardening expertise on Gardeners' World and a number of other gardening programs, pointed out that they do require a little extra soil preparation before planting.
'To guarantee successful blueberries you need acidic or ericaceous compost which I've enriched this whole bed with,' explains Frances when prepping the allotment.
According to the RHS to keep your blueberry plant healthy you will need to ensure the soil stays at pH of 5.5 or lower. You don't need to do intensive monthly pH checks, simply put a note in your calendar to check the soil each spring. If the pH needs lowering you can do this by adding sulphur chips. Not sure about the pH level of your soil? Our guide to soil types has lots of useful info.
Another perk of the blueberry plant is that they are ideal for growing in colder climates. 'They really don't mind a bit of cold, in fact it often makes the fruit better, so you can grow them all over the country,' says Frances.
Whether you live in the UK or the east coast of the States, this will be music to your ears. You won't need to wrap up your precious plant when a cold spell hits. As long, as your blueberry plant has been planted in a patch or container in a relatively sunny spot, you should be spoiled with a crop of blueberries. Blueberries can be harvested from mid-summer onwards as soon as they turn from green to that gorgeous dark blue.
Blueberry plants can take a few years for them to reach their full bumper crop potential, however, this makes them perfect for companion planting. Herbs such as thyme and basil are perfect companions that can cope with acidic soil. So why not add some blueberries to your garden this summer?
Rebecca has worked as a homes and interiors journalist for over four years, and is currently the Deputy Editor on Ideal Home online. Previously, she was the News Editor across the Future homes and gardens brands, including Gardeningetc.com. She lives in a rented flat in South London where she makes the most of window boxes to create small container gardens. Inside she has a jungle of houseplants in nearly every room which she does her best to keep up with regular watering and repotting.