No more room for house plants? It's time to repurpose your furniture
If you have more house plants than available floor/shelf space, it's time to get creative with all that space inside your furniture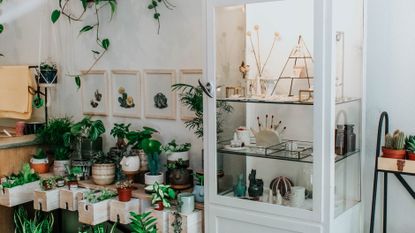 (Image credit: Unsplash)
If you think you have too many house plants, then it may be just a case of reimagining what your furniture is for.
Growing plants inside furniture normally not used to plants (that is, not shelves, table tops, or plant stands) is increasingly popular for indoor garden ideas, and it's being popularized by some big gardening names, including Hilton Carter and James Wong.
If you think you've reached your indoor plant count limit, you might just have to take another look at that glass top coffee table – or even that table lamp.
James Wong arguably started it all with his 'terraritable' project, which he shared with his Instagram followers as it progressed. As James explains, the idea for building this gorgeous terrarium inside a coffee table came to him as he looked at some plant pots sitting on top of the table and 'the otherwise dead space on the magazine rack beneath.'
James then lined the inside of the table with an aluminium tray he found in a pet store. All the species inside James's coffee table are shallow-rooted slow growers, so they'll be happy in there for years to come.
Hilton Carter took the trend a step further and has used a glass-base table lamp as a terrarium vessel. We have to say we're very taken with this one – it looks both smart and eccentric.
Hilton's followers have immediately come up with questions about this amazing DIY project; understandably, people are wondering just how watering the terrarium can be done without pouring water over electrics (we suspect the base may need to be unscrewed and unplugged for watering). So, until HIlton answers, we wouldn't try this at home!
And if you're not a professional indoor gardener but are running out of space, good old Ikea will come to the rescue. Instagram is awash with gorgeous DIY indoor greenhouses made using Ikea glass door cabinets (there are several models out there).
Custom built shelving and DIY-fitted grow lamps convert these handsome pieces of furniture into the perfect environments for the best indoor plants, while you can still display books or ornaments on top. We're very tempted – these look great.
Want even more inspiration? Head over to our indoor plant ideas for our favourite house plant displays.
Anna writes about interior design and gardening. Her work has appeared in Homes & Gardens, Livingetc, and many other publications. She is an experienced outdoor and indoor gardener and has a passion for growing roses and Japanese maples in her outside space.