How to make a seasonal pumpkin planter for Halloween
Make a lovely display for your front porch or garden in time for your Halloween celebrations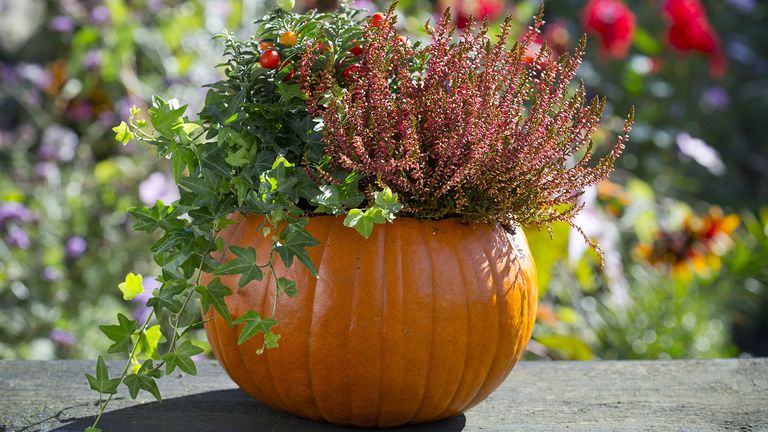 (Image credit: Neil Hepworth)
While grocery stores are full of plump pumpkins that are all ready for carving into Halloween lanterns, why not pick one up and use it to create a display with a bit of a difference outside your front door. A generous-sized pumpkin is the perfect shape to carve into a quirky planter.
Instead of discarding the scraped out inside, at the very least you can add the seeds and the pulp to your compost bin. You can even clean the seeds up and roast them in the oven for tasty snacks for you or birds in your garden.
You could use other varieties of squash and different sized pumpkins for a varied collection of planters. Most of us will have carved a pumpkin before so this planter should be easy peasy!
Want to have your own ready supply of pumpkins for Halloween next year? Head over to our guide on how to grow pumpkins for our top tips.
YOU WILL NEED:
A decent sized pumpkin
Kitchen knife
Large spoon
Choice of plants (try Solanum, orange heather, trailing ivy)
STEP ONE: HOLLOW OUT THE PUMPKIN
Start by cutting the top off the pumpkin and scoop out the flesh and seeds from inside in the same way you would if you were making a Halloween lantern. Make the round opening on the top of the pumpkin as wide as you can – this will help you to fit in as many plants as possible. Cut a hole in the bottom for drainage as water logging will be no good for the plants or the pumpkin.
STEP TWO: FILL WITH PLANTS
Half fill the hollowed-out pumpkin with a good-quality multi-purpose planting compost, just as you would do when filling a standard container. Arrange a mix of seasonal plants in shades of orange and yellow. Solanum and heather are good choices for the autumn.
STEP THREE: DISPLAY YOUR PLANTER
Fill in any gaps with more of the compost and water well to give your plants a good start. Pop your finished pumpkin planter on a table as a centrepiece or as a seasonal greeting on your front porch. Head over to our fall front porch ideas for more brilliant ways to add seasonal decor to your outside space.
Read more: