15 fall front porch ideas: decorate yours in style for Halloween and Thanksgiving
It's time to spice up your decor with these fall front porch ideas – they're guaranteed to get you in the fall spirit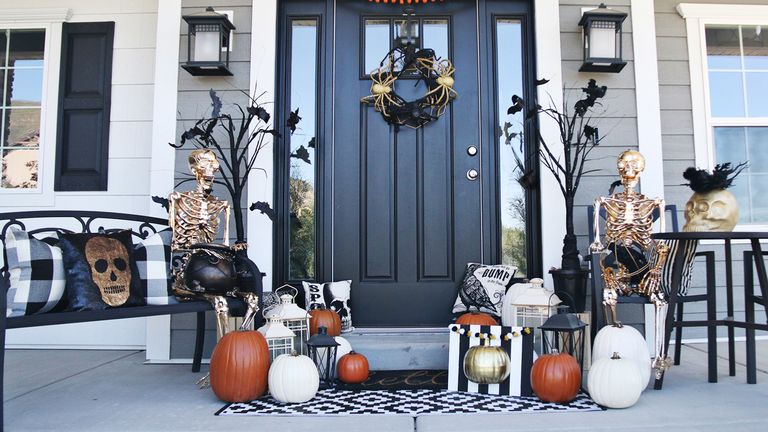 (Image credit: Jamie Bare/Oriental Trading)
What's so great about fall front porch ideas is their versatility: you can embrace the full-on tacky splendor of Halloween, or you can keep things refined and elegant with more subdued autumnal vibes. Whichever way you lean, you should definitely jump at the opportunity to dress up your front porch for the season. 
We're sharing a whole range of ideas, from DIY masterpieces for the craftiest among us to simple displays that are as easy as an online order and some smart placement. Keep scrolling for our best looks for fall front porch ideas, then head over to our backyard ideas gallery for more outdoor inspiration. 
1. USE PUMPKINS, OF COURSE!
Nothing quite says fall like a pumpkin! While part of the fun is picking one out, whether you've plucked it fresh from the patch or you dropped by your local farmer's market, it's also a delight to arrange them on your porch. Now, there's no need to go over the top (unless you really want to) as sometimes even simple, elegant displays can work just as well, as blogger Emily May shows here. Want to try growing your own? Head over to our guide on how to grow pumpkins for all the tips you'll need. 
2. Go faux
Sure, real-life pumpkins are wonderful, but they are organic, meaning they'll eventually rot on your front porch. Avoid the messy situation by investing in some faux versions, like these ceramic pumpkins by Old Time Pottery. As a bonus, you can also use faux pumpkins indoors—and you can reuse them for years to come.
3. ADD SOME FALL FLORALS
Round out your pumpkin display with fall florals in autumnal hues like red, orange, and gold. Some of our favorite fall flowers include mums, pansies, black-eyed susans, and sedums, all of which will thrive in planters in the cooler weather. Don't have a green thumb? We won't tell anyone if you decide to go with some fake flowers instead. We're all about low-maintenance gardens ideas when needed. 
4. Paint your pumpkins for a monochrome theme
We get it—orange is a bold color. So if you're not a fan of the natural color of pumpkins, or if it simply doesn't jive with your design sensibilities, you're in luck. Pumpkins are a perfect blank canvas for painting, so you can easily change up their color with some acrylic paint. Blogger Tina of The Enchanted Home painted hers white and green to match her beautiful florals.
5. CREATE A SPOOKY SCULPTURAL ARCH
This idea might take just a smidge of crafting ability, but we have confidence that you'll be able to do it at home, too. Designed by Kara Allen of Kara's Party Ideas for Oriental Trading, this balloon arch is a playful take on spooky Halloween motifs: peep pumpkins, ghosts, and spider webs throughout! We love that it's kept upbeat and cute with the addition of pink balloons.
6. HANG AN AUTUMNAL WREATH
If building your own Halloween-themed balloon arch just simply isn't in your wheelhouse, it doesn't get simpler than hanging an autumnal wreath on your front door. There are all sorts of wreaths to match your decor style, whether you want something spookier for Halloween or something more elegant like this Fall Harvest Foliage Wreath from Balsam Hill, which features pumpkins, pinecones, and sunflowers. 
7. PLACE SOME PUMPKIN PILLOWS ON YOUR PORCH
Taking a page out of the 'less is more' book, this idea is super subtle. Just take Grandin Road's Pumpkin Patch Pillow and set it on your front porch's chair! We love the watercolor motif which provides just a touch of autumnal vibes. If you live in a warmer climate that doesn't quite have the full fall experience of sweater weather and changing leaves, this is a great option for you.
8. TRANSFORM YOUR PORCH INTO A HAUNTED BED AND BREAKFAST
For some, Halloween is the best time of the year. If that's you, then you'll love an over-the-top front porch idea like this one. Mariah Leeson of Giggles Galore transformed her front porch into a scene out of a spooky film about the paranormal, thanks to a little help from Oriental Trading. The bed-and-breakfast theme is complete with a bellhop, a check-in desk, and some spectral guests. 
9. DECORATE YOUR COLUMNS WITH CORN STALKS
Running through corn mazes in the fall is practically a right of passage in the United States—we do have a lot of cornfields, after all. So it's only fitting that you string up some corn stalks around columns on your front porch as autumnal decor, just as Grandin Road has done here. No columns? No problem! Simply lean them up against your wall, though it might be wise to add some sort of anchor to the bottom—perhaps a pumpkin or two.
10. KEEP IT CLASSIC WITH JACK O' LANTERNS
You can't go wrong with the stalwart of Halloween decor: Jack o' lanterns. Create a family or friends bonding experience by carving your own at a little fall fête (outdoors and socially distanced, of course), then set up your masterpieces on your front step. Complete the look by lighting a candle inside at night.
11. GO FOR GOLD—SKELETONS, THAT IS
Using some gold skeletons from Oriental Trading, Jamie Bare of the Crafting Chicks went super chic with her elaborate set-up. We absolutely adore how adding gold elements into a Halloween-themed front porch display elevates the entire scene without totally distracting from the slightly spooky vibes. If you're going all-in with the skeletons, don't forget to add details like spiders and bats, too.
12. ADD A SEASONAL DOORMAT
One of the easiest ways to change out your front porch decor with the seasons is to swap doormats every quarter. You can go with a graphic mat with an autumnal motif, or you can opt for one that speaks to you—literally, with a fun little phrase like this one shown here. And you don't have to keep your mat in front of the door, either. We actually really like it as the focal point of this seating area.
13. STRING UP FALL GARLANDS
Did you think garlands were only for Christmas? Think again. Celebrate the autumn harvest (even if you aren't a farmer) with a robust fall garland like this one by Balsam Hill. You can hang it around your door or wrap up your columns, banisters, or hand railings—or you can even use it indoors in your Thanksgiving tablescape. Garlands are surprisingly versatile, making them a great decorative item that you can use time and time again in entirely new ways.
14. USE A BALE OF HAY TO HELP CREATE A FALL SCHEME
Fall is all about the harvest, so a front porch wouldn't be complete without a big old bale of hay. They're actually not just decorative—you can use a bale of hay as outdoor shelving. (And definitely keep it outdoors, as it can get a little messy.) It'll provide you plenty of space to decorate with other autumnal objects, from pumpkins to decorative gourds. You even can throw a scarecrow in for good measure, too.
15. PLAID IT UP
As far as autumnal patterns go, plaid is the real deal. Sure, it might conjure up the notion of a cozy flannel shirt, but it also makes for a great statement rug—especially as the centerpiece of your front porch. This black-and-white plaid rug from Amazon works both indoors and outdoors, so you can actually use it all year round, if you so choose. We think it'd be perfect for a farmhouse-chic interior, too. 
Read more: